King George V had very simple tastes and was quite fond of this crêpe, created by Royal Chef Gabriel Tschumi, with a touch of brandy added.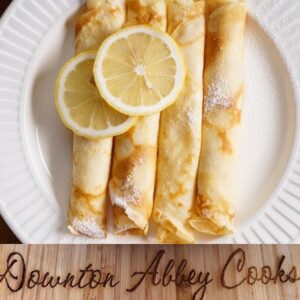 King George V's Crêpe Au Naturel
King George V had very simple tastes and was fond of this crêpe which had a touch of brandy added.
Ingredients
1 3/4

cups

all-purpose flour, unbleached

1/4

cup

sugar

3

tbsp.

heavy cream

5

large

eggs

2

cups

milk

2

tbsp.

butter, melted

1

quick pour

brandy

1

pinch

salt

2

tbsp.

caster sugar

(super fine sugar)
Instructions
Mix together flour, sugar, salt and cream for 10 minutes, or until thoroughly blended.

Add the milk, brandy and melted butter. and stir well. Strain out any lumps and allow to stand 2 to 3 hours.

Melt a small pat of butter in a large 7" omellete pan. Heat the pan to high, then turn the heat down to medium. Using a paper towel dip into the melted butter and wipe on the pan.

Spoon a few tablespoons of batter at a time in a 7 inch pan. As soon as the batter hits the hot pan, tip it around from side to side to get the base evenly coated with batter. It should take only half a minute or so to cook; you can lift the edge with a palette knife to see if it's tinged gold as it should be.

Flip the pancake over with palette knife – the other side will need a few seconds only – then simply slide it out of the pan onto a plate.

Sprinkle with caster sugar, roll up.

Keep hot while making the crêpes, plate and serve hot with lemon slices or quarters.