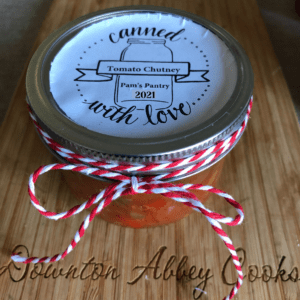 This is a great recipe to use up tomatoes from the garden to make a wonderful spicy chutney which you can enjoy over winter or gift to friends and neighbours for the holidays. You can use it anywhere you might otherwise use ketchup.
Mrs. Beeton was the first Domestic Goddess. Her cookbook  Mrs. Beeton's Book of Household Management published in 1861 when she was only 23, was an instant success.  It sold a whopping 2 million copies in 1868.
Mrs. Beeton's appeal has endured for well over a hundred years, most recently achieving renewed celebrity through her influence on Downton Abbey. Series creator Julian Fellowes used her work to stage the show's dinner scenes, and producers used recipes from her famed cookbook.  Other cooks around the world continue to be inspired by her work: my other tribute to Mrs. Beeton and her recipes are sprinkled throughout my site.
I own Mrs. Beeton How to Cook which is a wonderful book, the joy of which is that Gerald Baker has painstakingly converted the recipes for easier use.
Own your Own Copy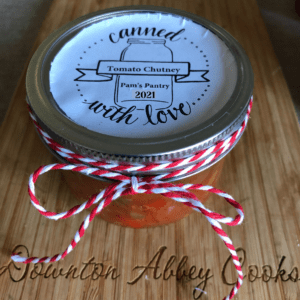 Mrs. Beeton's Tomato Chutney
Mrs. Beeton, the original domestic goddess, provides this recipe to help use all those tomatoes from the garden, This tomato chutney is great on sausages, or as a ketchup replacement.
Equipment
7 one cup canning jars

canning equipment

Large Stainless Steel Pan

wooden spoon
Ingredients
3

cups

tomatoes

chopped into small pieces

2

cups

onions

chopped into small pieces

2

cups

raisins

1 1/2

tbsp.

fresh ginger root

peeled and finely grated

3

cloves

garlic

finely chopped

1/2

cup

sugar

1/2

cup

brown sugar

1/2

tsp.

allspice berries

1

stick

cinnamon

1

small

hot chili pepper

cut in half lengthwise

2

cups

apple cider vinegar
Instructions
Prepare the Jars
Place 7 clean mason jars on a rack in a boiling water canner; cover jars with water and heat to a simmer. Set screw bands aside. Heat the sealing discs in hot water. Keep jars and sealing discs hot until ready to use.
Prepare the Chutney
Place all the ingredients in a large stainless steel pan and bring to a boil, stirring to dissolve the sugars.

Turn down the heat and simmer for at least one hour. Scrape the bottom with a wooden spoon occasionally to ensure the mixture doesn't stick to the bottom.

The chutney is done when you can draw a line across the surface and it does not immediately fill with liquid.

Take off the heat, fish out the chili and cinnamon stick, and then prepare to pot into your prepared jars.
Processing
Ladle sauce into a hot jar to within 1/2 inch of top of jar (headspace). Using nonmetallic utensil, remove air bubbles and adjust headspace, if required, by adding more chutney. Wipe jar rim removing any food residue. Centre hot sealing disc on clean jar rim. Screw band down until resistance is met, then increase to fingertip tight. Return filled jar to rack in canner. Repeat for remaining chutney.

When canner is filled, ensure that all jars are covered by at least one inch of water. Cover canner and bring water to full rolling boil before starting to count processing time. Time for 15 minutes.

When processing time is complete, remove canner lid, wait 5 minutes, then remove jars without tilting and place them upright on a protected work surface. Cool upright, undisturbed 24 hours; DO NOT RETIGHTEN screw bands.

After cooling check jar seals. Sealed discs curve downward and do not move when pressed. Remove screw bands; wipe and dry bands and jars.

Store screw bands separately or replace loosely on jars, as desired. Label and store jars in a cool, dark place. For best quality, use home canned foods within one year.
Notes