While you may think of meatloaf as a 1950s innovation, it actually dates back to Roman times.
This recipe comes from Mrs. Beeton, the first Domestic Goddess from her best selling book "Mrs. Beeton's Book of Cookery and Household Management", published in 1861.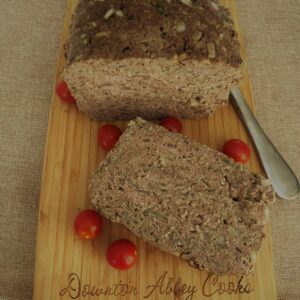 Mrs. Beeton's Meatloaf
Have a favorite recipe from the 50s? How about this recipe from 1861 from Mrs. Beeton, the first Domestic Goddess.
Ingredients
3

medium

onions

finely chopped

3/4

cup

plain breadcrumbs

keto: crushed pork rinds

1/3

cup

parsley

dried

1

tbsp.

thyme

dried

1

tbsp.

sage

dried

3

large

eggs

3

tbsp.

Worcestershire sauce

1

pinch

salt

1

pinch

pepper

freshly ground
Instructions
Grease a large loaf pan. Preheat the oven to 350 degrees.

Place all the ingredients in a large bowl. Pound the ingredients with the back of a mixing spoon until thoroughly combined and well bound together or use your hands to combine the ingredients.

Press the mixture firmly into the pan. Cover the top with tin foil. Place the loaf pan on a baking sheet to catch any drips.

Bake for one hour, until firm and shrunk away from the pan slightly and the internal temperature reaches 155 - 160 degrees.

Drain the grease, slice and serve with roasted vegetables.