Tarts are thought to have evolved as a manner of layering food on a crust. Short crust pastry (as compared to pie pastry) is thought to have been first commonly used in the 16 century. This method of preparation was popular with nobility, viewed as superior than pies consumed by the commoners.  King George V, for example, was a big fan of apple tart.
This is a quick and easy apple tart recipe using packaged puff pastry.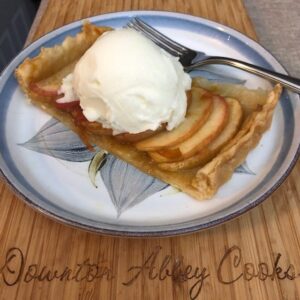 Quick and Easy Apple Tart
This is a quick and easy apple tart recipe using packaged puff pastry. Tarts were viewed by noblity as superior to pies which the commoners ate. King George V was a big fan of apple tarts.
Ingredients
1

package

puff pastry

3

medium

apples

2

tbsp.

unsalted butter

6

tsp.

caster sugar

(make your own in a blender)

4

tbsp.

apricot jam,

1

tsp.

lemon juice
Instructions
Roll out the pastry thinly to fit your favorite fluted tart pan. Alternatively, if you don't have a tart pan, you can simply trim the edges into a neat rectangle. Place in your tart pan and use a rolling pin to roll off the excess pastry. Or place your cut pastry on lined baking sheet. Prick the pastry and then put in the fridge to chill.

Rinse the apples, cut through the stems, core with a melon baller and cut into thin slices.

Preheat the ove to 425 degrees.

Arrange the apple slices on your pastry in an overlapping pattern. Leave a one inch border if you aren't not using a tart pan. Sprinkle the sugar on the apples and dot with the butter.

Bake for 15 - 20 minutes or until the pastry is golden brown and crisp.

Meanwhile, heat the jam with lemon juice and 1 tablespoon of water until melted.

When the tart(s) are done, remove from the oven, and brush with the hot jam glaze. Let cool. Best enjoyed rewarmed.