When the Royals are in the spotlight, you can't help but wonder what they are eating.  This simple chocolate biscuit cake served as Prince William's Groom's Cake for his wedding to Kate in 2011.  To the rescue is  Eating Royally, Recipes and Remembrances from a Palace Kitchen.
Written by Darren McGrady in 2007, he was a Chef to the Royal Family during the Diana years, starting shortly after her marriage to Prince Charles, and served as her personal chef until her untimely death.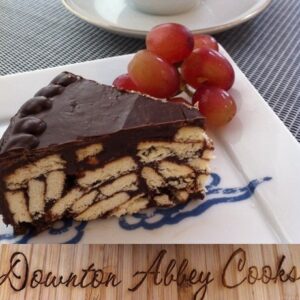 Royal Chocolate Biscuit Cake
This cake is a palace favorite and was Prince William's Grooms Cake. Best part is that there is no baking involved.
Ingredients
½

teaspoon

butter or spray

8

ounces

McVities Rich Tea Biscuits

(about 1 roll less a few cookies for snacking)

½

stick (4 tablespoons)

unsalted butter

softened

½

cup

Granulated sugar

(or sugar substitute)

4

ounces(3/4 cup)

quality dark chocolate

1

egg

beaten

6

ounces (1.5 cups) quality dark chocolate

quality dark chocolate

1/2

cup

whipping cream

(or plain non fat yoghurt)

1

ounce

white or dark chocolate

for decoration
Instructions
Lightly grease a small (6 x 2½-inch) spring form pan with ½ teaspoon butter or cooking spray.

Break each of the biscuits into almond-size pieces by hand and set aside.

Cream the butter and sugar in a bowl until the mixture is a light color.

Melt the 4 ounces of dark chocolate in a double boiler.

Add the butter and sugar mixture to the chocolate, stirring constantly.

Add the egg and continue stirring. Fold in the biscuit pieces until they are all coated with the chocolate mixture.

Carefully spoon the chocolate biscuit mixture into the prepared spring form pan, working to ensure you get the mixture into the nocks and crannies as best as you can.

Even out the top as it will be the bottom of the cake when you finish.

Chill the cake in the refrigerator for at least three hours.

Remove the cake from the refrigerator, and let it stand while you melt the 8 ounces of dark chocolate for icing.

Slide the ring off the cake and turn the cake upside down.

Melt the extra dark chocolate and dairy product in a metal bowl set over simmering water on the stove. Take off the heat and let thicken to spreading consistency. You can now cammoflage any gaps and the ganache will harden when it sets.

This is what Prince William's Grooms Cake looked like.
Notes
As you can see there is no flour or leavening, so think chocolate covered tea biscuits shaped into a cake if you eat is right away.  Leave it for a few days and the cookies soften to give it more of a lovely cake texture.  The recipe calls for a 6 inch spring form pan so to get the same volume if you want to use a standard 9 or 10 inch spring form pan, you will need to double the recipe.  This "cake" will freeze well for your next garden or tea party.