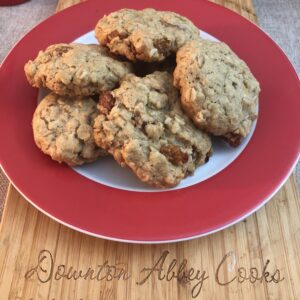 In today's economy, we're all looking for ways to cut costs in the kitchen without sacrificing taste. Well, here's a budget-friendly baking secret that delivers delicious results: making oatmeal cookies with mayonnaise instead of butter or oil. Not only does mayo make the cookies more affordable to bake, it also gives them an incredibly soft, chewy texture. Read on to learn how this clever substitute helps you save money while whipping up a treat the whole family will love.
How Mayo Replaces Fat and Moisture
Traditional oatmeal cookie recipes call for a considerable amount of butter or oil to provide fat and moisture. But mayonnaise can eliminate the need for a large portion of fat. It contains egg yolks which give baked goods richness and fat similar to butter. The oil blended into mayo also offers moisture just like vegetable oil. Eggs and oil are much cheaper than butter. So by using mayo, you cut down on one of the more expensive ingredients.
Another benefit of mayo is that its creamy texture and emulsifiers produce cookies that are extra soft and chewy. The mayo disperses evenly through the batter rather than separating. This creates an even distribution of fat and moisture in the baked cookies so each bite is deliciously tender.
Making the Substitution
Making the switch from butter or oil to mayo is simple. When using your favorite oatmeal cookie recipe, just substitute 3/4 cup mayonnaise for each cup of butter or oil called for.
Make sure to use full-fat mayonnaise for the best consistency and richness. Light mayo won't provide enough fat and moisture. Blend the mayo with the sugar thoroughly until completely smooth before adding the remaining ingredients.
Letting the oatmeal cookie dough chill for at least 30 minutes enables the oats to soften and fully absorb the moisture from the mayo. This produces an even softer, more luscious cookie texture.
Savory Twists
While oatmeal mayo cookies make a delicious sweet treat, you can also use mayo to make savoury oatmeal dishes on the cheap. Simply leave out the sugar and spices from the cookie recipe. Then mix in any combination of shredded cheese, herbs, sautéed veggies, deli meat, or other savoury ingredients.
Baked oatmeal made with mayo can be topped with a fried egg for a hearty breakfast. Or try using it as the base for oatmeal vegetarian patties. However you choose to bake with mayo, you'll enjoy scrumptious results for less dough.
The Takeaway
Give mayonnaise a chance as a budget-friendly substitute in the oatmeal cookie and savoury baked oats recipes alike. With just a few simple tweaks, this pantry staple helps you save money on baking while still delivering deliciously soft, moist results the whole family will relish. Mayo just may become your new secret ingredient for affordable bites bursting with flavour.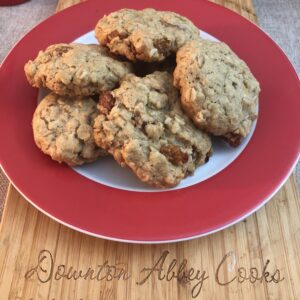 Oatmeal Cookies With Mayo
Enjoy these homemade oatmeal cookies made with mayonnaise, a great budget saver, as a unique egg and butter substitute!
Ingredients
1

cup

rolled oats

1

cup

unbleached all-purpose flour

1/2

cup

sugar

3/4

cup

mayonnaise

1/2

cup

raisins or chocolate chips

optional

1/2

tsp.

baking soda

1/2

tsp.

cinnamon

1/4

tsp.

salt

1/2

tsp.

vanilla extract
Instructions
Preheat your oven to 350°F (175°C) and line a baking sheet with parchment paper.

In a mixing bowl, combine the rolled oats, all-purpose flour, sugar, baking soda, cinnamon, and salt.

Add the mayonnaise and vanilla extract to the dry ingredients. Mix well until a cookie dough forms. You may find using your hands easier to mix the ingredients. Add a little more mayo if too dry.

If you'd like, you can add raisins or chocolate chips to the dough and mix them in evenly.

Use a cookie scoop to form round balls and space a few inches apart onto the prepared baking sheet, spacing them a few inches apart. Press the balls down.

Bake in the preheated oven for about 10-15 minutes, or until the edges of the cookies turn golden brown.

Remove the cookies from the oven and let them cool on the baking sheet for a few minutes before transferring them to a wire rack to cool completely.
Nutrition
Serving:
10
g
Calories:
128
kcal
Carbohydrates:
14
g
Protein:
1
g
Fat:
7
g
Saturated Fat:
1
g
Polyunsaturated Fat:
4
g
Monounsaturated Fat:
2
g
Trans Fat:
0.02
g
Cholesterol:
4
mg
Sodium:
124
mg
Potassium:
27
mg
Fiber:
1
g
Sugar:
6
g
Vitamin A:
7
IU
Vitamin C:
0.01
mg
Calcium:
6
mg
Iron:
1
mg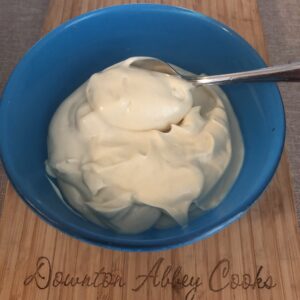 Make your Own Mayonnaise in Minutes
Mayonnaise takes less than 10 minutes to make and more delicious than store-bought.
Ingredients
2

large

eggs

room temperatue

2

tbsp.

Dijon mustard

2

tbsp.

red or white wine vinegar

1/2

tsp.

kosher salt

or more to taste

2

cups

canola or vegetable oil

2

tsp.

fresh lemon juice

optional
Instructions
You can whisk by hand, but easier done with a hand blender or in a food processor. All your ingredients need to be at room temperature to get the best results.

Beat the raw eggs for 20 seconds Add the mustard, vinegar, and salt and beat for another 20 seconds.

Slowly drizzle the oil, in drops at first for the first 1/2 cup beating as you go. Once incorporated you can increase the flow to a thin stream. Like magic the mixture will thicken and will emulsify.

Once thick you can stop beating. Taste for seasoning and add more salt or vinegar to taste.

Pour into a jar with a lid and store in the fridge. It should keep for at least a week.