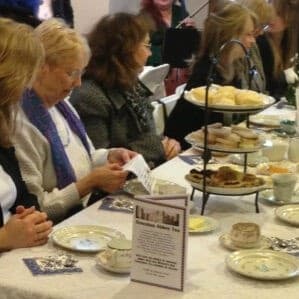 I am jetting back today from my "surf and turf" holiday with my family out in Calgary, Alberta.  I spent week one salmon fishing with Dad and my brothers on the west coast, and week two on the family estate (farm), complete with horses and hay, dogs and other working animals.  In our travels, we did see the devastation the floods did to the Calgary area, but with help of volunteers come "hell or high water" the Calgary Stampede went ahead, attracting over one million visitors this year.
Going home certainly reminds you of what made you the person today.  Growing up I often found myself in the kitchen preparing family meals, freeing up mom and the others to tend to outside chores.  The result was an early love of cooking. This week was no different, and I revelled in cooking again in my original test kitchen for the family that I love dearly.  Yup, I baked up a couple of pies before heading out into the fields to help bring in the hay.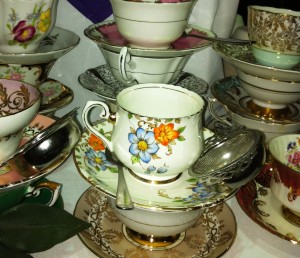 Downton-Inspired Fundraising
Last week I promoted the idea of using the popularity of the Downton era to help fundraise.  During my visit home I was invited to meet with the lovely ladies at Southminster United, the church I grew up in.   They are celebrating their 100th year anniversary and wanted my input on hosting an afternoon tea to celebrate, as well as to promote the church in the community.
We sat for over an hour brainstorming over coffee and homemade blueberry muffins.   In reality, they had most of the elements well in hand.  If your church is looking for a fundraising idea this is an easy event to put together.  Food and church go hand in hand and church ladies are experts in feeding large crowds.  Tea and sandwiches are commonly served in church halls.   Depending on how popular Downton Abbey is in your community you can turn it into a Downton-themed tea which will attract fans from the show.
As I shared recipes from my book to inspire them on an achievable menu, and stories about how other museums and churches have set about holding afternoon teas, some concrete ideas started to take shape.   Southminster would update their regular tea service by offering live music (the local symphony already performs in the church), making vintage aprons for the servers from old table cloths, making it more intimate by adding smaller tables and creating tiered tea trays from old plates.  The ladies will collect teacups, teapots, table clothes from the congregation to create a wonderful eclectic display of colour.  Prizes will be awarded for best costume or hat.  Best of luck to Wanda, Jaye, Joan, Linda, Amy and the rest of the team of delightful and talented ladies.
Guide to Hosting Afternoon Tea
My Online Guide to Afternoon Tea will provide you with recipes to serve.  Inspired by my session with the ladies from the church I added a section to my book Relaxing over Afternoon Tea with a game plan on how to set up your tea fundraiser.
You can download a signed electronic book here or a printed copy from Amazon.
Turning Silverware into Silver Wear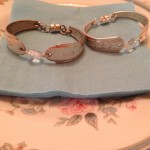 Thinking outside the kitchen, the church also came up with a wonderful idea to commemorate their 100th anniversary and raise money.  Silverware, while lovely, cannot be put into the dishwasher so was rarely used.  When they were not able to sell their collection, the ladies looked to Shirley Scotney and Sandra Hahn of Silver Wear, who took the collection and turned it into over 80 commemorative bracelets and rings.  Mom surprised me with one which has "S" for Southminster inscribed.  The ladies at our meeting were each sporting a slightly different version.  A wonderful keepsake from the church which I will treasure.