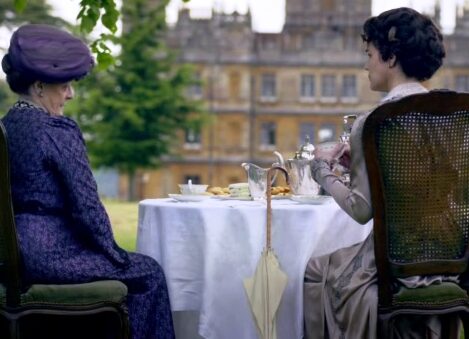 There is always time to stop, reflect and enjoy the simple pleasures of life that the Brits call Afternoon Tea.
It has a long history with many traditions which can be daunting at first, but with a little knowledge you too can enjoy taking tea in the most famous tea houses, or host our own tea.
A Brief History
In 1662 Catherine of Braganza of Portugal married Charles II and brought with her the preference for tea over alcohol to Court.
1830/40's.  Anne, Duchess of Bedford, one of Queen Victoria's ladies-in-waiting "invented" the Afternoon Tea, having food brought to her room in the afternoon; some ladies were invited, others set about gathering their own friends together.
Afternoon Tea is likely what you are going to want to book.  It is the tea service served with the little sandwiches, scones and tea.
Cream Tea is a tea service with just scones, cakes, clotted cream and tea.  No lovely little crustless sandwiches, I'm afraid.
Think of High Tea as supper, not time for scones.
When building your tea tray, the preferred order is scones on top, sweets and fruit in the middle and the savouries–wee tarts and sandwiches–on the bottom layer.
Your freezer (or your local grocer) is your friend when preparing your tea party.  Sandwiches need to be made fresh, but you can freeze much of your baked goods.
Allow 5 savoury items per person, 3 or 4 different types of sweets.
Today's Lesson 1:  How to Make Tea
Don't get too stressed about making tea, particularly since much tea is now sold in teabags. To distinguish yourself as a tea aficionado, however, just follow the time-honored tradition of first warming the teapot.  Add a bit of boiling water to the pot, give it a swirl and pour it out before adding your tea. Steep 3 or 4 minutes and don't let the tea steep too long or it will become bitter.
If you go with loose tea, the general guideline is to allow for 1 tsp per person, 1 tsp for the pot, and allow 10 ounces per person.  Use a tea strainer and pour into cups.  You may wish to fill your teapot with tap water, pour it into a measuring cup to determine how many cups your pot will hold.
Lesson 2: How to Make Scones
Once you have tea covered, next you need to learn how to make scones. This is my favourite recipe which uses a few ingredients with a variety of variations.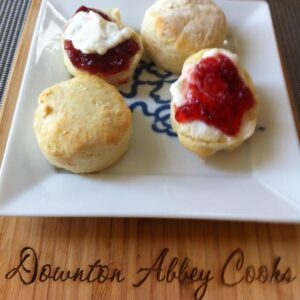 The Ultimate Magic Scones
This is the only scone recipe you will ever need. Easy to make and have a number of variations.
Ingredients
1

cup

all-purpose flour

2

tsp.

baking powder

¼

tsp.

salt

2

tbsp.

unsalted butter

frozen and grated

½

cup

cold milk
Instructions
Preheat oven to 475° F

Sift the dry ingredients 3 times into a large bowl. Rub the frozen grated butter into the dry ingredients until it feels like sand.  Add enough milk just until you get a sticky dough.

Turn the dough out onto a lightly floured board, lightly flour the top. Knead very gently once, then fold and turn the kneaded dough 3 or 4 times until the dough has formed a smooth texture. Pat the dough into a rectangle about 6" x 12", then fold into thirds.

Using a well-floured 2" biscuit cutter, make 6 x 2" rounds.  You can get 2 more scones from the scraps but they won't be as tender. Alternatively, use a well-floured sharp knife to form wedges.

You can either brush the top of the scones with milk or lightly flour.

Bake on a baking sheet for 8-10 minutes until the scones are lightly coloured on the tops.  Immediately place onto cooling rack to stop the cooking process.
Notes
Traditionally served with clotted cream and preserves, try a healthier option of non fat plain greek yoghurt in place of cream.
Nutrition
Serving:
20
g
Calories:
84
kcal
Carbohydrates:
12
g
Protein:
2
g
Fat:
3
g
Saturated Fat:
2
g
Polyunsaturated Fat:
1
g
Monounsaturated Fat:
1
g
Trans Fat:
1
g
Cholesterol:
8
mg
Sodium:
191
mg
Potassium:
18
mg
Fiber:
1
g
Sugar:
1
g
Vitamin A:
92
IU
Calcium:
76
mg
Iron:
1
mg