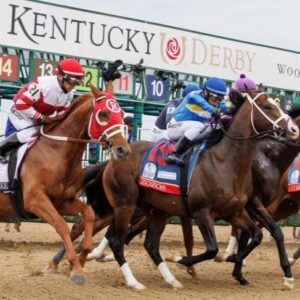 While the UK is preparing for the Coronation of Charles III on May 6th, horse racing fans are looking forward to the Kentucky Derby with its own traditions. It was the English Epsom Derby which inspired its creation.
The Kentucky Derby is North America's oldest continuously held sporting event. It was founded by Meriwether Lewis Clark, the grandson of famed Lewis and Clark explorer William Clark, making it deeply American right from its inception. Inspired by the Epsom Derby in England, Clark rounded up a group of racing fans to raise money to build Churchill Downs and opened the gates for the first Kentucky Derby on May 17, 1875.
In the early years, the event was more of a local affair, with a relatively small crowd of spectators. However, by the 1890s, the Derby had become a more significant event, drawing large groups of people from all over the country.
During the Gilded Age, the Kentucky Derby allowed the wealthy elite to show off their status and wealth. The event was a social occasion as much as a horse race, and attendees dressed in their finest clothing, with women wearing elaborate hats and men donning top hats and tails.
The racetrack infield was a place for rowdy behaviour, gambling, drinking, and general revelry. However, the grandstands were reserved for the upper class, who enjoyed a more refined experience with champagne, fine food, and the best views of the race.
The horses themselves were also different during the Gilded Age. Thoroughbreds were smaller and lighter, and the jockeys were often children or young teenagers. The races were also shorter, with the Kentucky Derby originally running at 1.5 miles before being shortened to its current distance of 1.25 miles in 1896.
Traditional Food and Drink
Over the years, many recipes have become associated with the event. Still, the earliest recipes enjoyed at the Kentucky Derby were likely simple dishes popular in the late 19th century.
The drink most associated with the Kentucky Derby is the Mint Julep, a cocktail made with bourbon, sugar, water, and fresh mint. The Mint Julep has been the official drink of the Kentucky Derby since 1938, but it was likely enjoyed by racegoers long before then.
Another dish early Kentucky Derby attendees may have enjoyed is burgoo, a hearty stew made with meat, vegetables, and sometimes even squirrel or other game. Burgoo was a popular dish in the region and was often served at large events like the Derby.
Fried chicken and biscuits are also popular Southern dishes that may have been enjoyed at the Kentucky Derby in its early years. These dishes were simple, affordable, and easy to prepare, making them a popular choice for large gatherings.
Traditional Recipes Still Served