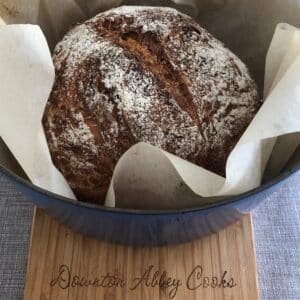 If you love artisan bread but may need to give up the $8 loaf to save money, this may be your motivation to try your hand at making your own. When it comes down to it, bread is simply a combination of flour, yeast and time.
While the sourdough bread-making craze of 2020 was born out of boredom and not necessity, now is the time to think of creative ways to cut your food costs.
If sourdough is too much of a time commitment and you are a beginner baker, I have a great no-knead multigrain bread recipe that will produce a loaf with a consistent shape with minimal effort. It needs time but just let it sit on your counter overnight to do most of its magic.  You can make this loaf by omitting the cracked grains if you don't have them on hand.
By starting the bake in a covered pot in a cold oven, steam is released in the pot, creating a springy loaf.  Take the lid off to finish the baking to create a nice crunchy crust.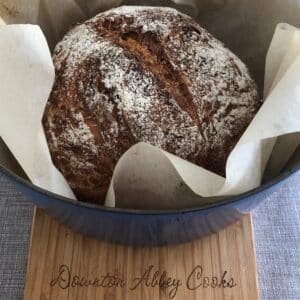 Easy Multigrain Artisan Bread
After much experimentation with other no knead breads, this gives you both the satisfying crusty crust and great rise.
Ingredients
2

cups

all-purpose flour (10 ounces)

1

cups

whole-wheat flour (5.5 ounces)

1 ½

tsp.

salt

1/2

tsp.

instant or rapid-rise yeast

¾

cup

plus 2 tablespoons water

room temperature

6

tbsp.

mild-flavored lager

sub: gingerale

2

tbsp.

honey

1

tbsp.

distilled white vinegar

1

tbsp.

Vegetable oil spray

2

tbsp.

cornmeal

3/4

cup

cracked grains

i.e. cracked wheat, cracked rye, cracked flax, whole flax, or a mix of all.
Instructions
Measure your flour by weight if possible and place in a large bowl. Add grains, salt, yeast and whisk.

Add water, lager, honey, and vinegar. Using rubber spatula, fold mixture, scraping up dry flour from bottom of bowl until shaggy ball forms. Cover bowl with plastic wrap and let sit at room temperature for at least 8 hours or up to 18 hours.

Lay 18 by 12-inch sheet of parchment paper on counter and spray with oil spray. Transfer dough to lightly floured counter and knead 10 to 15 times.

Shape dough into ball by pulling edges into middle. Transfer dough, seam side down, to center of parchment and spray surface of dough with oil spray.

Sprinkle the bottom of the dutch oven with the cornmeal to help prevent the bottom from burning.

Pick up dough by lifting parchment overhang and lower into the dutch oven (let any excess parchment hang over pot edge).

Cover loosely with plastic and let rise at room temperature until the dough has doubled in size and does not readily spring back when poked with a finger, about 2 hours.

Adjust oven rack to middle position. Remove plastic from dutch oven.

Lightly flour top of the dough and, using a bread lame or sharp knife, make one 6-inch-long, 1/2-inch-deep slit along top of the dough.

Cover pot and place in oven. Heat oven to 425 degrees. Bake bread for 30 minutes.

Remove lid and continue to bake until loaf is deep brown and registers 210 degrees, 20 to 30 minutes longer.

Carefully remove bread from pot; transfer to wire rack and let cool completely, about 2 hours.
Notes
 In step 3, start the 30-minute timer as soon as you put the bread in the cold oven. 
Nutrition
Serving:
20
g
Calories:
104
kcal
Carbohydrates:
20
g
Protein:
3
g
Fat:
2
g
Saturated Fat:
1
g
Polyunsaturated Fat:
1
g
Monounsaturated Fat:
1
g
Sodium:
288
mg
Potassium:
16
mg
Fiber:
3
g
Sugar:
2
g
Vitamin C:
1
mg
Calcium:
10
mg
Iron:
1
mg