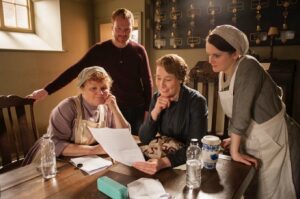 The end of August marks the unofficial end of Summer, and the last long weekend before school and work brings up back inside. Sadly, this year served up more cool and rainy days than many would have preferred for our summer.  The UK experienced the chilliest August bank holiday on record this week, and fingers are crossed in North America for one last burst of sunshine as we celebrate Labour Day.
This year's harsh winter delayed the start of the growing season, but our local markets are overflowing with wonderful fresh produce.  My own little garden flourished once it got going, but it is the fruit I really look forward to this time of year.  All those lovely tree fruits for wonderful summer desserts.
This week's dish is peach and blueberry galette.  No need for pie plates or tart forms. This is a simple recipe with a no fuss crust, and easy to find fillings, to finish your off your Labour Day meal.
Labour
Day

Signals Change of Seasons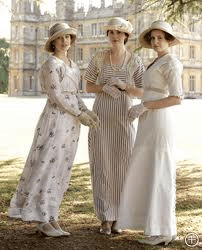 Labour Day dates back to 1882 and I like to believe the story that Americans were inspired by Toronto's Labour Festival.
The no whites after labour day rule is another signal that the seasons are changing.  Traditionally white clothing (linens) was worn in warmer temperatures and when the wealthy packed up their summer homes at the end of August, they also put away the summer whites until next May.
Downton Dish
The final count down to Season 5 in the UK is on.  Downton  only have to wait a few more weeks for Season 5, (ETA Sept. 14 on ITV), but North America will have to wait until Jan. 4 for the release on PBS.  Keep an eye out for our favorite actors at the Emmys at the end of this month.  In the meantime, here is the latest dish on Downton:
Download Abbey Cooks Entertain in Minutes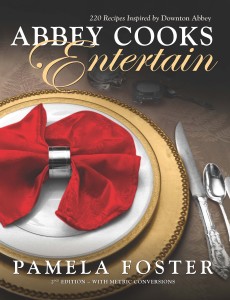 Sadly, garden party season will soon be over, so don't miss out on the chance to host your own party.  I have a whole section of my book dedicated to having tea outside.
With 220 traditional Downton era recipes with a modern twist, this is a great book to create some simple or complex dishes for your Mary or Anna.   This 432 page ebook sells for $7.95. Book sales help offset my costs in food, equipment and time to keep bringing you new dishes each week.
While the book is available on Amazon, you can only get a signed copy here on my site.
If you don't have an eReader I would suggest the PDF version which allows you to print recipes as you go, if you wish. Buy one for yourself, gift to another.  All you have to do is email the download link to your loved ones.
Glorious Peach and Blueberry Galette
For Your Downton Abbey Collection