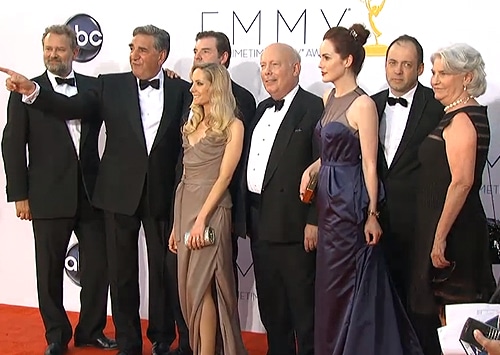 It was an emotional night for Downton Abbey fans yesterday.  In the UK, fans soaked up another hour of Season 3; the trials and tribulations at the grand house in the country.  Meanwhile, American fans watched and cheered Maggie Smith's only major win* for Downton Abbey at the 64th Annual Emmys. She was not present to accept the award.  It brought to mind her character's quip from E2: "Curious. He hates to leave America.  I should hate to go there."
Still, a win for one is a win for all, and much to celebrate all things considered.  Other period dramas-Mad Men (which had 17 nominations), Boardwalk Empire and Sherlock-came away empty-handed.  It would appear that in an election year,  Americans are more drawn to political drama; Homeland won three awards.
As they say, it  is an honor just to be nominated, and it was a big step for Downton to graduate from the Mini-Series to the Drama category.  There is always next year.  While we didn't see Downton on the red carpet on US network coverage, here is a TV Line interview of two of our favorite ladies, talking about how excited they were just to be invited to the dance.
[youtube=http://www.youtube.com/watch?v=wp4FPb9ANKQ&w=640&h=360]
Beef and Yorkshire Pudding Canapés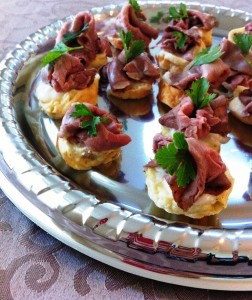 This is a lovely and quick appetizer to serve to your friends as you gather to share Downton together.  Very much like Sunday roast beef dinner in a bite.  I have provided two flavouring options–horseradish and mustard–for your guests.
Ingredients
For the Yorkshire puddings
1 cup flour
1/4 tsp. salt
1 cup milk
2 eggs, beaten 
For the horseradish cream
1/2 cup non fat greek yoghurt or non fat sour cream
2 tbsp. prepared horseradish (we love extra hot to give a burst of flavour)
salt and pepper
For the mustard cream
1/2 cup non fat greek yoghurt or non fat sour cream
2 – 3 tbsp. Dijon mustard (we love grainy and spicy)
salt and pepper
For the filling
12 slices of thinly shaved roast beef
flat leaf parsley, to garnish
Makes at least 24 

Method
Preheat oven to 450 degrees F.
Add a very thin layer of vegetable oil in each cup of a 24 mini muffin tins and heat in the oven.
To make the Yorkshire puddings, blend the four and salt, gradually whisk in the milk to ensure no lumps, then add the eggs.
When the tray is hot, spoon in the batter in each muffin tin and return to the oven.  Watch carefully, and cook for about 8-10 minutes until the mixture has puffed up and has browned. Then let cool on a wire rack.
To the make horseradish cream, simply mix the ingredients together. To make the mustard cream do the same.
Tear each slice of roast beef in half.  Loosely wrap into a rose shape and pile on each of the baby Yorkshire pudding. Add a dollop of horseradish cream to half of the canapés, mustard cream to the other.  Decorate all with a sprig of flat leaf parsley, tray and serve at room temperature.
* Downton won 2 other Emmys:  John Lunn won for Outstanding Music Composition for a series award, and  Anne 'Nosh' Oldham and Christine Greenwood for winning the Outstanding Hairstyling for a Single-Camera Series award.
Tools of the Trade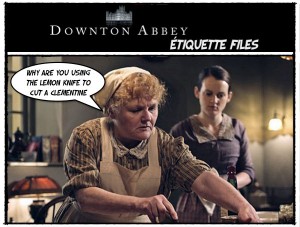 Cooks, like other professionals, have their tools and as Mrs. Patmore says "it is a poor workman who blames his tools".  You can  make do with the basics, but as you gain confidence and love for cooking, you should start to recognize items to help you cook.  Mrs. Patmore didn't electronic gadgets to cook with so be assured you can make do without the expensive gizmos.  This section helps you identify some equipment that I use.  If you wish you can order directly from Cooking.com or Amazon, both reputable stores I have used in the past.
Mini Muffin tins are great for creating appetizer sided canapes and great for making wee cupcakes.  Non stick saves you time and aggravation.
[easyazon-image align="none" asin="B00091PNE8″ locale="us" height="160″ src="http://ecx.images-amazon.com/images/I/516Y4BZBXGL._SL160_.jpg" width="160″]