Although modern meatloaf is more of an American innovation, its ancestry spans the globe, and centuries, dating back to Roman times.  In Medieval Europe, our ancestors mixed together odds and ends of cooked meat, mixed in fruits and nuts and other fillers and then molded the dish into pie-shaped disks called pastez. Grand tables of 17th century France featured loaves of chopped meats and offal (intestines) which was preserved with the beloved gelatin.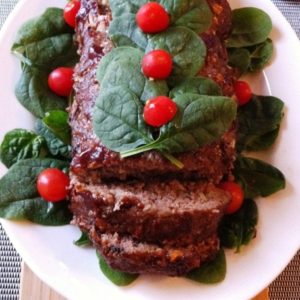 Awesome Rolled Meatloaf
This meatloaf is rolled, stuffed with cooked chopped vegetables.
Ingredients
1

tbsp.

Tbsp. vegetable or olive oil; more for the baking sheet

1

large

onion, finely

2

medium

cloves. minced garlic

3

lbs.

ground meat

all lean beef or combination of beef, veal, pork

2

tbsp.

Worcestershire sauce

1

cup

fresh plain breadcrumbs

Keto: substitute crushed pork rinds

1

large

egg

1-1/2

tsp.

salt

1/2

cup

tomato paste

or BBQ Sauce

1/2

cup

croutons

for the baking sheet

3/4

tsp.

freshly ground Black Pepper

1/4

cup

finely chopped fresh flat-leaf parsley

1/4

cup

cheese

for rolled up version, optional

1 cup

cup

cooked vegetables, finely chopped

for rolled up version, optional
Instructions
Preheat  the oven to 350°F.

Add a small amount of vegetable oil to a skillet, add the onions and cook over medium heat until soft, about 4 minutes. Add the garlic and sauté another 1 to 2 minutes to soften. Set aside to cool.

In a large mixing bowl, combine all the remaining ingredients (except BBQ sauce and croutons) and add the cooled onion-garlic mixture.  Feel the love by mixing with your hands just until the ingredients are combined. Don't go too crazy.

Shaped Meatloaf:  Shape the meatloaf into one large loaf or 4 small individual ones.

Stuffed Meatloaf:  If you plan to stuff the meatloaf with cooked chopped vegetables, and cheese flatten into a rectangle on wax or parchment paper.  

Spread with vegetables and tightly roll.  If you would like to try soft boiled eggs, place peeled whole boiled eggs lengthwise along the bottom edge and tightly roll so the egg will end up in the middle. Seam should be on the bottom.

Oil a rimmed baking sheet or jelly roll pan, and place the croutons in the middle for the meatloaf to rest on. This prevents the meatloaf from becoming too soggy, and creates lovely flavourful croutons to serve alongside the meatloaf. Alternatively you can use thick slices of onion to rest the meatloaf on. Baste the meatloaf with your sauce to make a nice crust.

Bake the meatloaf until an instant-read thermometer registers 165°F, 50 to 60 minutes for a large loaf, or 25 to 35 minutes for smaller loaves. Before slicing, let the meatloaf rest for 10 to 15 minutes to allow some carryover cooking and to let the juices redistribute.

To serve, decorate a plate if you like with what you have on hand. I often use baby spinach and cherry tomatoes.  Slice and serve the croutons alongside or on top of the slices.  
Notes
Variations
There are dozens of ways to create your own meatloaf creation.  Try the Food Network's Meatloaf tool to aid you in making your own creation with the flavours you love and to find subsitutes if you are in a pinch.
Some of my variations:
Additives:  Add additional cup of finely chopped raw vegetables with onions to saute. Some cooks will add a bit of beer or other liquids to add unique flavour.
Stuffing:  make use of left over cooked vegetables (mushrooms, broccoli, brussel sprouts, mashed potatoes) which you you can use to stuff your meatloaf which creates a decorative swirl when sliced.  Make sure you finely chop the vegetables before stuffing.
Toppings: Bacon lovers will wrap the meatloaf to create a crispy crust.