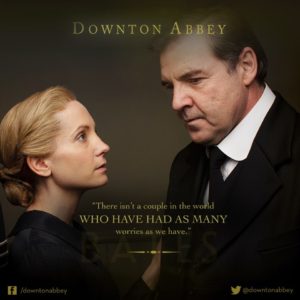 Each new year promises a fresh start, and yet this year is bittersweet for Downton Abbey fans; this is the sixth and final season for our beloved show. We were all excited that Season 06E1 finally debuted on PBS last night, and yet we know that we only have eight more precious episodes to watch before we have to say goodbye to the Crawley family and their servants.
We must be resolved to gracefully let these beloved characters live out their lives without us watching. It is going to be tough, but the UK fans who have already seen the final episode seem to be holding up so far, but then again American audiences are far more passionate about Downton Abbey. Who knows if a movie will ever be made (their a rumours of discussions), but we shall be comforted that we can watch it all again from the beginning.  Just like our favorite meal, we can enjoy just much as the first time we experienced it.
In keeping with tradition, I will continue to share one recipe mentioned on camera from each episode as my love letter to the Downton kitchen staff and to those fans who love the food on the show. Today's recipe is Coconut Ice, an easy to make sweet which you can proudly serve at your next Afternoon Tea, or share with loved ones while watching Downton.
Downton Dish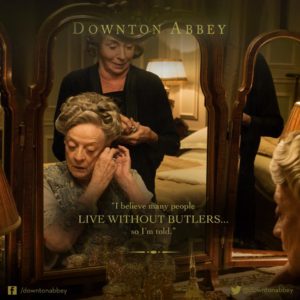 While this is the last season there are still juicy tidbits to share:
What Happened in Season 6, Episode 1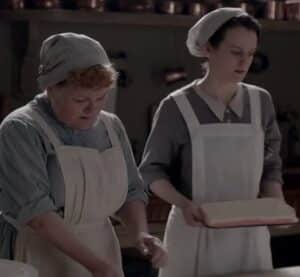 A quick recap of what went on down and upstairs this past week:
We haven't seen a fox hunt since the infamous S01E3 Pamuk episode, but this time Lady Mary rides astride, which is safer but this time she ends up in the mud, started by a strange stalker.
The stalker turns out to be a chamber maid at the hotel where Lady Mary had spent time with Lord Gillingham. Her game is to extort money for her silence. Lady Mary is not amused. That is so Season 2. Her father bails her out and in the process realizes she is tough enough to become the new agent, since Tom is now living in Boston.
Lady Mary seems to deter

min

ed to remain single after the Season 5 bachelor shuffle.  But how long will that last? Mr. Talbot and his spiffy car did seem to make an impression.
Edith is taking to her duties as head of the magazine, but is having difficulty working with her male editor who does not like working for a woman.
Mrs. Patmore is called upon to broker the subject of marital relations between the soon to betrothed Mr. Carson and Mrs. Hughes, acting like awkward teenagers…priceless.
Another neighbor is forced to sell out putting Mr. Mason in a precarious position.  It is tough for Daisy to take over the farm if he is no longer a tenant. She unfortunately is not helpful in speaking on his behalf.
Lord Grantham wonders about how they can keep up the lifestyle they once enjoyed. Staff may have to go. Denka uses the information to stir up trouble, which almost backfires on her, as usual.
There is finally good news for Anna and Bates. Mr. Green's death is put behind them so they can now concentrate on building a family. Wait, not that simple.
In kitchen news, the Abbey now has a refrigerator, which Mrs. Patmore hates of course.
Fundraising Idea: Relaxing Over Afternoon Tea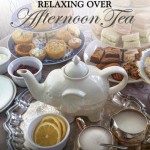 Afternoon Tea: what a lovely way to host fellow Downton fans as you discuss the latest episode, and ponder what Downton will deliver next. The book contains 60+ recipes for tea treats, the three S's: scones, sandwiches/savouries and sweets.
The book provides a brief history of afternoon tea, tea etiquette and tips on how to host your own tea for fun or fundraising.  Amazon sells the print version and Kindle versions, or a you can download PDF version here.
Abbey Cooks Entertain: 2nd Edition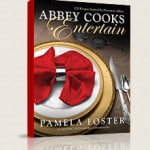 Whether you are hosting 2 or 200, this book has lots of ideas. Containing 220+ traditional Downton era recipes with a modern twist, this is a great book to create some simple or complex dishes for your Mary or Anna.
This 448 page ebook has been updated to include both metric and imperial measurements and now includes famous Downton dishes throughout the series.  Book sales help offset my costs in food, equipment and time to provide you new recipes on a regular basis.
This ebook is now available for download on my site and on Amazon:  Abbey Cooks Entertain: 220 recipes inspired by Downton Abbey
Print Version is here.  The good news is that the 2nd Edition is available on Amazon. The full book is 450 pages and will contain famous Downton recipes throughout the series.
Fun Food History Lesson:  Condensed Milk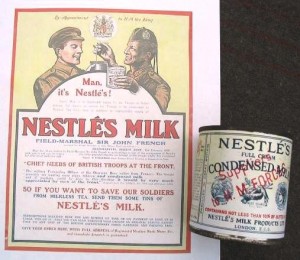 Finding a way to store milk for long periods without refrigeration was the need which condensed milk resolved.
Initially produced in France in the 1820s, American Gail Borden more famously took up the challenge in the 1850s. After witnessing several childhood deaths due to improper milk storage on a voyage back from England, he persevered over a number of years to produce a usable milk derivative that was long-lasting and needed no refrigeration. Because of its long shelf life it was highly valued in times of war. WWI housewives were encouraged to buy and send cans of condensed milk to the soldiers at the front.
Pretty in Pink Coconut Ice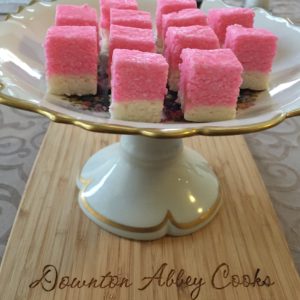 Coconut Ice
Ingredients
3/4

cup/200g

condensed milk

(I like low fat version)

2

cups/225g

icing sugar

shifted

2

cups/175g

desiccated*coconut

1 or 2

drops

of red food colouring
Instructions
Mix together the condensed milk and icing sugar. Stir in the coconut (mixture should be very stiff) and divide the mixture in half. Colour one half of the mixture pink, keep mixing, or use your hands to work in the food coloring until you have an even colour.

Line a small plastic container (I use a 6″ square ziploc container) with plastic wrap, then press in the white coconut ice, so it evenly covers the bottom.  Press the pink top layer on top and press firmly together.

Leave 2-3 hours or refrigerate until firm.  Pull out the ice by the plastic wrap, and then cut into one inch squares as it is quite sweet.

Keep refrigerated in an airtight container and use within 3 weeks.
For Your Downton Abbey Collection
Marvelous additions to your Downton Collection.