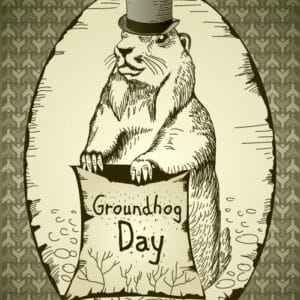 Groundhog Day is an American tradition that dates back to 1887 during The Gilded Age (1870s – 1900).
The superstitious observance began in Punxsutawney, Pennsylvania – where Punxsutawney Phil got his name and start as a rodent meteorologist. Each year on Feb. 2, thousands of spectators travel to the small town and gather at Gobbler's Knob park to view Punxsutawney Phil's prediction in real-time.
If Punxsutawney Phil sees his shadow at daybreak and runs away, tradition dictates that he's predicted that there will be six more weeks of winter. If there's no shadow, he's predicted that spring will arrive early.
Groundhog Day has its roots in the ancient Christian tradition of Candlemas, when clergy would bless and distribute candles needed for winter. The candles represented how long and cold the winter would be.  Germans expanded on this concept by selecting an animal—the hedgehog—as a means of predicting weather.  Once they came to America, German settlers in Pennsylvania continued the tradition, although they switched from hedgehogs to groundhogs, which were plentiful in the Keystone State.
Although Groundhog Day is a fun annual pastime in the US, you really should get your weather forecasts from trained meteorologists.
What to Serve on Groundhog Day
Since you have to be up early, perhaps pancakes might be in order.  The Cooking Channel has more inspired ideas to share.