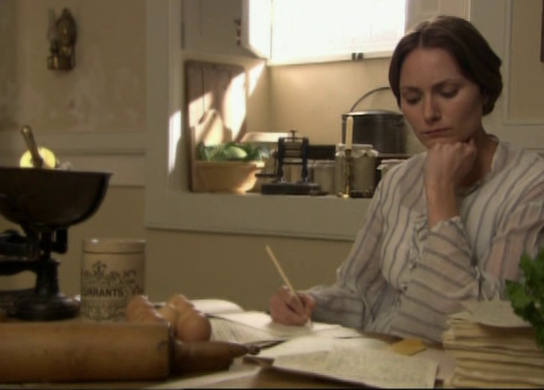 Happy Birthday Isabella Beeton, best known as Mrs. Beeton, the Victorian Domestic Goddess. Her cookbook  Mrs. Beeton's Book of Household Management published in 1861 when she was only 23, was an instant success.  It sold a whopping 2 million copies in 1868.
March 12 marks her 176th birthday.  Had she lived in biblical times, Bella would have been a mere child compared to Adam who lived a total of 930 years (Genesis 5:5).  As it was she died at age 28 of complications from childbirth.  Speaking of which, we can thank Eve for labour pains as punishment for eating the apple from the forbidden tree: "I will make your pains in childbearing very severe" (Genesis 3:16). 
Mrs. Beeton's appeal has endured for well over a hundred years, most recently achieving renewed celebrity through her influence on Downton Abbey. Series creator Julian Fellowes used her work to stage the show's dinner scenes, and producers used recipes from her famed cookbook.  Other cooks around the world continue to be inspired by her work:  my other tribute to Mrs. Beeton and her recipes are sprinkled throughout this site, Biscayenne in Spain shared her wonderful Apple Charlotte, and my foodie friend Eva recently put her own spin on Mrs. Beeton's Peaches in Chartreuse Jelly recipe which was served in 1st class on Titanic.  When in doubt go to Mrs. Beeton when cooking from this period.  The book was widely used at the turn of the century, and is still in print today.  You can even find it online at www.MrsBeeton.com.
Surprise!  Mrs. Beeton didn't cook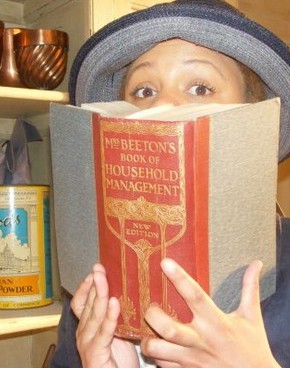 The volume of work she produced at such a young age is impressive. As eldest of 21 children, it would explain where she may have picked up some tips. She married a publisher which explains how she may have been published.  But the big surprise about Mrs. Beeton was that her persona was manufactured to help sales.  She didn't cook, and was a small slip of a woman who preferred working at her husband's publishing house than "keeping house".  She published under the name "Mrs. Beeton" to give her credibility.  The facade was maintained after her death, as her publishers continued producing material under her name.
Also known as Mrs. Beeton's Cookbook, the book contains 1,112 pages, and over 900 recipes illustrated with coloured engravings.  As an editor who never claimed to have original content, Mrs. Beeton saw the need for providing a guide to Victorian women on how to run a household with fashion tips, child care and animal husbandry advice, as well as the hiring servants.  What she lacked in originality she made up for in innovation.  She was the first to organize recipes as we see them today: listing ingredients at the beginning of the recipe, and to indicate the length of time to cook dishes.  She even listed the costs, and what seasons to best enjoy the dishes, promoting the novel idea of buying local and in season.
Celebrating The Life of Mrs. Beeton
While her work speaks for itself as the legacy she left behind, there is some biographical materials available to learn more about her.
PBS produced a documentary about her in 2006 titled The Secret Life of Mrs. Beeton. Interesting connection to Downton Abbey.  Jim Carter who plays Mr. Carson, portrays Mrs. Beeton's stepfather.  Here is the trailer (sorry, the video quality isn't that great):
[youtube http://www.youtube.com/watch?v=OLmRiPfkB_I?rel=0&w=560&h=315]
While PBS has stopped showing this docu-drama you can get your own copy in the US or Canada.
Wellesley Fudge Cupcakes
What would a birthday celebration be without cupcakes?  A double celebration, my father is also celebrating his birthday today and he is very much alive. Tomorrow's Tea Tuesday will be dedicated to him and his love of fishing. And why yes, I did celebrate my 50th birthday last week and made these cupcakes for my friends.
Bella would have known these as "fairy cakes", but I believe that Brits now also call these lovely little cakes by the American name "cupcake".  As a modern woman, I thought she might appreciate this recipe from Gourmet magazine, adapted from a rich chocolate cake first served in the late 1890s at the Wellesley Tea Room, a genteel establishment catering to students at the well-known Massachusetts women's college.
So tip your cup and lift up your cupcake, scone or biscuit today and say "Happy Birthday, Mrs. Beeton, your legacy lives on with us".
Yield: Mrs. Beeton was a stickler for economy and this recipe makes 6 cupcakes for a small gathering.  For the full recipe or to make the cake, click here.
For the cupcakes
1 ounce unsweetened chocolate, chopped fine
3 tablespoons hot water
3 tablespoons unsalted butter, softened
1/2 cup firmly packed light brown sugar
1 large egg yolk
1/2 cup all-purpose flour
1/2 teaspoon double-acting baking powder
1/8 teaspoon salt
2 tablespoons milk
1/2 teaspoon vanilla
For the frosting
1 ounce unsweetened chocolate, chopped fine (the best chocolate yields the best results)
1/2 tablespoon unsalted butter
1/2 cup confectioners' sugar
2 teaspoons milk plus additional to thin the frosting
1/2 teaspoon vanilla
Method
Preheat the oven to 375°F/190°C, Gas Mark 5
In a metal bowl set over a pan of barely simmering water melt the chocolate with the water, stirring, until the mixture is smooth and remove the bowl from the heat.
In a bowl whisk the butter with the brown sugar until the mixture is blended well and whisk in the yolk and the chocolate mixture.
Onto a sheet of wax paper sift together the flour, the baking powder, and the salt and add the flour mixture to the chocolate mixture in batches alternately with the milk, stirring well after each addition.
Stir in the vanilla, divide the batter among 6 paper-lined 1/2-cup muffin tins, and bake the cupcakes in the middle of the oven for 18 to 20 minutes, or until a tester comes out clean.
Transfer the cupcakes to a rack and let them cool
Make the frosting while the cupcakes are baking:
In a metal bowl set over a pan of barely simmering water melt the chocolate with the butter, stirring, until the mixture is smooth and remove the bowl from the heat.
Stir in the confectioners' sugar, 2 teaspoons of the milk, and the vanilla and blend the frosting well (the frosting will thicken as it stands).
When the cupcakes are cool, thin the frosting to the desired consistency with the additional milk, stirring in the milk drop by drop.
Spread or pipe each cupcake with the frosting

.