Still a popular condiment in English cookery (Lord D and I love it on roast beef), it is quite easy to make and more economical than buying store-bought if you use a lot of horseradish, as we do.
Do take precautions to ensure your work area is well ventilated and protect your hands and eyes in case you get a really potent root. If chopping onions produces the tears you felt after Matthew and Sybil died, horseradish can make you feel more like the impending end of Downton Abbey!
To control the heat: The time at which the vinegar is added can control the heat, so if you prefer milder horseradish, add the vinegar sooner.
Once you've cut into the root you can keep it in a paper bag in the refrigerator for a week or cut into smaller pieces and freeze until required.
Mrs. Patmore and Daisy would have used a fine grater to process the horseradish, and then add the vinegar and then cold water to thin, but we have the modern convenience of blenders and food processors to do the job. Saves time and lessens your exposure to the vapours.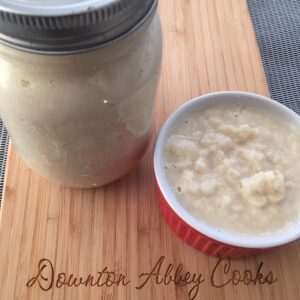 Homemade horseradish
Ingredients
1 -2

lb (.5 – 1 kg) 

fresh horseradish root

(root about 12 inches, good quality root white, clean, firm, and free from cuts and blemishes)

3

large

ice cubes

1

tsp (5 ml) 

salt

1?4

cup (59 ml) 

white vinegar

1-5

tbsp.

chilled water

add as much as want to thin
Instructions
Place 3 ice cubes in a food processor or blender.

Peel the horseradish root with a sharp knife or vegetable peeler, cut into 1-2 inch cubes and rinse.

Placing cubes in the food processor with salt and pulse until fine.

Add chilled water only if needed to thin the horseradish.

Add the vinegar: if you prefermildhorseradish add vinegar immediately and pulse to blend.  For a hotter result, let it sit in the food processor for 3-4 minutes before adding the vinegar.

Transfer your ground horseradish into small glass jars, keep away from your eyes to store in the fridge. Keep the lid tightly closed to keep your hot horseradish hot.