I have always associated crispy fried onions with holiday casseroles, adding a delightful crunch and texture. While we may think that fried onions date back to the 1950s when French's first launched their canned connection with recipes for homemakers (shout out 1955Shout out to Dorcas Reilly for creating the infamous Green Bean Casserole recipe) the history of fried onions/onion rings in America goes back further.
John Molland's 1802 cookbook, "The Art of Cookery Made Easy and Refined" contained a recipe for Fried Onions with Parmesan Cheese. It suggests cutting onions into thin slices, dipping them into a batter made of flour, cream, salt and pepper and Parmesan Cheese. Then deep frying them in "boiling" lard.
Another recipe for its close cousin, the French Fried Onion Ring, appeared in 13 Jan. 1910 "Middletown, New Daily Times". A recipe for onion rings also appeared in 1933 in an advertisement for Crisco in "The New York Times Magazine".
Use your messy onion rings to serve as a comforting layer of crunchy goodness on a number of meat dishes or as a snack on the go.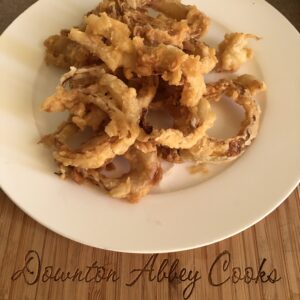 Make your Own Crispy Onions
Why pay for canned when you can easily and cheaply make your own?
Ingredients
2

cups

buttermilk

make your own by adding vinegar to milk

4

cups

onions

thinly sliced

3

cups

All purpose flour

Keto: use mixture of almond and coconut flour.

2

tsp.

salt

1/4

tsp

pepper

4

cups

vegetable oil
Instructions
Soak onions in buttermilk for at least 10 minutes.

In a shallow dish add flour, salt, and pepper and mix well.

In a large pan heat vegetable oil to 375 degrees. If you don't have a cooking thermometer, you will be able to tell when the oil is ready when you see bubbles surrounding a wooden utensil (chopstick or spoon) that you hace carefully inserted into the middle of the pot.

Add the onions into the flour to coat, then and add to the heated oil, frying in small batches until golden brown. Remove with a slotted spoon and drain on paper towels.

Use immediately or store in an airtight container in a dry cool place or your fridge.
Notes
Use these right away or store them in an airtight container in the fridge.  If you need to re-crisp them just pop them into a 375F onion for 5 minutes.  
Nutrition
Serving:
50
9
Calories:
315
kcal
Carbohydrates:
12
g
Protein:
2
g
Fat:
30
g
Saturated Fat:
24
g
Cholesterol:
2
mg
Sodium:
145
mg
Potassium:
66
mg
Fiber:
1
g
Sugar:
2
g
Vitamin A:
26
IU
Vitamin C:
2
mg
Calcium:
25
mg
Iron:
1
mg