Our favourite weekend meal in our house–aside from roast beef dinner–is this lovely pork dinner. Essentially a one-pan dinner to feed a crowd.  You should be able to find a rolled pork loin at your local supermarket.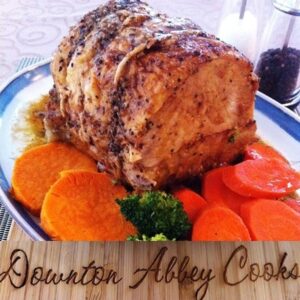 My Lord D's Roast Pork Dinner
Ingredients
3–4

pounds

boneless pork shoulder butt,

rolled and tied

1

large

onion

peeled and quartered

3

cloves

garlic

minced

¼

cup

vegetable oil

¾

cup

port

¼

cup

fresh sage,

chopped

1

pinch

freshly ground pepper

2

large

carrots

cut into thick slices

3

large

potatoes

cut into large cubes

1

large

sweet potato,

cut into thick slices

1

tsp.

butter

3

cups

chicken stock

5

small

onions

1

tbsp.

unbleached all purpose flour
Instructions
Mash together the onion, garlic, oil, ¼ cup port, sage, and pepper. Place the roast in a large shallow container, pouring the mixture over pork, turning to coat. Cover and refrigerate for 24 hours, turning occasionally.

Remove the roast from the refrigerator and bring to room temperature.

Preheat oven to 325°F. Prepare a heavy roasting pan with lid.

Melt the butter in a large skillet and brown the pork on all sides. Place the roast in the bottom of the roasting pan with the marinated juices and spread the vegetables around the base. Pour ½ cup of the chicken stock over the pork and surround with onions. Cover with the lid and gently shake so all the vegetables are covered.

Bake for one hour, then add another ½ cup of chicken stock to the pan, covering again and give the pan another shake. Cook for another hour, or until a meat thermometer reads 160–165°F or until the juices run clear.

Remove the roast and tent with tinfoil to rest for 15 minutes or longer which will help retain the juices. Remove the vegetables and tent in a heated serving dish so they stay warm.
Make the Sauce
Place the roasting pan over medium heat and sprinkle with flour, stirring for one minute. Pour in the remaining stock and ½ cup of port. Bring to a boil and cook until thickened. Strain and season with salt and pepper to taste.

Slice the roast and plate with the sauce and roasted vegetables.
Notes
Use what veggies you have on hand. Sometimes we will add parsnips or broccoli. Broccoli would need to be added after one hour so they don't get too mushy.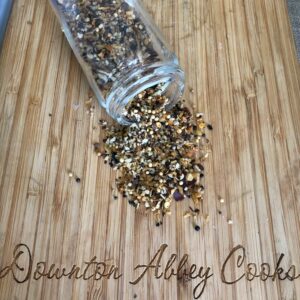 Make your Own Spice Rub
If you have run out of your grilling spice, it is super easy to make your own from pantry ingredients
Ingredients
2

tbsp.

kosher salt

2

tbsp.

black pepper corns

2

tbsp.

garlic powder

1

tbsp.

smoked paprika

1

tbsp.

onion powder

2

tsp.

dill seed

dried

2

tsp.

other spices

make your own secret recipe
Instructions
Combine all ingredients for steak seasoning in a mortar and pestle and mash together so the peppercorns are roughly cracked but you can make it to your liking. You can also blitz in a coffee grinder.

Use on beef steaks, and any roasts before grilling, searing, or roasting.

Store in an airtight bottle or jar.