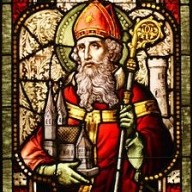 March 17th is  Saint Patrick's Day (aka St. Patrick's Day, St. Paddy's Day, St. Patty's Day), a cultural and religious holiday that celebrates the life of Saint Patrick, who died on that date way back in the fifth century.  Patrick has endured as the most commonly recognized patron saint of Ireland, credited for bringing Christianity to Ireland.
Saint Patrick's Day was made an official feast day in the early seventeenth century and continues to have religious significance.  It has also gradually become a secular celebration of Irish culture, where people line up for hours for the privilege of cramming into a pub to drink green beer or Guinness.  I still ensure that I wear lots of green on St. Patrick's day since I never recovered from the childhood trauma of vicious classmates pinching those who did not wear green that day.  They weren't even Irish.
Paddy Trivia
Shamrocks-according to Irish folklore, Patrick used the three-leafed shamrock to explain the Holy Trinity (Father, Son and Holy Spirit) to the pagan Irish.  His followers adopted the custom of wearing a shamrock on his feast day.  Add another leaf and you end up with the four-leaf clover, referring to the luck of the Irish.  It also explains the green.
Public Holiday in Ireland–In 1903, Saint Patrick's Day became an official public holiday in Ireland.  Another law quickly followed to close pubs/bars on March 17 after drinking got out of hand; it was later repealed in the 1970s.
American Traditions–Boston held the first parade in the United States in 1731, followed by New York's famous 5th Avenue parade 20 years later. Chicago has been dying its river green for the past 40 years.
Video Trivia- this clip from the History Channel provides a brief history of Patrick's life and traditions, like why drinking beer became so popular that they had to close the bars (it has to do with a break from Lent).
About that Green Beer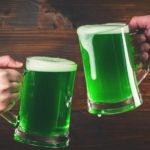 While the Irish lean towards Guinness on the day, Green beer has spread across the US since the 1900s.  In 1914 a New York City coroner named Dr. Thomas Hayes Curtin unveiled his invention at a Bronx social club. Initially, the beer was transformed green with a drop of washing blue which is poisonous; now the colour is achieved with green food colouring.
Serve Traditional Irish Dishes
The Irish are famous for their comfort foods which are also budget-friendly.