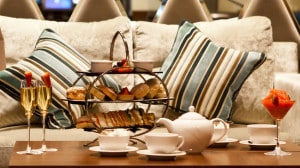 Summer is coming to an end and many in our office are taking that last week of summer holidays.   Labour Day weekend is coming up so I have been wearing my summer white shoes/clothes in earnest this week since the Dowager and Lady Mary would certainly scoff at those who would wear white next week.
As you may know, Tea Tuesday is a weekly tradition I started, celebrating the era of "Downton Abbey", the popular TV show, featuring a new "Downton" era recipe.  Refer to my Online Guide to Afternoon Tea, helpful in understanding the traditions and dishes served at tea.
We are running out of time to enjoy summer fruit pies, and since I had left over pie pastry from last week and Lord D brought home a large quantity of peaches home from the market, we are making a simple peach pie today to reward your hard working servants after a long day in the fields.  A few little tips help you make it a winning dessert.
Downton Dish
Downton launches Season 4 next month in the UK, but not until January (see the countdown clock above) in the US and Canada on PBS.  In the meantime, here are some distractions to keep your Downton cravings at bay. If you haven't seen all seasons (1-3) beware of spoilers below.
Abbey Cooks Entertain: Garden Party Season ending soon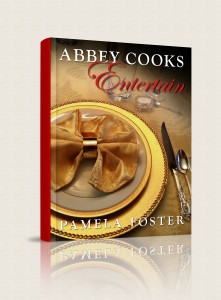 With 220 traditional English recipes with a modern twist, this is a great book to prepare dishes for many options for celebrating the arrival of the new prince in the last few weeks of garden party season.
This 432 page ebook sells for only $7.95. Book sales help offset my costs in food, equipment and time to keep bringing you new dishes each week. You can only get a signed copy here on my site. If you don't have an eReader I would suggest the PDF version which allows you to print recipes as you go, if you wish.
 Easy Peasy Peach Pie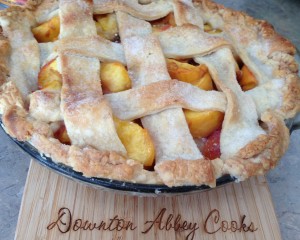 When fresh fruit is in season it is easy to bring home a basket or two, and then find after a few days your family has had their fill.  The rest just sits on the counter craving a little love.  When this happens in our household, a pie crust comes in handy to save the day, and the fruit from spoiling.  And you really don't have to go to the effort of blanching and remove the skin. It's all good when you have ripe peaches.  Having pie dough already made is a bonus.  If you are really ahead of the game you would have rolled out the crusts into pie plates and have them stacked neatly in the  freezer, just like you buy in the store, or you could just buy them in the store.  Just don't let Mrs. Patmore hear about it.  You can also use this simple filling in other baked peach desserts, or even "can" them to enjoy in the winter.  There are a few Mrs. Patmore tricks to share about getting the best pies ever…read on.
Makes 1 10″ peach pie
Ingredients
About 6 ripe peaches, washed
1/4 cup granulated sugar (or sugar substitute)
1/4 cup light brown sugar
1/8 tsp. ground cinnamon
3 tbsp. minute tapioca
Method
Preheat your oven to 425 degrees.
Roll out the bottom crust of the pie.  The key to rolling out pie crust is to keep it cold.  Start with refrigerated dough and try a marble slab which will have a nice cool surface.  If you have stone countertops you can fill a cookie sheet with ice cubes and place on your counter for a good 10 minutes.  Wipe the counter down and place the dough on a large sheet of parchment paper, dusted with flour.  Roll from the inside of the circle out and rotate the paper every so often to get a nice even thickness.
Cut the peaches into slices or smaller cubes (depending on your preference), into a bowl.  Mix in the sugars and spice.  This recipe is lower in the normal amount of sugar typically used.
Peach pie does create a lot of juices so you might want to consider blind baking first (see below) to make sure you don't have a soggy bottom (when you want to impress company).  My mom's trick was to sprinkle the tapioca on the bottom of the pie plate and then add the filling, but I like to sprinkle a tablespoon on the bottom, the rest mixed in with the peaches.
Transfer the filling into the pie shell.
For some reason cherry and peach pies tend to call for a lattice top.  It does save a few calories and looks pretty fancy.  It isn't that hard and arguably easier to work with than rolling out a whole piece for the top.                                        To make a lattice-top, roll out the pie dough into a long rectangle, and cut into thick strips with a sharp knife. Arrange strips in one direction across pacing the strips evenly.  Fold back every other strip gently on itself and then add a perpendicular strip, fold the strips back, fold the other strips up and then repeat.    The larger the strips the less time it takes to do the weave. Press the strips against the rim of the bottom crust,  trim and crimp as you like for a decorative edge.
Brush pie with milk, or water and sprinkle with sugar.  Wrap the edges with tin foil to prevent burning.
Bake 20 minutes in the preheated oven, until the crust is set and beginning to brown.  Reduce oven temperature to 375F and bake pie for another 30 to 40 minutes, until filling is bubbling all over and the crust is a nice golden brown.  Remove the tin foil for the last 10 minutes of baking.
Blind Baking
Blind baking is a great way to ensure that your liquids in your pie prevent the bottom from baking properly.
Prick the unbaked bottom crust with a fork all along the bottom. This prevents it from puffing up.
Place a large sheet of parchment paper or waxed paper over the pie plate and fill with raw beans, rice or pie weights
Refrigerate for 15 minutes to help prevent the crust from shrinking
Bake in your preheated oven for 15 minutes
Cool while you prepare the filling, or wrap and freeze if you want to have a pie crust ready for a future bake.
Books
 Gain unprecedented behind-the-scenes access to Downton Abbey in this official Season 4 tie-in book, complete with never-before-seen photos giving fans insight into the making of the runaway hit.