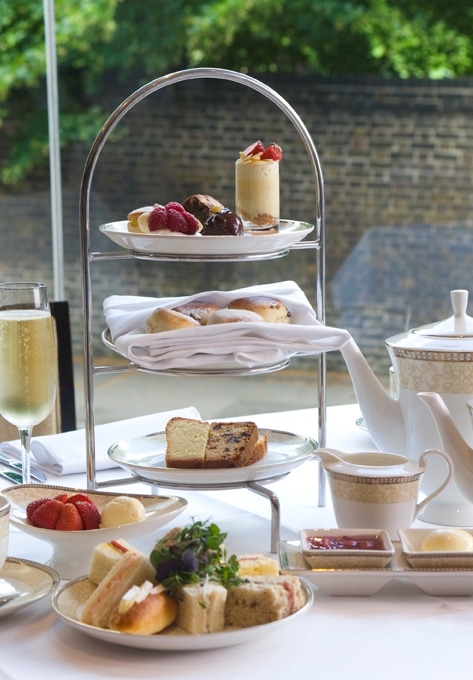 The US and Canada celebrated Labour Day yesterday. The long weekend marks the unofficial end of Summer and the last day of freedom for many children who are back to school today. Labour Day dates back to 1882 and I like to believe the story that it was inspired by Toronto's Labour Festival.
Welcome to Tea Tuesday, my weekly tribute to the art of having tea. As Henry James once said: "There are few hours in life more agreeable than the hour dedicated to the ceremony known as afternoon tea.
I host Tea Tuesday each week, a virtual tea party which was inspired by Christine, a follower who lives in France, who was curious about English tea traditions after watching a few episodes of Downton Abbey. The British may have failed miserably in other culinary areas, but they excel in the tea ritual. Join me every Tuesday as I dish on Downton Abbey, the Royal Family, UK tourism and other topical tea issues one might discuss at tea, served up with a tea treat recipe with a history. Today's treat is Angel Food cake, begging the question, can I still serve this low fat treat after Labour Day?
My Online Guide to the Tea Ritual
Taking a traditional "afternoon tea" is definitely a bucket list experience. To do it properly, I have created a handy guide to help you enjoy the experience: Downton Abbey Cooks Online Guide to Afternoon Tea.
Dishing Downton: Spoiler Alerts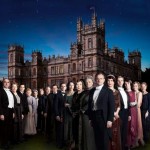 I am reminded by that when I asked Hugh Bonneville (@hughbon) about the smelly lobster on set, he tweeted back saying we shouldn't believe everything we hear or see, so take some of these reports with a grain of salt.
WARNING: if you wish to remain in ignorant bliss about that is going to happen in Season 3, I would suggest you scroll right down to our recipe of the day. After a flurry of activity last week, it has been relatively quiet leading up to the holiday.
Never Fail Angel Food Cake
In high society, Labor Day is (or was) considered the last day of the year when it is fashionable to wear white. I wonder if that also applies to white summer foods like Angel Food Cake? Just to be sure I made one last cake this weekend. It is a great low fat dessert on its own but also very versatile. It is a tried and true heart healthy dessert. You would think that since it is a base ingredient for English trifle (try my low fat version), it originated in the UK. Actually Angel Food cake is from America. So, unlike the sparks flying between Downton matriarchs Violet and Martha, the trifle represents a harmony of the two cultures. Perhaps Lord Grantham will sit them both down to share a portion.
Servings

Prep Time

Cook Time

Passive Time

10

servings

1

hour

45 to 50

minutes

1

hour
Servings

Prep Time

10

servings

1

hour
Cook Time

Passive Time

45 to 50

minutes

1

hour
Heat the oven to 325°F. This is the optimum temperature for Angel Food cake. Put the egg whites in the super clean bowl of a heavy-duty electric mixer. Set aside until the whites are slightly below room temperature, 60°F, about 1 hour.

Sift the cake flour, confectioners' sugar, and salt onto a sheet of waxed paper; set aside. Cake flour gives you the best rise.

Once the whites reach room temperature, whip the whites on medium-low speed until frothy . Add the cream of tartar; turn the speed to medium. Continue whipping only until soft peaks form. Do not overbeat as your cake will not reach optimum volume.

In a slow, continuous stream, add the granulated sugar, whipping until the whites thicken and form soft, droopy peaks. In the final moments of whipping, add the vanilla and lemon zest. The mixture should be fluffy but fluid enough to pour.

Sprinkle one-quarter of the flour mixture over the whites and, using a rubber spatula, gently fold the dry ingredients into the whites. Continue folding in the flour mixture, one-quarter at a time, until it has all been added.

Gently pour the batter into an ungreased 10-inch tube pan. You can also pour into 2 loaf pans or muffin tins. Use a knife to gently work cut through the batter to remove excess air bubbles.

Bake in the bottom third of the oven until the top is light golden and the cake feels spongy and springs back when touched, 45 to 50 minutes.

Immediately invert the pan onto the neck of a bottle or a funnel and let cool completely (at least an hour) before removing from the pan.

To remove the cake from the pan, tilt the pan on its side and gently tap the bottom against the counter to loosen the cake. Rotate the pan, tapping a few more times as you turn it, until the cake comes free from the sides of the pan. Lift the cake from the pan. Ideally it should come out cleanly, leaving most of the crust on the sides of the pan.

To serve, use a serrated knife and cut with a gentle sawing motion.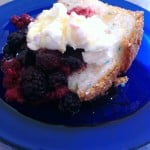 There are a variety of ways to enjoy your cake. Serve on its own, use it in trifle, grill on the BBQ. My family love it with ice cream or low fat frozen yoghurt, I like mine with thawed frozen berries, a dollop of non fat greek yoghurt and a drizzle of honey.
Since angel food cake uses egg whites and ice cream uses egg yolks, they make a perfect cooks collaboration.