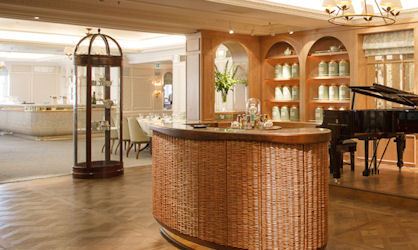 Another Tea Tuesday, and I am slowly coming out of Titanic mourning.  I tried to shake the blues last week with a nice long run, but it was what I found in our mailbox which really picked up my spirits.  I received a lovely petite book on Tea from the famous Fortnum & Mason, located in the heart of London. The gift came from my new friend Ellen who I have written about before. Ellen is the American who saw my tweet about a Ladies' luncheon featuring Lady Carnarvon at Tylney Hall, just a stone's throw away from Highclere Castle where they film Downton Abbey.  Little did I know that Ellen would hop a plane and create a stir at the event, singled out as the "American" who came to luncheon.  She was treated like royalty and was personally introduced to the Countess, who is the current Countess at Highclere.  The book on Tea was a thank-you gift for inspiring her to take the trip, and perhaps a ploy to buy some time as I patiently await her written account to share with you, along with the recipe for Chocolate Mousse which the hotel has shared.
Tea Time Ritual Recap
Tea Tuesday was inspired by Christine, a follower who lives in France, who was curious about English tea traditions. Whether you take tea for pleasure, or for business as a rising business star entertaining clients, a little knowledge goes a long way.
I offer a new recipe each week, so check out and bookmark Online Guide to Afternoon Tea to keep up to date.  Here is a sample of what we have prepared:
God Bless the Queen and the London Olympics
Queen Elizabeth II celebrates her Diamond Jubilee this year, and with only 100 days until the London Olympics,  many of you may be planning a trip to the UK.  Consider a side trip to Highclere Castle, perhaps staying at Tylney Hall, and certainly book your Afternoon Tea now.  Fortnum & Mason just opened the Diamond Jubilee Tea Salon (pictured above), which would be a great place to experience tea. 
Tourists are not the only ones who should enjoy Britain.  I love this "staycation" TV ad: Stephen Fry, Rupert Grint, Michelle Dockery and Julie Walters demonstrate great places to visit in the UK this year.
[youtube http://www.youtube.com/watch?v=0Nq20u0YzoI]
Titanic Updates
A Meal to Remember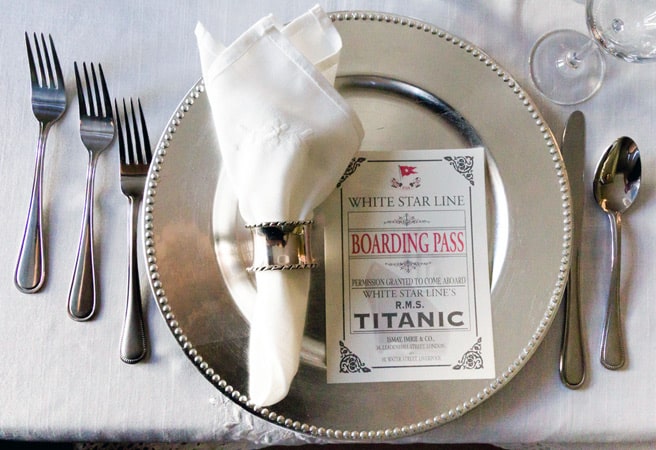 Many tribute meals were held all over the world this weekend.  Bartolotta Catering at The Grain Exchange in Milwaukee held an amazing event.  I shared their promotional video in an earlier post, and they were kind enough to share pictures of the actual event.
I have mentioned Paula Costa before:  she is a food blogger from Waterloo, Canada who blogged about the 1st Class Menu.  Her amazing dinner was photographed for Toronto Life, our  lifestyle magazine.
While your meal may not have been as extensive as Paula's, I am offering book prizes for the 2  best stories and shots of home hosted events.
As the first submission, I was entranced by my online exchange with Jessica Brockmole on Twitter who writes early 20th century fiction.  She was looking for the recipes which would appeal to her 8 year old Titanic fan.  I understand that the lovely little lady pictured below made the menu selections.  I think they did a great job recreating a meal to remember.  Send in your photos to downtonabbeycooks@gmail.com.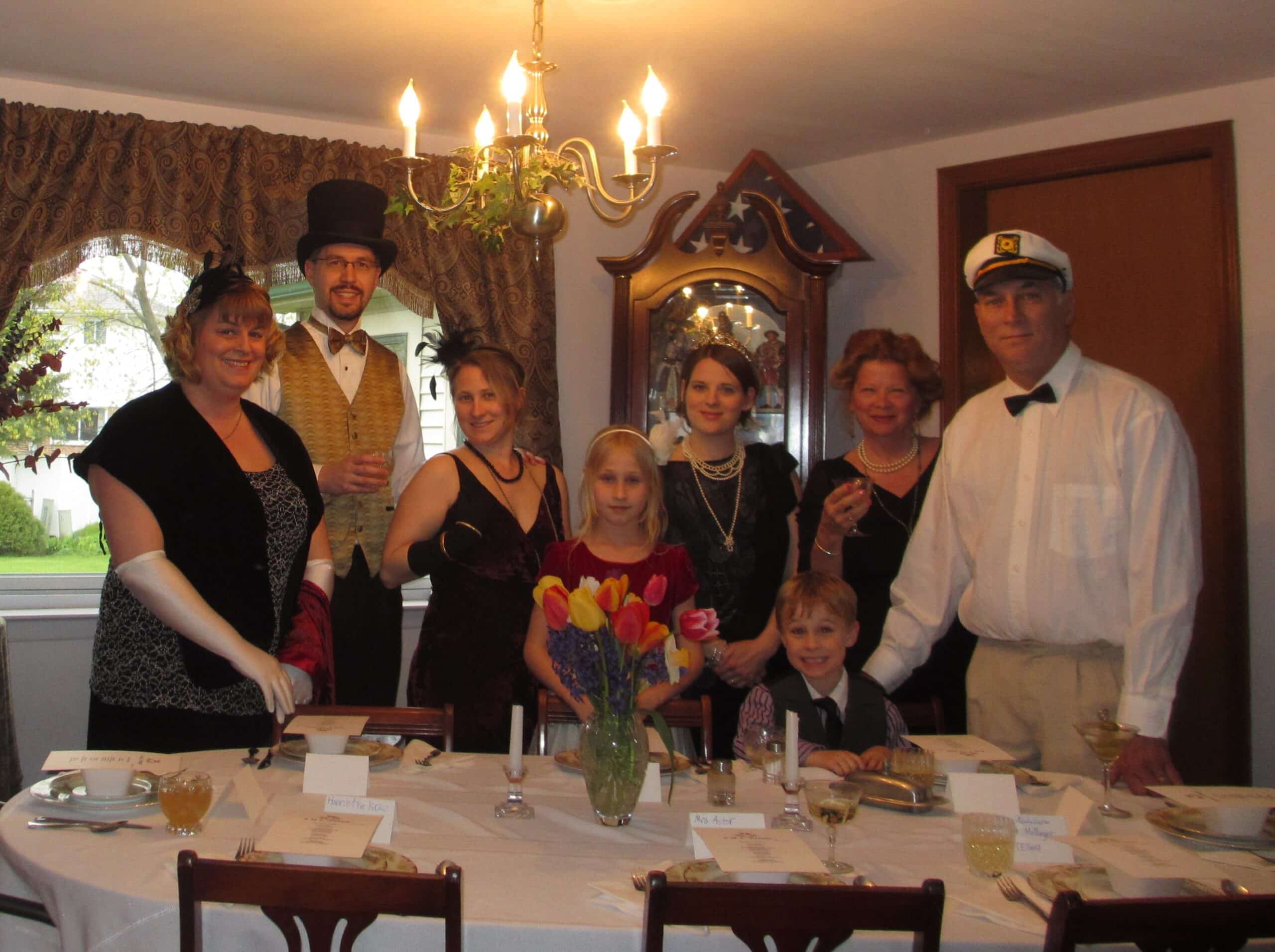 Titanic the Musical in Vancouver
Trischa Buhler was kind enough to drop a line to tell us about the upcoming musical production of Titanic by Theatre Under the Stars in Vancouver.   Titanic under the Stars will be sure to delight.  I lived in Vancouver for a few years and TUTS is an amazing not for profit group which holds wonderful performances in the famous Stanley Park.
Blueberry and Vanilla Financiers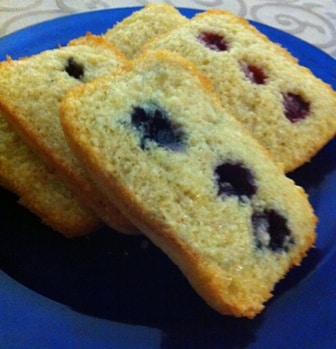 Today's recipe is from my new cookbook Ellen gave me.  I cut the amount of butter which was Lord D approved in our household, and will experiment with making a version with applesauce, replacing all butter. If you can't make it to London this summer, then enjoy making tea treats at home.
This is light, moist teacake, similar to sponge cake, and usually contains almond flour, crushed or ground almonds, or almond flavoring.
The name "financier" is said to be derived from the traditional rectangular mold, which resembles a bar of gold.  Some say that it comes their popularity in the financial district of Paris surrounding La Bourse du Commerce (the former name of the Paris stock exchange). Either way they are wonderful.
Ingredients
1/4 cup melted butter, cooled
1 vanilla pod (or 1 tsp. real vanilla)
1 cup icing sugar
4 medium egg whites
1/4 cup sifted flour
3/4 cup ground almonds*
zest of 1 lemon
handful of blueberries
Preheat the oven to 375 F/190 C/gas mark 5
Grease a nine hole friand tray.  You can also use muffin tins.
Slice the vanilla pod in half/lengthways.  Use a knife or a teaspoon to scrape the pod to extract the vanilla seeds.  Add them to the icing sugar.
In a large bowl, whisk the egg whites until frothy.
Fold in all the remaining ingredients.
Spoon into your prepared tray and push a few blueberries into each cake.
Bake for 20 minutes until golden and a skewer comes out clean.
Leave in the tray for 5 minutes, then transfer to wire rack to cool.  Dust with icing sugar before serving.
*I didn't have any ground almonds on hand, but you can make your own if you have almonds on hand.  Just put them in a food processor.  I had whole almonds so I first had to blanch them for a minute in hot water, then rinse in cool water which helps remove the skins.
Order your Own