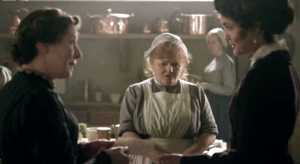 Poor Mrs. Patmore.  In S1E5, it was evident that her deteriotating eyesight was beginning to seriously impact her ability to perform the duties required of such a large household. If she told anyone she may lose her position and then where would she be?
Cora had invited Sr. Anthony Strallan to dinner as a potential husband for Lady Mary, and to further entice him (the way to a man's heart is through his stomach) asked Mrs. Patmore if she could prepare Apple Charlotte, a favorite of Sir Anthony.  Embarrased that she was unable to read the receipt (recipe) Cora presented, she protested that the provisions of the dessert for that evening had already been arranged.  We do know in the end her eyesight betrayed her anyway, resulting in the salting of the raspberry meringue pudding.  An embarrassment to the Crawleys, but no real harm done.  Luckily for Mrs. Patmore, this family is very fond of their servants, and dispatched Mrs. Patmore to London for an operation to correct the problem, and all was well.
Mrs. Hughes was correct, the apple charlotte was a pretty easy recipe to follow, and there would have been no need to put sugar on it!  There are many Downton Abbey Cooks out there, with different interpretations.  Julia Child does a fabulous version with the added punch of rum, but today I will share a couple recipes which are more authentic to Britain and the period.  British cooks didn't use cinnamon in that era, but I love cinnamon with baked apple dishes so make it your own!  You too, can be a Downton Abbey Cook! Bread and apples…how hard can that be?
Mrs. Beeton's Easy Layered Apple Charlotte
Mrs. Beeton (1836-1865), the original domestic goddess, is one of my favorite food writers.  She actually couldn't cook at all, but had a brilliant mind for organization, and collected recipes and published them.  Learn more about her amazing young life and the movie about her story.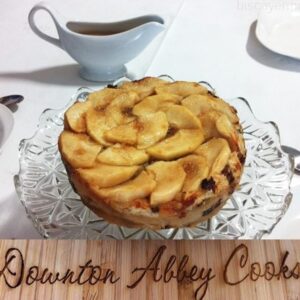 Mrs. Beeton's Easy Apple Charlotte
The dish that Downton Abbey refused to make is actually very simple to make. King George V loved this dessert.
Ingredients
9

slices

bread, buttered

crusts removed

6

large

apples

1

tbsp.

lemon-peel, minced

2

tbsp.

juice

moist sugar

to taste
Instructions
Butter a 8 inch spring form pan (or use a pie pan which is what Mrs. Beeton had on hand).

Place a layer of bread and butter, without the crust, at the bottom; then a layer of apples, pared, cored, and cut into thin slices;

Sprinkle over these a portion of the lemon-peel and juice, and sweeten with moist sugar.

Place another layer of bread and butter, and then one of apples, proceeding in this manner until the dish is full; then cover it up with the peel of the apples, to preserve the top from browning or burning;

Bake in a brisk oven ( 350 F / 180 C degrees) for rather more than 3/4 hour; remove the outer ring, and place the charlotte on a serving dish, sprinkle sifted sugar over, and serve.
Notes
Remember to make breadcrumbs from your scraps!