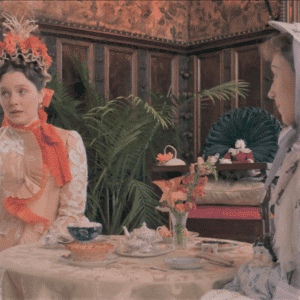 Welcome to another The Gilded Age recap from the perspective of food and entertaining.
Just when you have seen everything, the obscenely wealthy create yet another way to amuse their guests.  In S1E06 Gladys accompanies her brother to a tea party with Mrs. Fish to find out it was tea for dolls.  Mamie Fish was a real-life socialite. Known for her quick wit and outrageous parties in New York and Newport, she may not have been the wealthiest member of the society set, but she was known as the most fun.  She was actually a patron of New York's annual doll show.  What fun!
Of greater consequence in entertaining was planning a luncheon for the great Mr. McAllister at the Russell home.  The service was to be French but the food English. Church is confused. What will they serve?  "Fish and Chips? Suet Pudding? or what about Boiled Beef and Carrots?"
Bertha wisely recruits Bannister from across the street to help ensure the luncheon is a success. Adding to the confusion he reveals that the English eat asparagus with their fingers.  Best to avoid asparagus.
Chef Monsieur Baudin is up to the challenge and we know that he serves chilled vichyssoise and Eton Mess.
Service in the Gilded Age
"Removes" is likely one of the most confusing French courses since it isn't actually a course at all. It's the portion of the meal used to switch out the side dishes in preparation for the roast course.
The salad course is different than what we are accustomed to today. This course is quite simple and utilized as a means of encouraging digestion. Salad was typically served in a salad bowl, of course, and was nothing more than a simple bed of greens with a light dressing.
Our recipe today is the delightful Eton Mess. And yes it is supposed to look like a mess made by schoolboys!
The Gilded Age Show News
Gilded Age in History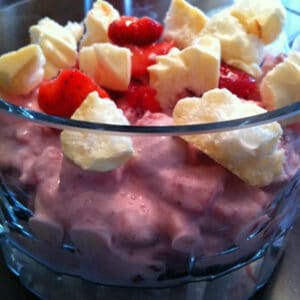 Low Fat Eton Mess
If you are pressed for time, this is a great easy dessert to make. Traditionally made with whipped cream, you can reduce the fat by substituting with greek yogurt.
Ingredients
4

cups

strawberries

1 1/2

cups

non fat plain greek yogurt, flavoured with honey

4

large

meringue cookies or nests
Instructions
Hull and chop half the strawberries, and place into a bowl. Roughly mash and add the sugar and leave to macerate (marinate) for 10 minutes.

Roughly crumble in three meringue nests — you will need chunks for texture, as well as a little fine dust. Leave one cookie to garnish.

Fold into the marinated strawberries into meringued cream.

Place the remaining strawberries, meringue yogurt mixture and into a lglass bowl or individual serving dishes. Top with remaining strawberries and meringue.
Notes
History Lesson
The generally-accepted story is that the strawberry, meringue and cream pudding was dropped at an Eton v Harrow cricket match in the late 19th century. Rather than waste the food, it was simply scooped up off the floor and served, smashed to bits, in individual bowls.