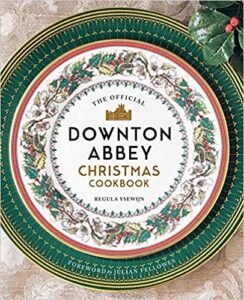 Stating the obvious, 2020 has been a year like no other.  In many ways we have been shaken to our core in terms of really appreciating what we have lost, what we have and what we look forward to.
I am thrilled that so many people have discovered their kitchens this past year taking up the challenge to bake their own bread, and generally taking an interest in how to prepare family meals.  Apparently one of the top search terms on Google is "healthy banana bread".  No longer a secret I have had so many people downloading my banana bread recipe. You are welcome.
For Downton fans, the Christmas season has brought us a wonderful new cookbook. It is not only beautiful, it helps take us back in time to our favourite country house and its inhabitants.  Food traditions evolve, but it is so comforting that many are still enjoyed.  As I love to say, "great food has a history".
In this book, we are invited to take a seat at the holiday table of Downton Abbey, the fictional historic British estate at the heart of the popular television series with The Official Downton Abbey Christmas Cookbook. This elegant coffee table cookbook highlights the luxury and elegance of Christmas at Downton Abbey and features a collection of traditional British holiday recipes, from appetizers to desserts, that were popular during the Edwardian period.
In addition to festive food and drink, The Official Downton Abbey Christmas Cookbook also includes the fascinating history of English Christmas traditions and a guide to hosting a Christmas dinner in Downton Abbey style.
Traditional Edwardian Christmas dishes include:
Palestine Soup
Sole a la Dorchester
Duck with Orange, Lemon and Olives
Boar's Head Pie
Spinach Balls a I'ltalienne
Angels on Horseback
Nesselrode Ice Pudding
Whitby Yule Cake
Cambridge Milk Punch
Woven throughout the book are evocative narratives about Christmas traditions, seasonal anecdotes from the award-winning series, colourful photographs of finished dishes, fan-favorite
moments from the Christmas episodes, and character quotes to bring the spirit of the holidays to life.
The perfect gift for the Downton Abbey fan, The Official Downton Abbey Christmas Cookbook will become a cherished souvenir of the beloved series, and inspire new holiday traditions.
My Own Christmas Recipes
For a complete list, and fun food history to amaze and amuse, click the link for Holiday Dishes.