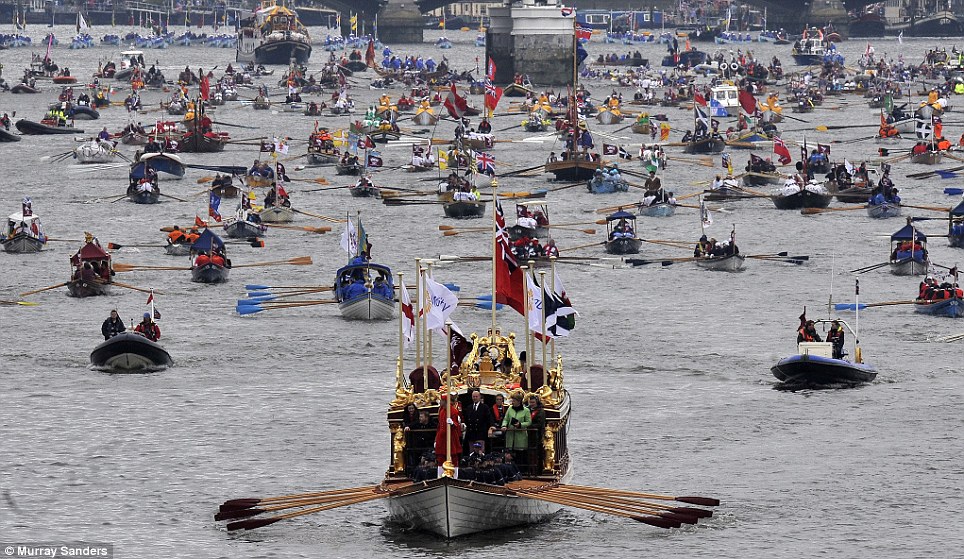 Brits really know how to throw a party.  Londoners are currently enjoying a rare two day Bank Holiday, allowing commoners more time to engage in official and their own Diamond Jubilee celebrations, celebrating Queen Elizabeth II's  60 years on the throne.  In response to a young lass whose tweet wondered why it was a big deal, my response to her in terms she could relate: think Girl Power.  This is only the second Diamond Jubilee ever celebrated, the first by Queen Victoria, and both were women.
Celebrations, mostly in the form of street parties, have been ongoing all weekend.  The weather was a bit bleak yesterday but did not deter the crowds.  A  500 table Piccadilly Jubilee Big Lunch was held yesterday along Piccadilly Street, which was attended by Prince Charles and Camilla.  I can imagine pubs did good business, as revellers took shelter from the cold rain to watch the Flotilla on the Tele.  It was reported that over a million people brave the weather to line the banks of the Thames to watch 1000 boats parade by. It's Britain, it rains, what are you going to do?
Tonight is the Jubliee Concert which will see music royalty perform for the Queen, with acts spanning six decades, so there will be a little bit of something for everyone.  The concert ends with the Queen's lighting of the national Beacon which will signal the lighting of 1000s of beacons across the Commonwealth and in other parts of the world.
Beacon lighting is a tradition which spans hundreds of years. It has been used to celebrate Royal Weddings, Jubilees and Coronations when beacons have been lit on village greens, castle battlements, church towers, farms, beaches, front gardens, car parks and mountain tops.  A beacon chain, once used as a tool for communication, particularly during war, has now become a symbol of unity across towns, borders, countries and continents.  In 1897 beacons were lit nationally to celebrate Queen Victoria's Diamond Jubilee, and in 1977 and 2002 beacons were lit to celebrate The Queen's Silver and Golden Jubilees.
Jubilee Picnic
Before we get to tonight's celebrations, 10,000 lucky lottery winners will be enjoying a royal picnic at Buckingham Palace.  The picnic is a tradition long enjoyed by the British, popularized during Queen Victoria's reign, and carried through today.  My virtual friend Evangeline at Edwardian Promenade recently provided a wonderful extract from Everywoman's Encyclopaedia on Picnics and Picnicking which gives you a flavour for how things were to be done.
As for today's picnic, a  fleet of trucks from Waitrose, a national grocer, have been making deliveries all morning.  The picnic hamper includes traditional picnic favorites, with a modern twist, created by Heston Blumenthal, trendy UK Chef de Jour.  For the foodies in the crowd I will include the "formal description" of the menu.
Starter

Chilled British country garden soup. A chilled British baby plum tomato soup with red peppers and cucumber finished with garden mint-infused oil.

Main

Best of British potted duo. Tea-smoked Scottish salmon. Fragrant Lapsang Souchong tea-smoked salmon, mixed with delicious flaked poached Scottish salmon, lemon, British creme fraiche and a sprinkling of fresh chives.
Diamond jubilee chicken. A new take on a British favourite created in 1953 to celebrate the Queen's coronation – an aromatic blend of Indian species mixed with mayonnaise, tender shredded chicken and fragrant coriander, finished with peppery nigella seeds. Served with fresh bread rolls, butter and crunchy seasonal crudites.
Vegetarian option: mushroom parfait. a smooth, roasted mushroom puree blended with a rich port, brandy and Madeira reduction, British butter and free-range eggs, then baked until set.

Pudding

Sandringham strawberry crumble crunch. Creamy yoghurt marbled with Sandringham strawberries and British cream, with a crunchy meringue and oat crumble topping.

Cakes

 Lemon and caraway Madeira cake. A traditional Madeira cake with zesty lemon, and a warming aniseed finish.
Chocolate indulgence cake. A light fluffy chocolate sponge with a rich smooth ganache topping, decorated with a chocolate crown and sprinkled with popping candy.

Cheeseboard

A "taste of England" cheese selection. Duchy Originals from Waitrose organic mature West Country Farmhouse Cheddar and creamy Red Leicester Crunch served with Duchy Originals from Waitrose Chutney and Oaten biscuits.
If you didn't get a Golden Ticket to enjoy a picnic in the Palace Gardens, you can always create your Jubilee picnic, including a couple of interesting English dishes.
Flora Jubilee Celebration Sandwich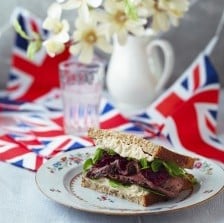 Flora Jubilee Celebration Sandwich
This sandwich was created by Former Palace Chef Darren McGrady for the Diamond Jubilee
Ingredients
2

slices

10-grain bread

10

g

Flora Original or other margarine

50

g

guinea fowl pate

or readymade game pate

4

thin slices

roast juniper-crusted venison

or roast beef

45

g

beetroot relish

6

g

pea shoots or micro greens or salad leaves
Beet Root Relish
250

g

uncooked red beetroot

50

ml

Sandringham Estate apple juice

50

ml

white balsamic vinegar

1

tbsp.

honey

25

ml

Gin

25

ml

Dubonnet

1

pinch

salt and pepper to taste
Guinea Fowl Pate
1

cooked guinea fowl breast

or chicken with skin removed

20

g

Flora Original (or other margarine)

melted and with fresh thyme leaves infused

20

g

sour cream

20

g

Stilton cheese

optional

salt and pepper to taste
Instructions
Beet Root Relish
Peel the beetroot and coarsely grate. Place in a small pan with the apple juice, vinegar and honey. Simmer until the liquid reduces by half and then add the Gin and Dubonnet and reduce again until the liquid becomes syrupy and the beetroot tender. Season with salt and pepper.
Guinea Fowl Pate
Chop the guinea fowl (chicken) into small pieces and blend in a food processor with the Flora, sour cream and stilton cheese until smooth. Season with salt and pepper.

Build the sandwich: Spread the bread with margarine, assemble the ingredients and enjoy your sandwich!
Pimm's Punch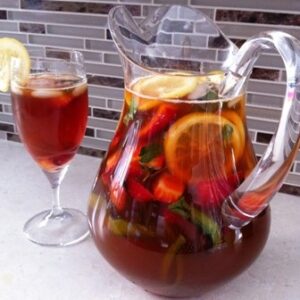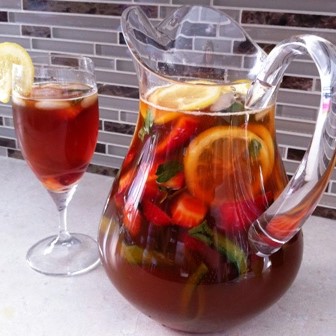 Cool and Refreshing Pimm's Punch
In the 1840s, James Pimm invented Pimm's, the iconic English gin based drink.  It was first touted as a health tonic, now it serves as refreshing addition to many summer cocktails.  Pimm's Punch is delightful colorful and fruity drink which is a great addition to garden party and picnic menus. Pimm's has only 1 g of carbs so a perfect keto drink option.
Ingredients
2

large

lemons,

sliced

2

cups

strawberries

quartered

1/2

medium

English cucumber ,

peel

2

tbsp.

castor sugar

or Stevia sugar substitute

3

large

lemons,

juiced

2

cups

ice cubes

3/4

bottle

Pimms No. 1

1

litre

club soda water
Instructions
Put the sliced lemons, strawberries, cucumber peel, crushed mint, sugar, lemon juice and Pimm's into your punch bowl.

Stir the ingredients until the sugar has dissolved.

Add the ice and top up with soda water. You can pour some of the punch into clear jugs to serve to your guests.

Enjoy responsibly.
Notes
You can partially assemble a few hours in advance. Add all ingredients in a large jug, except for the ice, and chill.