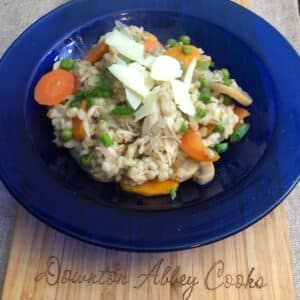 If you haven't tried using barley in risotto, you really are missing something. Full of fibre goodness,  barley is a great alternative to arborio rice since it becomes plump and chewy when cooked. You could simply prepare this dish as baked barley and turkey but by adding the Parmesan and butter at the end, we can release the barley's starches, creating that delicious creamy risotto texture.
This risotto is quite adaptable, you could use leftover rotisserie chicken instead of turkey, or leave out the meat, double up on the vegetables and make a vegetarian meal or a side to a roast dish.  The added bonus is that most of the work is done in the oven so you don't have to keep stirring.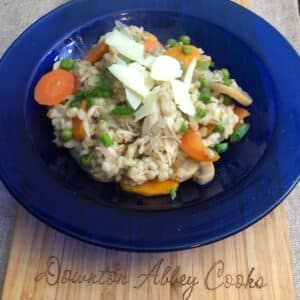 Comforting Baked Barley Turkey Risotto
This is a wonderful way to use up a few turkey leftovers in a rich comforting easy dish. Most of the work of this barley risotto is done in the oven so you don't have to worry about constant stirring.
Ingredients
3

tbsp.

extra-virgin olive oil

1

medium

onion

finely chopped

5

cloves

garlic

thinly sliced

8

ounces

mushrooms

such as white button, cremini and shiitakes, halved if small, quartered if large

1 1/2

cups

pearl barley

1

medium

carrot

very thinly sliced into rounds (about 1 cup)

1

cup

peas

fresh or frozen (optional)

4 1/2

cups

chicken stock

1

cup

cooked turkey

shredded

1

tsp.

tarragon

fresh, chopped

1/2

cup

grated Parmesan

more for serving

2

tbsp.

unsalted butter

¼

cup

chives

chopped

1

pinch

Kosher salt

to taste

1

pinch

black pepper

to taste
Instructions
Heat oven to 425 degrees. In a large Dutch oven or heavy pot, heat 2 tablespoons oil over medium. Add onion and garlic, and cook, stirring occasionally, until softened, about 3 minutes. Add mushrooms and remaining 1 tablespoon oil, and season with salt and pepper. Cook, stirring occasionally, until mushrooms start to soften, about 3 minutes.

Stir in barley, carrots and peas and 4 1/2 cups stock , and bring to a boil over high heat. Cover, transfer to the oven and bake until barley is tender and chewy and almost all of the liquid is absorbed, about 30 minutes.

Stir in the turkey, Parmesan and the butter until slightly thickened and creamy. Season with salt and pepper.

Divide among shallow bowls. Sprinkle with chives and more Parmesan, to taste.