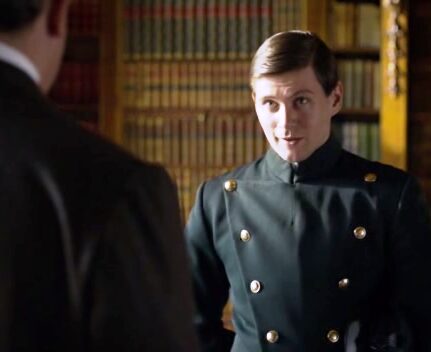 Downton Abbey's most notable Irish character is Tom Branson, the chauffeur, played by Allen Leech who tweets @allenleech.  Brendan Coyle (who plays Mr. Bates) is half Irish, as is his character.
Branson was introduced in S1 E4, which aired this week in South Africa on BBC, and in Canada on Vision TV.  Downton needed a new chauffeur. Grantham: "To think that Taylor has gone off to run a tea shop.  I cannot feel it will make for a restful retirement." Carson: "I would be rather be put to death My Lord.  Grantham: "Quite so".
So Robert Crawley loses his elderly tea-loving driver, providing him with an opportunity to shake things up a bit by hiring a young Irishman to drive them about.  This young man initially impresses Lord Grantham with his passion for reading history and politics: he is even given a library card.  Little does he know that the "revolutionary chauffeur" will make major ripples in the Downton pond.
A Wee Spoiler Alert:  Downton Grads (we have seen it all and converting new followers) will recall Branson's creative talents in the kitchen in S2 E3;  I shared his soup recipe and was reminded why Brits are widely regarded as the world's worst cooks.  I don't think I am giving too much away by saying that the flirting between Branson and Sybil in this first episode–over frocks and "The Vote"– continues over time.  If you like guilt-free brownies, but don't want details of the long-simmering romance, follow the link to my brownie post–just scroll down quickly to the bottom for the recipes.
The Science of Using Alcohol in Food
Alcohol can be a powerful weapon to bring out wonderful flavours in a dish.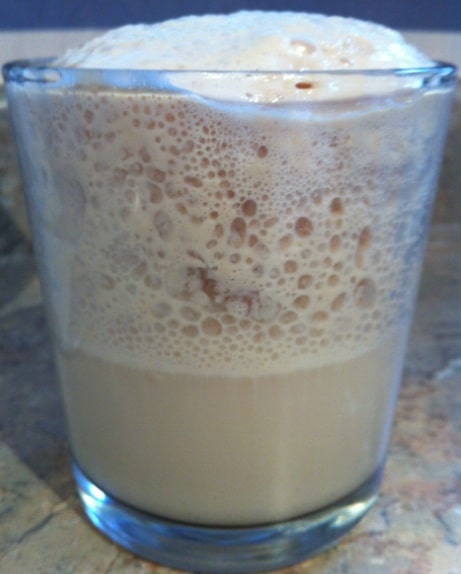 One of my favourite cooking magazines is Fine Cooking.  I have every single issue that has ever been published, bought the special red cases to store them in, and have ordered replacement issues for the odd issue I have lost.  I am torn between the print and digital versions: I still love the experience of flipping pages, but recipes are so much easier to find online. Either way, I won't give up my dedication to magazines as they explore the science of cooking.  It is very much like chemistry class, and once you figure out the properties of ingredients–how they react to temperature, moisture and to each other–you can make your own creations.  I grew up believing recipes were formulas, and I am a scientist and creator of all things tasty: working with yeast will do that to you.
David Joachim and Andrew Schloss wrote a great article for Fine Cooking:  Alcohol's Role in Cooking. This article explains how alcohol helps to bring out the flavour in your food in two ways: by evaporation and molecular bonding.
Evaporation–alcohol molecules are volatile, meaning they evaporate rapidly (you smell them right away). Use that to your advantage with a splash of spirits in a dressing, for example.
Molecular bonding–alcohol bonds with both fat and water molecules, bridging the gap between our aroma receptors (which respond only to molecules that can be dissolved in fat) and food (which consists primarily of water).
The good news: less is more so you can still have your glass of wine and cook with it too.  The ideal ratio is 1% of the total dish; over 3% and the dish will be overwhelmed.  When it comes to evaporation, a small amount can make a distinct difference in flavor perception.  And with molecular bonding, just a splash of a spirit in a marinade intensifies the flavors in the finished dish.  All the more reason to bring alcohol into the kitchen.
Does the Alcohol Used in Cooking Burn Off?
What I found most interesting about this article is that alcohol does not burn off when you cook it, but you aren't using much in the first place.  How much is retained in a finished dish is determined by several factors: the amount of alcohol added, the amount of heat applied, the cooking and standing time, and the physical dimensions of the cookware.  Check out this nifty chart.
| | | | | |
| --- | --- | --- | --- | --- |
| Preparation / Method | | Retained | | Evaporated |
| Flamed (flambé) | | 75% | | 25% |
| Left uncovered overnight, no heat | | 70% | | 30% |
| Stirred into mixture and baked or simmered for 1 hour | | 25% | | 75% |
| Stirred into mixture and baked or simmered for 2-1/2 hours | | 5% | | 95% |
Source: USDA Table of Nutrient Retention Factors, Release 6
Dishes with Beer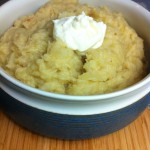 So now that we have learned a little more about how alcohol improves the taste of our food, here are a few recipes to try for St. Patrick's Day.
Colcannon. Essentially it is a hearty dish of cabbage, potatoes, and beer.
Colcannon Cakes.  Great use of leftovers
Fish and Chips. Not as great as Lord D's version which launched their family seafood restaurant "back in the day", but that recipe is MIA.
Comforting Irish Stew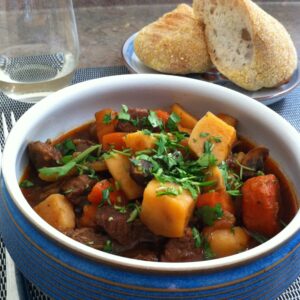 Comforting Irish Stew
There is nothing as comforting as stew when it is cold outside.  Celebrate Branson's heritage with the way the Irish prepare stew, with beer added.  King George V loved Irish Stew.
Ingredients
2

tbsp.

vegetable oil

1

tbsp.

butter

1 1/4

pounds

stew beef

cut into 1 inch pieces

6

cloves

garlic

minced

8

cups

beef stock/broth

DYI recipe below

2

tbsp.

tomato paste

1

tbsp.

sugar

1

tbsp.

dried thyme

1

tbsp.

Worcestershire sauce

2

medium

bay leaves

2

tbsp.

unsalted butter

3

pounds

russet potatoes peeled cut into 1/2 pieces

Keto: substitute sweede, turnip

2

cups

carrots

keto: use half the carrots or omit.

1

large

onion

finely chopped

1-2

cups

dark beer

optional

2

tbsp.

fresh parsley

chopped

1

pinch

Salt and pepper to taste
Instructions
Heat oil in heavy large pot over medium-high heat.

Important Tip: Use paper towels to dry the beef. This will ensure you are browning the beef, not steaming it--makes a big difference in your final stew.

Add beef and sauté until brown on all sides, about 5 minutes. Add garlic and sauté 1 minute. Add beer if you are using.

Add beef stock, tomato paste, sugar, thyme, Worcestershire sauce and bay leaves. Stir to combine. Bring mixture to boil. Reduce heat to medium-low, then cover and simmer 1 hour, stirring occasionally.

Meanwhile, melt the butter in another large pot over medium heat.

Add potatoes, onion and carrots. Sauté vegetables until golden, about 20 minutes. Season with salt and pepper.

After the meat has simmered for 1 hour, add vegetables to beef stew.

Simmer uncovered until vegetables and beef are very tender, about 40 minutes.

Discard bay leaves.

Transfer stew to serving bowl.

Sprinkle with parsley, which gives it a really nice fresh taste, and serve.
Notes
For some reason stew always tastes better the next day, so you can resist the temptation to eat it on the first day. Refrigerate and enjoy on day 2. This freezes really well, allowing you to enjoy it on a night when you don't feel like cooking...like every night of the week!
We have a Jack Sprat household.  My husband lives low fat, I live keto, so I will make the stew with carrots and just pick them out.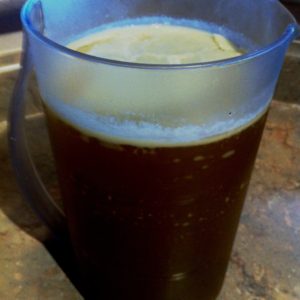 Beef Bone Broth
Bone broth is the latest in health trends. Grandmothers would be so proud that what is old is new again. Make your own beef broth for soups or just to enjoy on it's own. It freezes really well.
Ingredients
4-5

lb

meaty beef and veal bones

1

lb.

stew meat

2

large

onions

peeled and quartered

2

large

carrots

roughly chopped

1

splash

olive oil

1

bunch

Celery stalks and leaves

1

bunch

broccoli stems

2

cloves

garlic

unpeeled

1

handful

parsley

stems and leaves

1

large

bay leaves

10

loose

peppercorns
Instructions
Preheat oven to 400°F/200°C/Gas 6.

Place stock bones, stew meat or beef scraps, carrots and onions in a large, shallow roasting pan, and drizzle some olive oil on top.

Bake for 45 minutes, turning the bones and meat pieces halfway through the cooking, until browned. Transfer the meat and vegetables to a large stock pot.

Deglaze the roasting pan on low heat by pouring a little water in the pan and scraping up all of the browned bits stuck to the bottom of the pan. Pour the browned bits and water into the stock pot.

Add the remaining ingredients into the pot, and fill with water so it is about 1 inch (2.5 cm) above the bones.

Turn the heat to high and bring to a boil, then reduce the heat to low. Partially cover the pot and let simmer untouched for 3–4 hours, occasionally skimming the scum that rises to the top.

I let the stock simmer for the afternoon, but it should be left for at least 3 hours. Remove from the heat and take out the vegetables, meat and bones. You can reclaim the stew meat for a soup, and if you are a fan of marrow, now is the time to dig in. Let the mixture cool, then strain the stock into tall containers which take up less room in your refrigerator. Refrigerate and you will see that the fat has risen to the top and created a white layer. You can easily pick it off and discard.

Once cooled, the fat will rise to the top which you can now easily remove.

You can now use the stock which will keep in your refrigerator for a few days. Freeze the rest in plastic containers for future use. I also freeze some in ice cube trays, transferring into a plastic bag. One or two cubes are great for the times when you only need a little stock to add to a dish.