This is a great hearty soup to use to use up lots of vegetables. This list is just a suggestion; just use whatever you have on hand. For deeper flavor, add a beef soup bone to the pot. Butchers will sell them to you at a very cheap price.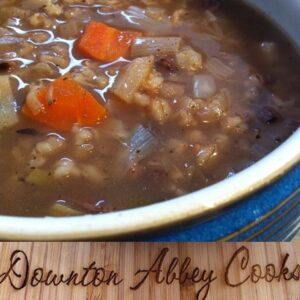 Comforting Beef and Barley Soup
Ingredients
1/4

cup (1/2 stick)

butter

2

cups

chopped onions

1

cup

chopped peeled turnip

1

cup

cauliflower florets

1

cup

broccoli florets

1

cup

chopped peeled yams

(red-skinned sweet potatoes)

1

cup

chopped peeled potatoes

1

cup

chopped celery

5

cups

beef stock or canned beef broth

5

cups

homemade chicken stock or low-salt chicken broth

1

cup

pearl barley

1 1/2

tbsp.

chopped fresh thyme

1 1/2

tbsp.

chopped fresh oregano

1 1/2

pounds

stewing beef

cut into 1/2-inch pieces

1/4

cup

chopped fresh parsley
Instructions
Melt butter in heavy large pot over medium heat.

Add vegetables; sauté 10 minutes. (you can add your beef bone at this stage, if you like)

Add both stocks; bring to boil. Reduce heat and simmer 20 minutes, skimming fat if you have added the bone. At this point I will simmer for a few hours.

Add barley, thyme and oregano.

Simmer until barley is tender, stirring occasionally, about 35 minutes. This can be made 1 day ahead.

Add beef to soup; simmer until just cooked, about 10 minutes.

Mix in parsley. Season with salt and pepper.
Notes
Make your Own Stock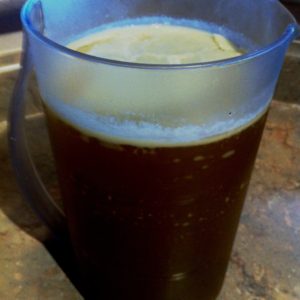 Beef Bone Broth
Bone broth is the latest in health trends. Grandmothers would be so proud that what is old is new again. Make your own beef broth for soups or just to enjoy on it's own. It freezes really well.
Ingredients
4-5

lb

meaty beef and veal bones

1

lb.

stew meat

2

large

onions

peeled and quartered

2

large

carrots

roughly chopped

1

splash

olive oil

1

bunch

Celery stalks and leaves

1

bunch

broccoli stems

2

cloves

garlic

unpeeled

1

handful

parsley

stems and leaves

1

large

bay leaves

10

loose

peppercorns
Instructions
Preheat oven to 400°F/200°C/Gas 6.

Place stock bones, stew meat or beef scraps, carrots and onions in a large, shallow roasting pan, and drizzle some olive oil on top.

Bake for 45 minutes, turning the bones and meat pieces halfway through the cooking, until browned. Transfer the meat and vegetables to a large stock pot.

Deglaze the roasting pan on low heat by pouring a little water in the pan and scraping up all of the browned bits stuck to the bottom of the pan. Pour the browned bits and water into the stock pot.

Add the remaining ingredients into the pot, and fill with water so it is about 1 inch (2.5 cm) above the bones.

Turn the heat to high and bring to a boil, then reduce the heat to low. Partially cover the pot and let simmer untouched for 3–4 hours, occasionally skimming the scum that rises to the top.

I let the stock simmer for the afternoon, but it should be left for at least 3 hours. Remove from the heat and take out the vegetables, meat and bones. You can reclaim the stew meat for a soup, and if you are a fan of marrow, now is the time to dig in. Let the mixture cool, then strain the stock into tall containers which take up less room in your refrigerator. Refrigerate and you will see that the fat has risen to the top and created a white layer. You can easily pick it off and discard.

Once cooled, the fat will rise to the top which you can now easily remove.

You can now use the stock which will keep in your refrigerator for a few days. Freeze the rest in plastic containers for future use. I also freeze some in ice cube trays, transferring into a plastic bag. One or two cubes are great for the times when you only need a little stock to add to a dish.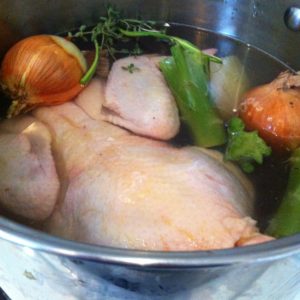 Abbey Chicken Broth
from Abbey Cooks Entertain
Ingredients
3

pound

chicken

or a mix of bone in chicken breasts and thighs

1

pound

unpeeled onions

trimmed and cut into eighths

2

ribs

celery

halved lengthwise and coarsely chopped

4

stems

broccoli

1

large

carrot

coarsely chopped

3

large

garlic cloves

peeled and coarsely chopped
Instructions
Place all the ingredients into a large stock pot.

Add 4-6 cups of water to cover all the ingredients and bring to a boil.

Lower the heat, cover partially and skim occasionally until the chicken is cooked. This will take an hour.

Take the chicken out and when cooled, take the meat off the bones and cut or shred into pieces. Save for a meal or wonderful chicken noodle soup.

Use a strainer to separate the liquids from solids. I like to press down on the solids to let some of the flavour come through, but it will give you a slightly more cloudy stock.

If you are going to use right away, use a fat separator if you have one to remove the fat, or you can blot the top of the surface with paper towels, add ice cubes or simply skim with a large flat spoon.

Cool immediately in large cooler of ice or a sink full of ice water to below 40 degrees. Place in refrigerator overnight. Remove solidified fat from surface of liquid and store in container with lid in refrigerator for 2 to 3 days or in freezer for up to 3 months.

Wonderful in chicken noodle soup (see link below). I always keep a supply of soup frozen on hand when someone in the family is starting to feel unwell.
Notes
Making your own brothdoes takes a bit of time, but for the most part you just leave the pot simmering on the stove, and is well worth the effort. The trick is to keep a stockpile of ingredients in your freezer. I often save celery and broccoli stems and toss them into the freezer, ready for the soup pot. I have purchased bone in chicken breasts, and saved the bones for the post as well. Chicken wings are also great for the stock pot.
When I make broth I am intending to make chicken soup so I use the meat from the whole chicken to put back into the pot. This recipe is like making sour dough. You use some of your previous batch to enrich your current creation.
If you are starting from scratch you can always reach for a quality low sodium "stock in a box" if you don't let Spratt catch you. I also like adding wine to my stock to give it more depth of flavour. Experiment and make your own creation worthy of the Dowager's praise.