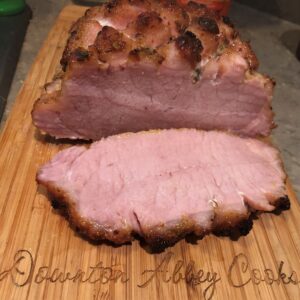 Peameal bacon is wet-cured pork loin from the back of the hog that has been trimmed of fat. These days it is rolled in cornmeal, creating a yellow crust, but it originally was rolled in crushed yellow peas which gave it its name.
Peameal was developed in Toronto, Canada by William Davis who owned a pork processing company.  By the early 1900s, it was the largest pork packer in the British Empire, contributing to one of  Toronto's longstanding nicknames, "Hogtown".
His butchers rolled the cured and trimmed loin in ground yellow peas, which were also part of the animals' diet, to help the meat make the trans Atlantic journey. It tasted pretty good, too.
The animals that left the port of Toronto bound for foreign plates were notably leaner than American porkers, and Davies encouraged breeders to raise animals to the specifications he knew would excite British palates.
This is an inexpensive, low fat and versatile cut of pork. We often have it at breakfast, thinly sliced, it fries up much faster than bacon and very lean.
Not limited to breakfast, you can toss a roast in the oven, add a few veg in the pan and you have an easy weeknight dinner.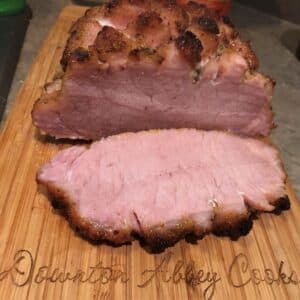 Comforting Canadian Maple Peameal Roast
This is a quick and easy roast to prepare to enjoy as a main course or slice and have for breakfast or brunch.
Ingredients
3

lb.

peameal bacon roast

1/3

cup

maple syrup

2

tbsp

dijon mustard

2

tsp

fresh rosemary, chopped

1

pinch

freshly ground pepper

1

pinch

kosher salt
Instructions
Place the fatty side up and score 1 inch diagonal

Line a baking sheet with tin foil, then place a cooling rack on top, and the roast on the rack.

Mix the glazing ingredients together and baste the roast, on all exposed sides with 1/2 of the glaze.

Bake in centre of oven for 30 minutes. Take the roast out the oven, brush the rest of the glaze on the roast and return to the oven.

Bake for another 30 minutes, or until a thermometer registers 130F.

If you like more of a crunchy crust, turn the heat up to 400F, and bake the roast for another 10 minutes on an upper rack.

Rest the roast for 10 minutes before slicing.
Nutrition