January is almost behind us but we have had plenty of distractions to keep our mind off the short days and long winter nights.  Not only did Downton Abbey won Best Drama at Britain's National Television Awards last week, they picked up the Drama Ensemble Award at last night's SAG awards.  Joanne Froggatt was so kind to specifically thank us viewers for our support.  You can view the "ensemble" acceptance speech below in the Downton Dish section.
And if that wasn't exciting enough, Scots around the world celebrated poet Rabbie Burns this weekend (more below).
In tribute to the Russian refugees who Rose adopted and whom Violet has a connection with, this week's dish is Beef Beet Borscht, a traditional Russian dish.  It is hearty healthy and inexpensive soup, perfect to feed your own army during the cold winter months.
Downton Dish
Season 5 of Downton Abbey finally arrived in North America, broadcast on PBS at the beginning of this month, seen Sunday nights at 9 PM. We are now half way through the season. Some appetizing articles to whet your appetite while we wait for the next course of Downton.
What happened in S5E4
A quick recap of what went down and upstairs this past week. Love is the air for some:
Isobel and Violet visit Rose at the Russian refugees.  Violet seems interested in the whereabouts of the Princess.
Lady Mary decides to put off Tony at the Peter Pan monument, but he will have nothing of her plans to drop the engagement.
Isobel gets her own marriage proposal from Lord Merton.
Mr. Green's death brings the trouble for Anna and Mr. Bates.
Edith gets news about Michael Gregson, and is still hopeful he is still alive.
Thomas gets duped again (remember his black market goods business), buying an injectable gay cure all.
Mrs. Patmore pleas for proper remembrance of her nephew Archie.
Robert sees vision in selling land to developers, insistent that new development be done with decorum.
Simon Bricker continues to pursue Cora.
Miss Bunting pushes Robert's buttons once again and finally gets her marching orders!
My favorite fun quote: (Robert to Violet): "How is your old beau managing, Mama? Prince Thing a Ma Jig."
Rabbie Burns Day: Jan. 25
On January 25, Scots around the world celebrate the birth of famous Scottish poet, Robert Burns. You know at least one poem, "Auld Lang Syne' which we sing on New Year's Eve, written in 1788. Traditional Burns Suppers are often held the weekend before or after his actual birthday- there is scotch involved. I have been lucky enough to have been invited to a few annual celebrations. This is a very serious event with a set program complete with bag pipes, and speeches in an language which barely resembles English. The main event is the piping in and then address of the haggis (sheep's stomach stuffed with oatmeal mixed with offals). Toasts with scotch does help some summon the courage to actually eat the haggis. I happen to be a big fan.
If haggis is not your cup of tea, you could like to try other  Scottish dishes, how about:
Abbey Cooks Entertain: 2nd Edition
A new season means viewing parties. Whether you are hosting 2 or 20, this book has lots of ideas. Containing 220+ traditional Downton era recipes with a modern twist, this is a great book to create some simple or complex dishes for your Mary or Anna.
This 448 page ebook has been updated to include both metric and imperial measurements and now includes famous Downton dishes from Season 1-5.  Book sales help offset my costs in food, equipment and time to provide you new recipes on a regular basis.
The ebook is now available exclusively on Amazon:  Abbey Cooks Entertain: 220 recipes inspired by Downton Abbey.
Print Version:  You can order on Amazon. The full book is 450 pages and will contain famous Downton recipes..  The not so great news is that with the size of the book, Amazon needs to charge Lady Mary prices to recoup their printing costs.  Stay tuned on a lower cost alternative.
History of the Soup Kitchen
Food relief has been a main stay of humanitarian missions in third world nations, but unfortunately bread lines are no longer just a distant memory of The Great Depression in the Western World. The current economic climate has again made food banks and soup kitchens a necessity.
While he was hardly the first person to come up with the idea to feed the poor, American born Count Rumford has been credited with establishing the first soup kitchens. Born Benjamin Thompson, Count Rumford is famed as a scientist, a diplomat, military administrator, inventor, culinary expert, philanthropist and social philosopher. He also earned well-deserved reputation for being an arrogant and abrasive, but then again so did Steve Jobs.
He fled to Britain during the American Revolution, labelled as a British Loyalist. There are a few different accounts as to how the soup kitchen evolved after that (in the late 1700s). He had earned the title of Count from the Bavarian Government. In a plan to rid Munich of beggars, The Smithsonian blog explains that he had the army round up beggers and their children, putting them into workhouses to make military uniforms. The workers needed to be fed and Rumford created a nutrient rich soup make of peas, barley, and broken white bread (the invention of the crouton), to serve.  Soon soup houses were established throughout Europe, England and the United States to feed the poor. In London, as many as sixty thousand people were fed daily from Rumford's soup kitchens.
Rumford's innovations in the kitchen also included the cast-iron Rumford stove (the first commercially available kitchen range), which kept in heat and allowed temperature to be regulated better than on an open hearth; a pressure cooker (though not necessarily the first one); and a drip coffee maker.
History of Borscht
Borscht or Borshch was once enjoyed by the Romans, with beets and cabbage grown specifically to be enjoyed in the soup. The modern version as we know it started to appear in the 15th century. Did you know that beets were prescribed as an aphrodisiac?
An unproved food legend revolves around a story of the Cossacks at war in the 1600s. Feeding four thousand Cossacks in a camp was problematic, everything edible went into the soup pot, resulting in a enjoyable mixture of vegetables and meat.
Over the centuries there have been a number of varieties of developed. I have included most of the ingredients used, and you can pick and choose. In my family we don't use cabbage, and we julienne our vegetables (cut into thin strips) while others shred them. It is just as enjoyable without meat. I love mine with vinegar at the end along with the dollop of sour cream. All have the distinctive red color, and are best prepared the day before to let the flavours blend.
Hearty Russian Beef Beet Borscht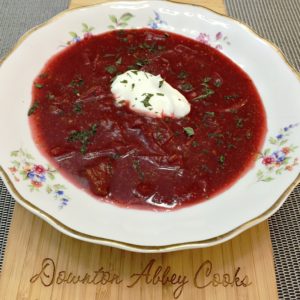 Hearty Beef Beet Borscht
Borscht or Borshch was once enjoyed by the Romans, with beets and cabbage grown specifically to be enjoyed in the soup. An unproved food legend revolves around a story of the Cossacks at war in the 1600s. Feeding four thousand Cossacks in a camp was problematic, so everything edible went into the soup pot, resulting in an enjoyable mixture of vegetables and meat. So use what you have on hand. It is just as enjoyable without meat.
Ingredients
12

medium

Beets

1

tbsp.

olive oil

2

small to medium

turnips, unpeeled

grated or jullienned

2

medium to large

parsnips, unpeeled

grated or jullienned

4-6

medium

carrots upeeled

grated or julienned

2

large

onions, chopped

1

medium

cabbage head, shredded or julienned

optional

3

tbsp.

unsalted butter

2

large

potatoes, cubed

8

ounces

tomato paste

1 - 2

cups

cooked/roast beef cubed

12

cups

beef stock*

1

sprg

parsley or dill

1

pinch

Salt and pepper to taste

1

large

lemon

optional to taste
Instructions
Prepare the Beets
Preheat the oven to 400°F/200°C/Gas 6 and prepare a lined baking sheet with parchment paper. Rub each beet with a bit of olive oil, pierce a few times with a fork, then individually wrap each beet in tin foil. Place the beets on the baking sheet and roast for for 1 to 1.5 hours or until easily pierced with a knife. Remove from the oven, allow to cool. They can now be easily peeled by rubbing. Grate or julienne the cooled beets and set aside.
Start the Vegetables
Melt butter in a large french oven. When the butter begins to foam, add the prepared root vegetables (except for cabbage and potatoes) and saute until they have softened. Reduce the heat to low and stir in tomato paste.
Add the Stock
Add the beef stock and bring to a boil (skim off the scum on the surface). Then add the cabbage (if using) and the potatoes. Reduce to a simmer and simmer for 10 minutes. Continue simmering gently, partially covered, for 40 minutes, adding more stock to thin the soup if needed.

Add the beets, cubed meat, and more salt if needed. Add lemon juice to taste. The exact amount of lemon juice will depend on your taste, but the goal is to strike a perfect balance between sweetness and acidity so your borscht is neither too sour, nor too sweet. Simmer for another 10 to 15 minutes, or until the beets are no longer dark-red and the garlic has mellowed out. Remove from heat and stir in the parsley or dill
Beef Bone Broth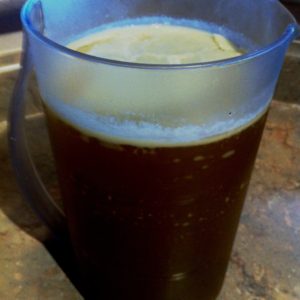 Beef Bone Broth
Bone broth is the latest in health trends. Grandmothers would be so proud that what is old is new again. Make your own beef broth for soups or just to enjoy on it's own. It freezes really well.
Ingredients
4-5

lb

meaty beef and veal bones

1

lb.

stew meat

2

large

onions

peeled and quartered

2

large

carrots

roughly chopped

1

splash

olive oil

1

bunch

Celery stalks and leaves

1

bunch

broccoli stems

2

cloves

garlic

unpeeled

1

handful

parsley

stems and leaves

1

large

bay leaves

10

loose

peppercorns
Instructions
Preheat oven to 400°F/200°C/Gas 6.

Place stock bones, stew meat or beef scraps, carrots and onions in a large, shallow roasting pan, and drizzle some olive oil on top.

Bake for 45 minutes, turning the bones and meat pieces halfway through the cooking, until browned. Transfer the meat and vegetables to a large stock pot.

Deglaze the roasting pan on low heat by pouring a little water in the pan and scraping up all of the browned bits stuck to the bottom of the pan. Pour the browned bits and water into the stock pot.

Add the remaining ingredients into the pot, and fill with water so it is about 1 inch (2.5 cm) above the bones.

Turn the heat to high and bring to a boil, then reduce the heat to low. Partially cover the pot and let simmer untouched for 3–4 hours, occasionally skimming the scum that rises to the top.

I let the stock simmer for the afternoon, but it should be left for at least 3 hours. Remove from the heat and take out the vegetables, meat and bones. You can reclaim the stew meat for a soup, and if you are a fan of marrow, now is the time to dig in. Let the mixture cool, then strain the stock into tall containers which take up less room in your refrigerator. Refrigerate and you will see that the fat has risen to the top and created a white layer. You can easily pick it off and discard.

Once cooled, the fat will rise to the top which you can now easily remove.

You can now use the stock which will keep in your refrigerator for a few days. Freeze the rest in plastic containers for future use. I also freeze some in ice cube trays, transferring into a plastic bag. One or two cubes are great for the times when you only need a little stock to add to a dish.