It is the first week of January, 2012, and all of America (well, at least PBS fans) is anxiously awaiting the launch of Season 2 of the wildly popular period drama, Downton Abbey. Meanwhile, in the UK, Season 2 has already aired and Christmas brought the treat of a special Christmas episode. Having seen Season 1, and heard press about the Christmas Special, my husband and I sequestered ourselves for a full day just before New Years to watch all of Season 2 and the Christmas episode online. What a magical day that was. Since the show is so rich and complex, we have no issues watching Season 2 all over again while we now wait patiently for Season 3.
The Magic of Downton Abbey
It is little wonder that this British ITV series is achieving so much popularity far beyond the UK. I suppose it is no surprise that Canadians have embraced the show since many have close family ties overseas. The 2010 Royal Wedding also likely stirred up the imaginations of many of us who wonder about how the aristocracy live. It is far more romantic to take a step back in time and imagine that our ancestors may have lived in places of grandeur, or that they may have served a grand family.
You can view Downton's link to the credit roll on IMDB (Internet Movie Database), to see that the show is beautifully written, brilliantly produced and impeccably staged. If you haven't watched it you should consider doing so. You know it is getting popular when you hear rumours that Hollywood actors, like Harrison Ford, are starting to vie for guest roles. As a viewer, we feel privileged to have a view into the world of the Crawley family who lives in an amazing "house" together with the people who serve them. The storylines, characters, costumes, sets provide something for all of us: love, intrigue, gallantry, sibling rivalry, money, power struggles, fashion, and coping with changing times.
My husband, Lord D, for example, who has "blue blood" English roots, yearns for the days when everyone followed the same code of honor, respect, and etiquette. Downton Abbey rescued him when he finally grew weary of the smut of Coronation Street. He is a great fan of aristocratic views held by Violet, Dowager Countess of Grantham, and while many are pretty old-fashioned even for that period, I have to admit that Maggie Smith is blessed with some of the best lines and humorous quips in the drama. By the way, if you didn't know, Dowager simply means widow.
While my father and my generation are professionals, I am pretty sure that my family were likely the farmers who worked the crops and would have been thrilled to have a relative like William or Daisy work in a house like Downton. Yes, if we turned back time my husband would have been an upstairs Lord, me a downstairs kitchen labourer (if I was lucky!). My Lord D does say that he would have seen my loveliness and rescued me from downstairs to make me his lady. Yes, he is my Mr. Bates. But I digress.
It's About the Food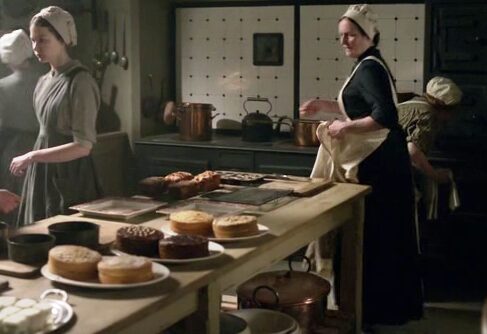 For me, and other foodies, we just can't help ourselves: it is the food which is so fascinating. I learned to cook from my grandmother and proudly carry the food traditions of our European heritage with me. I majored in history in my undergraduate degree, and am a culinary historian, curious about the differences in diet between the upper and lower classes, what food was available at that time and how was it prepared? Which dishes are still prepared today, handed down from generation to generation? Food and communal dining has and always will, play a role in bringing people together. There is a big push these days to get families to sit around the dinner table to rebuild the bonds in a frantic world.
I am interested in following the show to gain a better understanding of the food of that period.
What I Propose: Let's explore and carry on the traditions
What I propose for this blog is to share traditional receipts (recipes), taking cues from the episodes. I will also explore cooking implements, techniques and other foods of that period. I will be looking for dishes that I would be proud to incorporate into my own repertoire, serving to guests, or fellow Downton fans as we watch the latest installment. It will be interesting to see which foods we still eat today. Traditions pass from one generation to the next, and our duty as cooks is to keep traditions alive. I welcome sharing recipes from other bloggers who have had these traditions handed down to them. My one caveat is that we shouldn't be afraid to make these meals healthier where we can.