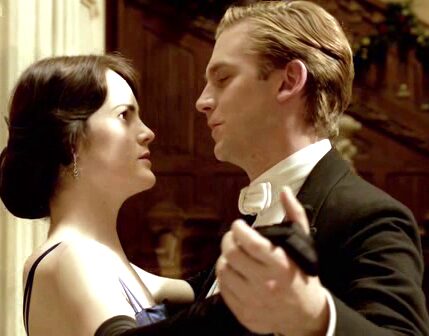 Happy Valentine's Day whereever you live in the world, and belated greetings for those down-under who have already celebrated the day.  My Tuesday posts are typically dedicated to Afternoon Tea, but consider adding this recipe as a sweet treat to your tea tray.  I do offer a new recipe each week, so check out and bookmark Online Guide to Afternoon Tea to keep up to date.
While Valentine's Day is celebrated in different ways around the world, most do involve a show of hearts, flowers and chocolate! My husband and I treat everyday as if it is Valentine's Day so today is just another day in paradise.  Since I often treat my husband with mostly healthy treats (as he does for me), it has been fun preparing food pairings for our favorite Downton Abbey couples: lovely chocolate sweets to share with loved ones. 
Birds do it..let's fall in love
The customs associated with Valentine's Day had their origin in the popular belief held by people in Great Britain and France during 14th and 15th century that birds begin to mate on February 14, halfway through the month of February.  Lovers, therefore found St Valentine's Day an appropriate time to send love letters and gifts to beloved. The Romantic image of a day of celebration was further established by English and French poets and writers who drew parallel between mating of birds and St Valentine's Day.  Shortened to become Valentine's Day cards.
Downton Abbey couple food pairings
While there are many couples on Downton Abbey, I have dedicated posts over the past week to a few of our favorites.  A recap:
Matthew and Mary:  the Prince and princess of downton
A Downton Abbey Valentine's Day tribute to love would not be complete without our main players, Lady Sybil Crawley and her distant cousin Matthew.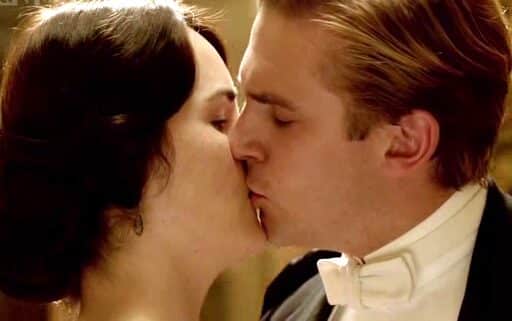 Like all great love affairs, there have been many twists and turns to the relationship between Mary and Matthew, very much like a Jane Austen novel of love and hate.  From Mary's point of view, I think it goes something like this:  he bores me, he likes me, he proposes, I think I love him, I hesitate, he hates me, he falls in love with another woman, I try to find happiness with another man, he is crippled in the war and drives away his fiance, I nurse him back to health, he recovers and plans to marry the other woman, my granny tells him that I still love him, we dance and kiss, his fiance sees this and dies shortly after,  I am still engaged to the rich and vulgar commoner who holds my secret as a weapon.  What will happen next?
[youtube http://www.youtube.com/watch?v=pym3UoN-dbk]
The Christmas episode will finally be broadbast on PBS this Sunday.  Finally, I won't have to worry about spoilers, most everyone will be caught up. And then we all can watch the reruns together while we pass the love of Downton to the uninitiated who will become the  next generation of devoted fans.
Truffles:  The Ultimate Valentine's Sweet
In my mind, truffles are the ultimate Valentine's sweet.  Properly made with the best ingredients, they are a nice portion-controlled piece of heaven.
To recap my other post on truffles, the chocolate truffle was first created by Antoine Dufour in Chambéry, France in December 1895. They reached a wider public with the establishment of the Prestat chocolate shop in London by Antoine Dufour in 1902, which still sells 'Napoleon III' truffles, a truffle dusted in cocoa.
Truffles are a simple mixture of cream and chocolate, called a ganache. If you can roll a meatball you can make a truffle. Like finding true love the key is to seek quality ingredients. Save the chocolate chips for cookies, you are looking for chocolate with the highest percentage of cocoa you can find. My preference has always been Swiss Lindt chocolate, and I am blessed to have a factory outlet close by where I can buy a huge bag at a great price. But many stores now sell high end chocolate bars which you can use as a substitute. The higher the percentage of cocoa butter (solids), the better (35%+ for milk chocolate, 70%+ for dark).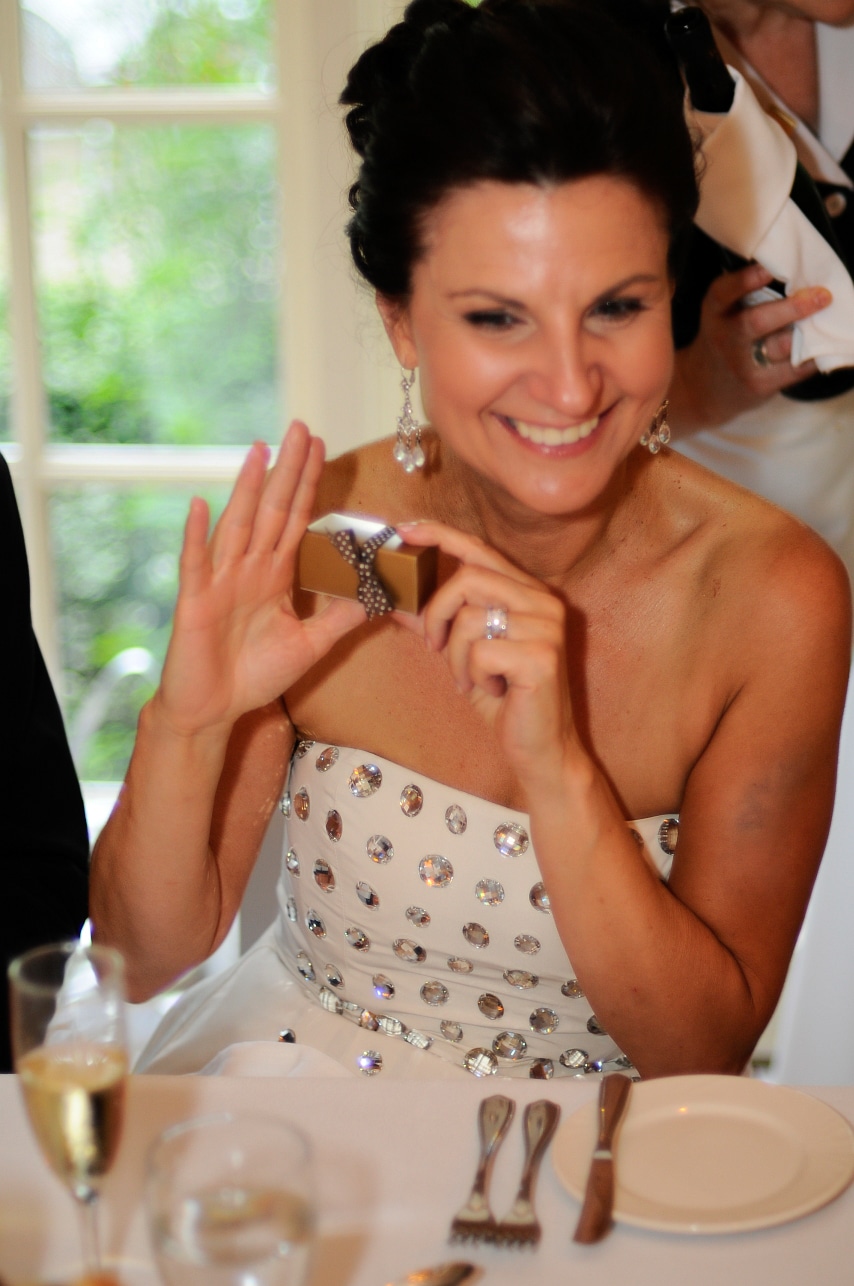 I took a chocolate course years ago and began a yearly tradition of making truffles to give as holiday gifts for colleagues, friends and family. I even made the truffles for our wedding and more recently my parent's 50th wedding anniversary. When I make truffles it is like bundling a little package of joy and happiness to give to others. So spread a little love this Valentine's Day, Afternoon Tea, or Downton Abbey viewing party.
I offered a simple milk chocolate truffle recipe to represent the love of Anna and Mr. Bates, but a complicated upstairs relationship like Matthew and Mary deserves a decadent version with a number of different flavor elements, and which is a little more complicated to prepare.
I won't feel bad if you never make these, I have offered to teach my friends how to make truffles…for free, but only one taker with a short attention span.  All are quite happy just to be included on my "truffles gift list".
Sparkly Salted Caramel Truffles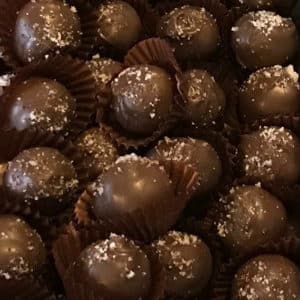 Sparkly Salted Caramel Dark Truffles
hese truffles are a wonderful combination of dark chocolate, caramel and the unexpected taste of salt. These truffles sparkle like little gems, perhaps a like a wedding ring?
Equipment
marble slab to work the chocolate

special chocolate dipping tools

truffle cups

white gloves
Ingredients
For the Truffles
10

ounces

bittersweet or semi-sweet chocolate

best quality, finely chopped

2/3

cup

heavy cream (35%)

3

tbsp.

caramel sauce

prepared

4

tbsp.

fleur de sel
For the Coating
12

ounces

Merckens dark chocolate

melting chocolate found in craft stores

1/4

cup

icing sugar

for working the chocolate
Instructions
Make the Ganache
Place the chopped bittersweet chocolate in a metal bowl and set aside.

Heat the cream until boiling and then pour over the chocolate and mix until melted. Add the caramel sauce and ensure well combined. Pour into a ziploc bag and lie flat in your fridge until set, 1 - 2 hours.
Roll the Truffles
You can change the texture of your chocolate to suit your taste. I like to whip my chocolate in a heavy duty mixer to incorporate air into the mixture; you can also use a metal scraper and scale it on a marble slab and let set up again, or go straight to the next step.

Dust your clean smooth work surface with icing sugar (ideally a marble slab which keeps the chocolate cool) and knead the chocolate so it is workable and then roll the chocolate into a log, one inch thick.

Prepare a baking sheet with parchment paper. Cut into one inch sections and roll between your hands (icing sugar keeps the chocolate from sticking to your hands) to make balls and place each ball on the baking sheet.
Coat the Truffle
Place the dark brown Merckens chocolate in a medium metal bowl over a saucepan of barely simmering water (do not allow bottom of bowl to touch water);

Heat until melted, but don't let the chocolate get too hot or it will melt your truffles. Take off the heat. Keep the bowl in the saucepan to help keep the temperature warm. Tilting the bowl helps give you a deep pool of chocolate to dip.

Prepare a baking sheet with parchment paper. Submerge 1 truffle in melted chocolate. Using fork or special chocolate tool, lift out truffle and tap fork against side of bowl to allow excess coating to drip off.

Transfer truffle to your prepared sheet. Sprinkle a little of the fleur de sel on your wet truffle to make the sparkle. Repeat with remaining truffles. Let stand 15 - 20 minutes to set.

Put on your footman gloves so your don't get your fingerprints on the truffles. Use a sharp knife to cut away the excess on the bottom of the truffles.

Place in truffle cups and serve to your Downton guests.