UK fans have been glued to their tele on Sundays, now known as  Downton Day. I know Season 3 will be over soon on ITV, but the good news is that the Jan. 6 PBS launch is getting closer.  There really is something special about watching Downton on PBS Masterpiece. 
Do join me each Tuesday as I dish on Downton Abbey, the Royal Family, UK tourism and other topical tea issues one might discuss at tea, served up with a tea treat recipe with history. Today's treat is Jam Tarts.
My Online Guide to the Tea Ritual
Taking a traditional "afternoon tea" is definitely a bucket list experience. To do it properly, I have created a handy guide to help you enjoy the experience. I highlight a famous London tea house each week but do check out and support the tea houses in your local community. Send in a pic and I will post it here and on my Pinterest Tea Board. My Downton Abbey Cooks Online Guide to Afternoon Tea.
Downton Abbey Calendar Contest:  Oct. 23 – 26th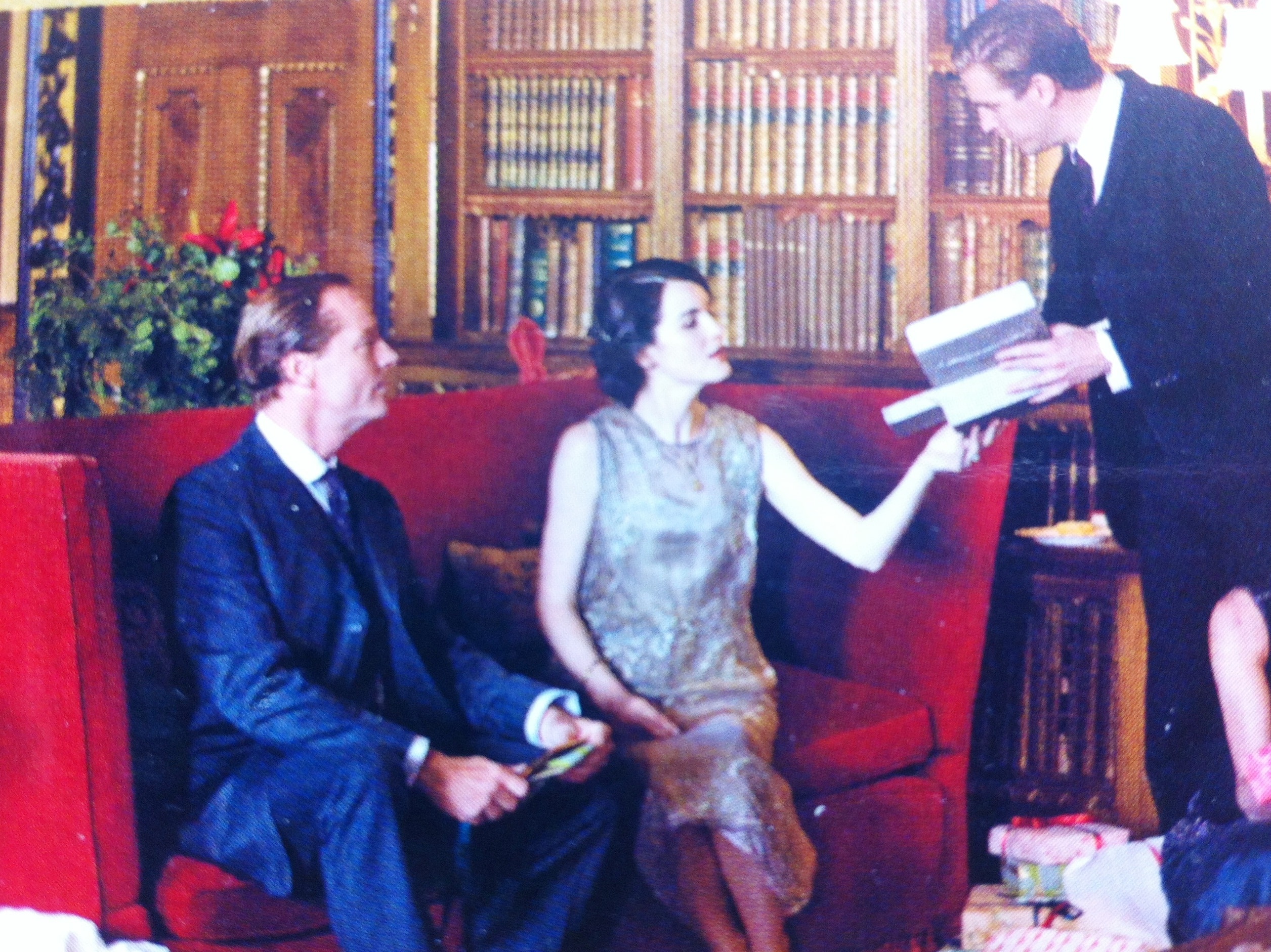 The new Downton Abbey 2013 Wall Calendar is now available on Amazon. I received my copy last week and was thrilled that I can start using it now (includes Sept-Dec. 2012).
As promised, I have two Downton Abbey 2013 Wall Calendars to give away, courtesy of the Publisher. Unfortunately, it is open only to US residents.
There are so many lovely pictures in this calendar, but one, in particular, captured my attention.  It is the December photo from the Christmas episode.  As pictured above (forgive the quality as it is a picture of the picture), Matthew is showing Mary and Sir Richard a gift.
The Skill-Testing Question:  Can you tell me what that gift was?  Send your answer to downtonabbeycooks@gmail.com.   I will keep the contest open until this Friday and Lord D will assist by randomly selecting 2 from the correct responses.  You will be contacted for your full name and mailing information, which I will provide directly to the Publisher.
The Winners will be announced next Tuesday.  Good luck, and remember the contest is only open to US residents.
The Joy of Tarts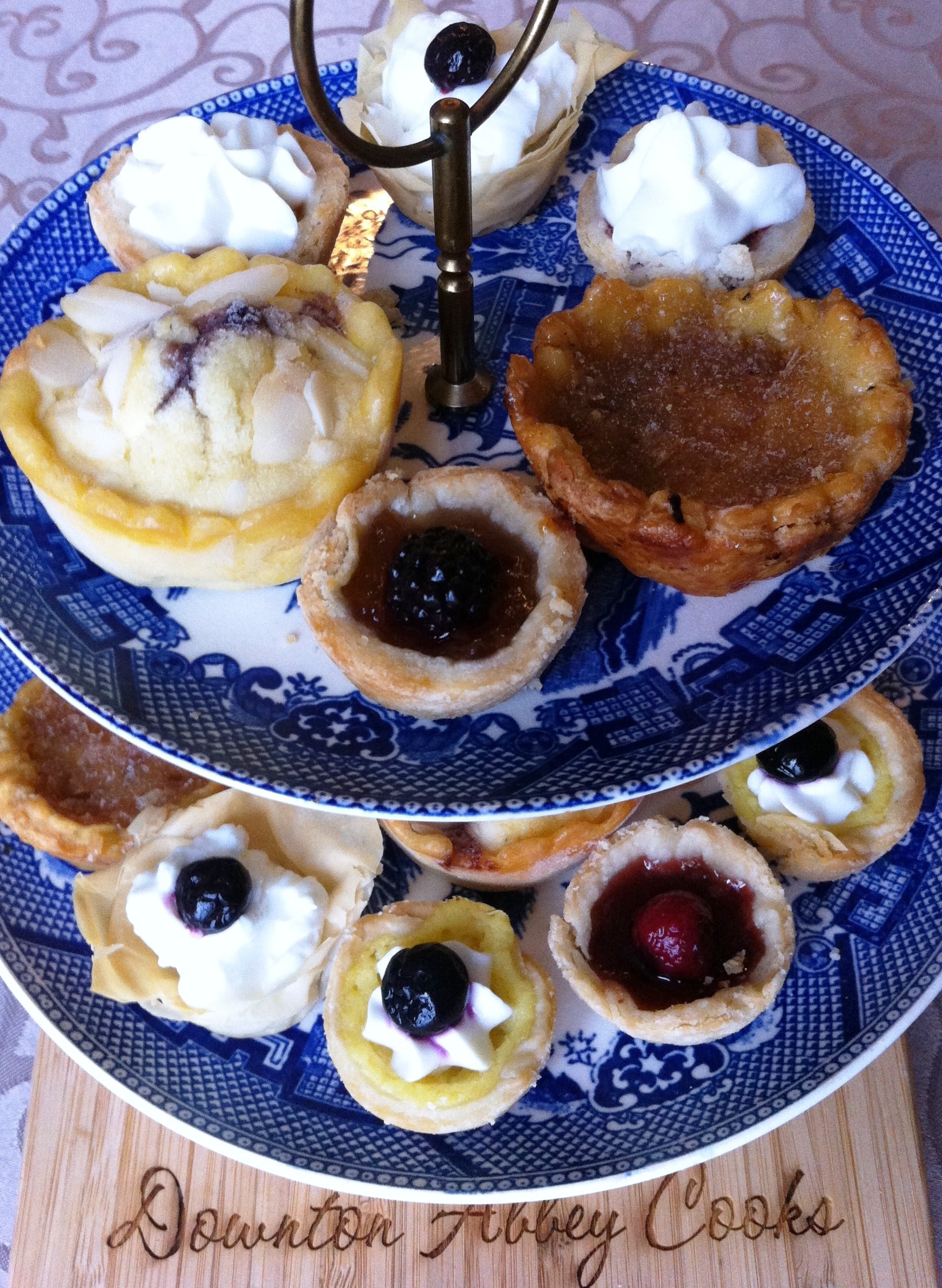 Many tea treats have a long history which makes them so much more enjoyable to my mind.  It thrills me to think their popularity has endured for centuries and that our ancestors enjoyed them just as much we do now.
The Queen of Hearts nursery rhyme dates back to the 1780s, but we relate it more closely to Lewis Carrol's Queen of Hearts in Alice in Wonderland, published in 1865.
The Queen of Hearts she made some tarts all on a summer's day.
The Knave of Hearts he stole the tarts and took them clean away.
The King of Hearts called for the tarts and beat the Knave full sore.
The Knave of Hearts brought back the tarts and vowed he'd steal no more.
We have made a number of tarts for tea including:
Jam Tarts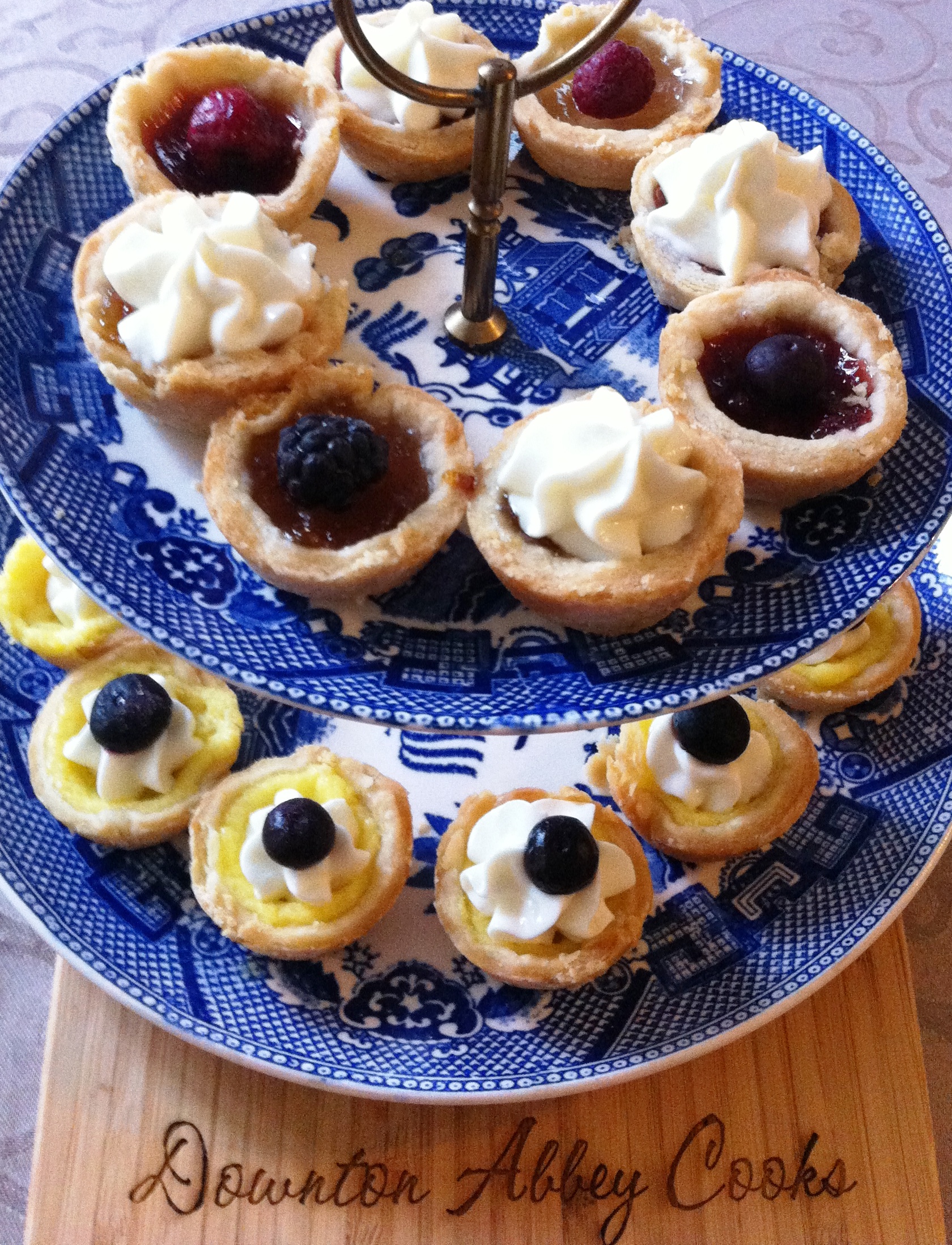 Today we are going to add another recipe to our tart collection.  Jam tarts are super easy to make so if someone runs off with them, you can easily make more, but feel free to pronounce "off with their heads" if you insist.
The shells are best made by hand, but if you pressed for time, you are allowed to purchase a good quality tartlet shell but don't skimp on the filling. I make extra shells and freeze them to have on hand when your company calls.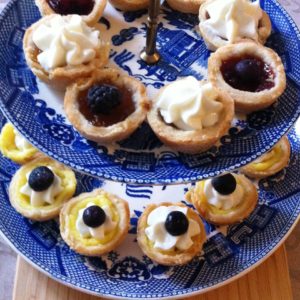 Jam Tarts
Ingredients
Jam Tarts
Sweet Shortcrust or Pie Pastry

good quality jam- showcase your own preserves-Strawberry and Champagne

lemon curd

(recipe below)

Whipped cream or healthier non fat greek yoghurt with a bit of honey

Fruit to Garnish
Easy Lemon Curd
6

tbsp.

unsalted butter, softened

1

cup

sugar

2

large eggs

2

large egg yolks

(freeze your whites for another use)

2/3

cup

fresh lemon juice

(3 lemons)

1

tsp.

grated lemon zest

(tip: zest a lemon before squeezing)
Instructions
Jam Tarts
Preheat your oven to 400 F.

On a lightly floured surface, roll out the pastry, and cut out rounds to fit your shells.

Place into mini muffin pans and add a tsp. of jam or lemon curd.

Bake for 10 minutes or until the crusts have browned.

Serve warm as is, or let cool and decorate. Pipe cream or greek yoghurt on top with a star tip, and decorate to your hearts desire (or whatever you have on hand).
Easy Lemon Curd
Cream (beat) the butter and sugar. Slowly add the eggs and yolks while beating. Mix for a few minutes. Stir in the lemon juice. Don't worry if the mixture does not look smooth. It will fix itself when it cooks.

Cook the mixture over low heat until it looks smooth, stirring while on the heat. Increase the heat to medium and cook, stirring constantly, until the mixture thickens, about 15 minutes. It should leave a path on the back of a spoon (or 170°F on a candy thermometer). Don't let the mixture boil.

Remove the curd from the heat; stir in the lemon zest. Transfer the curd to a bowl. Press plastic wrap on the surface of the lemon curd to keep a skin from forming and chill the curd in the refrigerator. The curd will thicken further as it cools.

Covered tightly, it will keep in the refrigerator for a week and in the freezer for 2 months.