If you haven't already discovered Chef Darren McGrady's cookbook it is a great read.  Beyond the recipes he was the personal chef for Lady Diana. This delicate, subtle tomato mousse was often served at state banquets. It became a favorite of Princess Diana's.  She loved it served alongside steamed lobster and had Darren create a fat free version which she would enjoy while her guests would be eating the original version which was full of fat.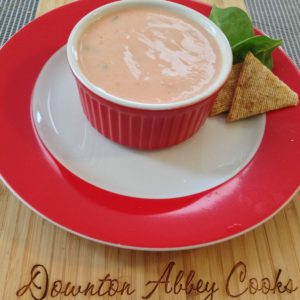 Royal Fat Free Tomato and Dill Mousse
This delicate, subtle tomato mousse is a great addition to your summer menu with a royal connection. It was often served at royal state banquets, The fat free version became a favorite of Princess Diana.
Ingredients
1

pound

vine-ripe tomatoes

(about 3 medium), chopped

2

tbsp.

onion

chopped

8

ounces

cream cheese,

fat-free, softened

2

tbsp.

sour cream

fat-free

1

tbsp.

tomato paste

1

packet

unflavored gelatin

1/3

cup

chicken broth

fat-free

1

tsp.

lemon juice

salt and freshly ground pepper

1

tbsp.

chopped fresh dill
Instructions
Put the tomatoes and onions in a food processor, and blend until they become finely blended and somewhat soupy. Strain through a sieve into a large bowl. Discard the remaining seeds and skins.

Use your new mixer to incorporate the cream cheese, sour cream, and tomato paste until there are no lumps.

In a small saucepan, add the gelatin, chicken broth, and lemon juice. Stir until softened, and then warm the saucepan over low heat until the gelatin has dissolved. Again your handy mixer will be used to incorporate the gelatin mixture into the tomato mixture, and season with the salt and pepper to taste.

Fold in the dill, and pour the tomato mousse into six ramekins. Refrigerate uncovered for at least 2 hours.

Serve as a side dish or appetizer in the ramekins, or dip the ramekins in hot water, run a knife around the edge of the molds, and invert onto the plates.
Nutrition
Serving:
200
g
Calories:
56
kcal
Carbohydrates:
6
g
Protein:
7
g
Fat:
1
g
Saturated Fat:
0.4
g
Polyunsaturated Fat:
0.1
g
Monounsaturated Fat:
0.2
g
Cholesterol:
3
mg
Sodium:
216
mg
Potassium:
285
mg
Fiber:
1
g
Sugar:
3
g