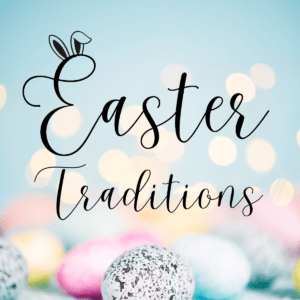 Easter is a Christian holiday commemorating the resurrection of Jesus Christ from the dead. It is celebrated in many different ways around the world, and you likely pass down the traditions you grew up with as a child.
Some of the most common traditions include:
Good Friday: The day before Easter, known as Good Friday, is often observed with religious services and enjoying hot cross buns!
Attending church services: Many Christians attend church on Easter Sunday to celebrate the resurrection of Jesus.
Easter eggs: Decorating eggs is a common Easter tradition. Eggs are often dyed in bright colours and used for egg hunts and other games. You can order decorating kits on Amazon.
Easter egg hunts:  Decorated and chocolate easter eggs are scattered about inside and outside for little children to find.  Perhaps the US's most famous Easter egg hunt is at the White House. If you live in the UK you can join the Lindt Gold Bunny Hunt at Hampton Palace.
Easter baskets: Easter baskets are often filled with candy, toys, and other small gifts for children.
Easter bunny: The Easter bunny is a popular symbol of Easter in many cultures and is often associated with the delivery of Easter eggs and treats.  Of course, the best bunnies are chocolate. My favourite type is from Lindt.
Easter parades: Some cities and towns hold Easter parades, where people dress up in festive outfits and march through the streets. The Fifth Avenue Parade is the most famous, but there are many great parades held across the US.
Easter movies:  Watching Easter movies is also a family tradition in some homes.  They include religious films such as The Last Temptation of Christ, Ten Commandments, Risen. Non secular movies include Easter Parade, Ice Age: The Great Egg-Scapade, Peter Rabbit, 
Easter meals: Many families have special meals on Easter Sunday, often featuring ham, lamb, or other traditional dishes. Enjoy these traditional Easter Dishes.