"Shut the French Window"!  The quote above comes from Phyllis Logan's (Mrs. Hughes) acceptance speech at the 2013Screen Actor's Guide Awards. It has quickly become my own catchphrase.  You can find the link to the full video below.
You may find my Online Guide to Afternoon Tea helpful in understanding traditions and recipes to help you host your own tea party with family and friends.
Today's treat is the colorful Battenburg Cake.
Dishing Downton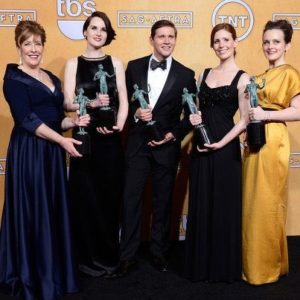 "Shut the French Window" Downton won the 2013 SAG award for Ensemble Drama this weekend. Phyllis Logan did an amazing job speaking on behalf of the Downtonians in their acceptance speech.
Cast relations:  Did you know that Phyllis is married to Kevin McNally, the actor who plays little Charlie's grandfather?
Spreading the Love of Downton food in my home & native land. Thanks to Lois Abraham from Canadian Press for seeking me out for an interview for a profile on me which is now being picked up across the country in various papers.
Gaga Over Aga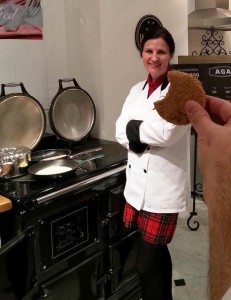 I had a great time last week cooking with fellow writers and foodies including Voula Halliday and Signe Langford, cooking Scottish dishes in honor of Robert Burns birthday.  Our hostess, Valerie Howes, Food Editor for Reader's Digest Open Kitchen, arranged for us to test drive the amazing AGA Cookers. Cooking facilities and food was graciously donated by The Grange for this private event. When the AGA was first introduced into the UK market in 1929 it quickly became a prized possession in English country houses. Perhaps Mrs. Patmore will get one in Season 4.  It was the most unreal stove I have ever used. The left burner is for boiling, the right for simmering.  You simply move your pot(s) around to select the heat you want.  There are also multiple ovens for different types of baking or roasting.  Very cool. It was like cooking on Mrs. Patmore's coal stove and in the future all at the same time.  Those who own them are totally devoted to their AGA, including Lady AGA.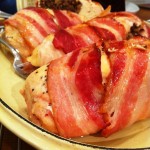 The star of the menu was Balmoral Chicken, chicken stuffed with haggis.  There was also Culllen Skink, and I was on "team dessert" with Deborah Brewster making Bonnie Cranachan.  I brought a few recipes of my own to share.  I had oatcakes on hand for snacking, and we used my recipes for neeps (turnip puree) and tatties (mashed potatoes).  We discovered that my never fail shortbread only lives up to its name when you keep an eye on the oven, and confess that we burnt the first batch. Did I mention I won a bottle of special edition Glenfiddich Cast of Dreams?  Read more about the night on the Reader's Digest Open Kitchen Blog. 

Abbey Cooks Entertain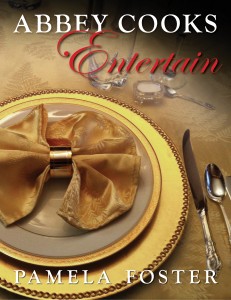 I think you will find something to tempt you amongst the 220 recipes I have included in this book. If nothing else you will want to get the book for recipes for the famous Downton dishes from Season 1-3:
Season 1: apple charlotte, jiggly strawberry jelly, kedgeree, apple crumble, deviled eggs, raspberry meringue pudding, roast chicken.
Season 2: christmas plum pudding, crêpe suzette.
Season 3: asparagus salad with saffron vinaigrette, calvados-glazed duck, hollandaise sauce, mousseline sauce, oysters a la russe, strawberry charlotte mousse, treacle tart, truffled egg toast.
You can only get a signed copy HERE on my site. If you don' have an eReader I would suggest the PDF version which can be printed if you like.
Healthy Modern Battenburg Cake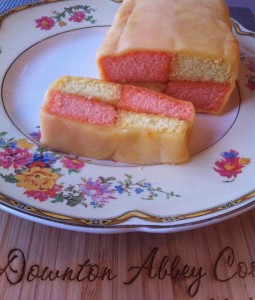 To take one's mind off of last week's Downton episode, here is a cake challenge to make and a lovely dish to serve.  Battenburg cake is an eye-catching addition to any tea tray.  It essentially is a genoise cake wrapped in almond paste.
The popular version of its history is that it was created for Queen Victoria's granddaughter Victoria wedding to  Prince Louis of Battenburg in 1884.  The four squares allegedly were to represent the four Battenburg princes.  At least one clever culinary historian (Ivan Day) did the math, locating the earliest record of the cake was 14 years after that wedding. Frederick Vine, a prominent British food writer of the time, made the cake with nine panels, not four.  Ivan was able to discover a Battenburg cake recipe which is actually a fruitcake which would have explained why it would have been prepared for a wedding feast.   I  tend to agree with Ivan that the 4-panel story was invented by the commercial bakers who had to justify reducing the panels from 9 to 4 which would be easier to produce.
Regardless, it is still a lovely treat, so what we present today is a light version (no butter) of this cake. The yellow section is lemon flavoured, the pink section a delicate hint of rose.  If you have your own favorite sponge or yellow cake recipe, feel free to use it, and follow the same procedure.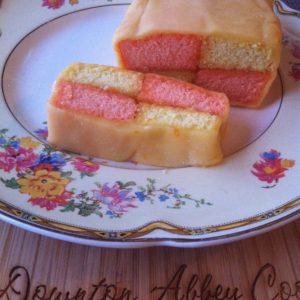 Healthy Modern Battenburg Cake
Ingredients
3

eggs

pinch of salt

½

cup

sugar

(or sugar substitute)

½

cup

corn starch

2

tsp.

Flour

1

tsp.

baking powder

1

tsp.

lemon zest

2 – 3

drops

rosewater

2

drops

red food coloring,

or enough to turn batter pink.

1

cup

apricot jam,

heated

7

ounces

of almond paste or marzipan*
Instructions
Preheat oven to 350F (190c)

Separate eggs. Beat egg whites and salt until stiff.

Add sugar gradually and beat until stiff and sugar has dissolved.

Add egg yolks. Beat until well blended.

Sift together cornstarch, flour and baking powder and fold into the mixture.

Separate the batter into 2 bowls. In bowl 2, add the lemon zest in bowl 3 mix in the red food coloring and rose water.

Some cooks divide a 9″ square pan with cardboard wrapped in tin foil, I use two small loaf pans.

Bake for 15-20 min or until cakes spring back when lightly touched.

Leave in pan(s) for 10 minutes before turning out onto a wire rack to cool.

After the cakes have cooled, use a serrated knife to trim the crusts from top bottom and sides. Then slice each cake vertically in half.

Now stack the cake slices yellow pink on bottom layer, pink, yellow on top.

Glue the sections together using a generous Battenburgcakeassemblycoating of the warmed apricot jam between the layers and joints and all over the surface so the cake with bond to the marzipan.

Dust a work surface with icing sugar and roll out the marzipan so that it is as long as the cake and at least twice as wide.

Place the cake in the center of the marzipan and pull the paste up and around, smoothing and then sealing the paste. Trim the excess and turn over. Cut off the end pieces with a serrated knife.

Dust a platter with icing sugar and place the cake on it. Cover and let the cake sit for a few hours before serving. Use a serrated knife to cut.

This cake is light and can dry out if you are not careful, so you can load on the toppings. You can serve with a light fruit sauce or my old friend non-fat strained (greek yoghurt).
Notes
About Marzipan and Almond Paste:  In the UK, marzipan and almond paste are much the same, but in the US almond paste has equal parts of almonds and sugar while marzipan has a higher ratio of sugar (up to 75% sugar) which makes it easier to roll, so if you are concerned about the sugar you may wish to seek out the almond paste in the store or make your own.