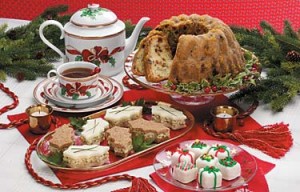 Welcome Downton Abbey fans.  Christmas is only thirteen sleeps away, that time of year when we frantically  try to cram as much merriment as we can into a few weeks. Why not start a new tradition and invite your friends for a relaxing afternoon tea to help calm the nerves?
I regularly dish on Downton Abbey and other topical issues one might discuss at tea, served up with a recipe with history. You may find my Online Guide to Afternoon Tea helpful in understanding traditions and recipes to serve at your own tea party.  Today's treat is  Simple Mincemeat Cake, from my new ecookbook Abbey Cooks Entertain.   A simple recipe which provides some of the flavours of Christmas without all the work.
Cooking Downton?  Just Ask.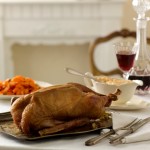 As Season 3 looms closer I have been fielding more questions about what to serve at parties from all sources: from young women looking for simple ideas for their 18th birthday party to cooking magazines and news organizations searching for content for their Downton stories.  I provided Zurich-based Saisonküche with help for  their Downton Christmas dinner months ago and they were kind enough to share a few of their pictures for my book.  My iPhone is OK, but a professional photographer can work magic with food.
I was thrilled to hear from The Washington Post this past week who interviewed me for their food site, testing the version of the apple charlotte which made the book.
Dishing Downton
I have been trying to behave by not give away too many spoilers, or passing along gossip, as Hugh Bonneville keeps reminding me you can't believe everything you read.
Simple 
Min

cemeat Cake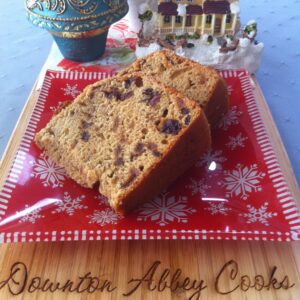 Holiday Mincemeat Cake
This is a great recipe if you don't have the time (or courage) to attempt a fruitcake or plum pudding.  The cake will still give your holiday a taste of British tradition. If you already stocked your larder with home made mincemeat and applesauce you have already put a lot of love into this cake.
Ingredients
¼

cup

unsweetened applesauce

1

cup

brown sugar

1

cup

Mincemeat

make your own recipe below

2

large

eggs

1 ¾

cups

unbleached all purpose flour

1 ½

tsp.

baking powder

3

tbsp.

brandy/sherry
Instructions
Pre-heat oven to 325°F.  Grease and line an 8 inch round cake tin, 8 or 9 inch loaf pan, or bundt pan.

Beat applesauce and sugar together until light and fluffy. Gradually add eggs,mincemeat and brandy.

Stir flour and baking powder together and add to the wet ingredients until well mixed. Scoop the mixture into the pan and bake for 50 to 60 minutes.

The cake is done when a skewer is inserted into the centre of the cake comes out clean.

Cool completely on a wire rack, slice and serve.
Tools You Can Use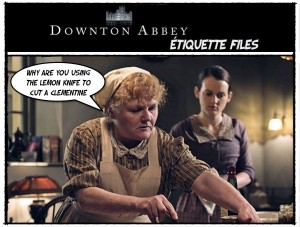 Cooks, like other professionals, have their tools and as Mrs. Patmore says "it is a poor workman who blames his tools".  You can  make do with the basics, but as you gain confidence and love for cooking, you should start to recognize items to help you cook.  Mrs. Patmore didn't electronic gadgets to cook with so be assured you can make do without the expensive gizmos.  This section helps you identify some equipment that I use.  If you wish you can order directly from Cooking.com or Amazon.com, both reputable stores I have used in the past.
Bundt Pans:  having a couple types of bundt pans on hand is a great idea.

Loaf Pan:  a great non-stick loaf pan is great to have on hand.   Some recipes call for 8″, others 9 inch pans so it is handy to have both.  I love the handles on my Wilton pans.

Must Haves For the Downton Fan