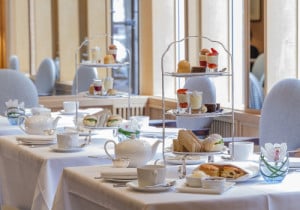 The US and Canada celebrated Labour Day yesterday. The long weekend marks the unofficial end of summer and the last day of freedom for many children who are back to school today. As adults we also feel the blues of carefree days by the lake basked in sunshine. The days will be soon be getting shorter and cooler for us in the Northern Hemisphere, but for now I am only lavender blue since there are still a few more weeks of official summer left.
Labour Day dates back to 1882 and I like to believe the story that Americans were inspired by Toronto's Labour Festival.  The no whites after labour day rule is another signal that the seasons are changing.  Traditionally white clothing (linens) was worn in warmer temperatures and when the wealthy packed up their summer homes at the end of August, they also put away the summer whites until next May.
As you may know, Tea Tuesday is a weekly tradition I started, celebrating the era of "Downton Abbey", the popular TV show, featuring a new "Downton" era recipe.  Refer to my Online Guide to Afternoon Tea, helpful in understanding the traditions and dishes served at tea.  Each week we take time to take a break to talk Downton and share a recipe which might have been enjoyed upstairs or down.
Today we enjoy the fruits of the harvest. You don't need a lot of space to grow lavender and once harvested, you can make wonderful Lavender Lemon Tea Cakes and tea.
Downton Dish
…and so every Downton fan is patient until the next Season is broadcast in his/her country.

The wait is almost over for UK fans. It was a big weekend for Downton fans as news spread across the land that Downton launches Season 4 on September 22nd.  

Unfortunately PBS will not be broadcasting S4 of our beloved show until January (see the countdown clock above) in the US and Canada.  If you haven't seen all seasons (1-3) beware of spoilers below.
Abbey Cooks Entertain: Thinking Forward to Fall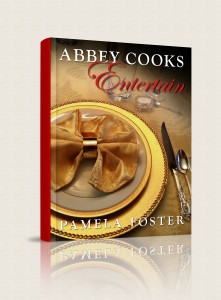 With 220 traditional Downton era recipes with a modern twist, this is a great book to start researching those lovely downstairs rib sticking comfort foods for the coming winter months.
This 432 page ebook sells for only $7.95. Book sales help offset my costs in food, equipment and time to keep bringing you new dishes each week. You can only get a signed copy here on my site. If you don't have an eReader I would suggest the PDF version which allows you to print recipes as you go, if you wish.
Lovely Lavender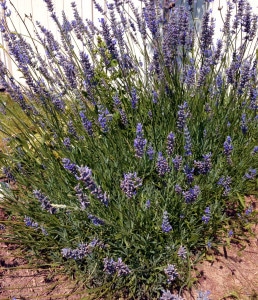 While lavender has been appreciated by many cultures for thousands of years, I always associate lavender with the English, likely since Queen Victoria was such a big fan.  And when the Queen loves something, ladies will follow the fashion.  The Mitcham area of London was the center of lavender oil production for the world.  Not only was it used as a fragrance,  fresh lavender could be purchased fresh and then dried, put into bags to scent their clothes in wardrobes, wash walls and scent sheets.  Lavender was used to repel inspects, treat lice, in furniture polish and soap and as a cure-all in household medicine cupboards.  Sadly the market became so saturated with lavender that the world moved on and soon became associated with little old ladies stuck in time (not that there is anything wrong with that).
Lavender still touted for its medicinal qualities including aiding digestion, and having a calming effect to help one sleep.
Try lavender tea, by simply adding about 3 tbsp. fresh or 1/2 tbsp. of dried lavender buds into your tea diffuser, then adding 2 cups boiling water.  You may wish to add honey and sliced lemon.  Lovely to drink with calming and stomach digestive benefits.  Huffington Post recently provided a top 5 remedy list of the purple plant. 
Growing Lavender
I planted two little lavender plants (food grade) last year in full sun which happily weathered the winter and grew flowers this year.  Do not use pesticides if you plan to eat the lavender.  You can snip fresh lavender flowers as some flowers begin to bloom and use in your cooking and baking.  If you are interested in getting the maximum amount of scent, the best time to harvest lavender is before the flowers have opened.  In our house it is time to harvest the lavender when your husband complains about the huge purple bush overtaking the rest of the garden.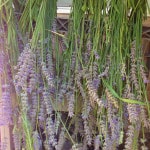 Harvesting isn't difficult. Don your gardening gloves and slip a number of elastic bands around your non-dominant wrist.  Grab a handful of stalks with that hand, and snip the stems close to the greenery at the base of the plant.  Pull an elastic unto your bundle and wrap. Continue until you have cleared at the stalks.  Be wary of bees still looking for a taste of the petals.  Hang to dry for two weeks, then put into a pillow case and roll the case like a rolling pin to remove the buds from the stalks.
We have already made a couple of lavender dishes in the past:
I also have a recipe for lovely peach and lavender ice cream in my book, Abbey Cooks Entertain.
Lavender Lemon Yoghurt Tea Cake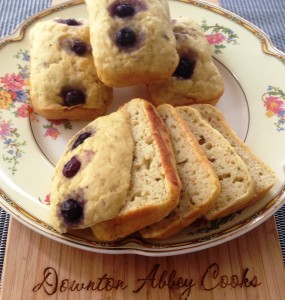 forget crumbs, embrace the sponge.  When I started experimenting with yoghurt and applesauce in place of butter and oil, I discovered the texture of the cakes changed from crumbly cake to a nice moist sponge.
It makes snack transportation much easier, provides a great base for yoghurt and berry topping treats; Lord D and I have taken to sliding a thick piece in the toaster which really brings out the flavour of the lemon and lavender…try that with cake!
Makes 1 loaf or 6 mini loaves
Ingredients
1 1/2 cups all-purpose flour
2 tsp. baking powder
½ tsp. salt
1 cup non fat plain yogurt
1 cup sugar (or sugar substitute)
3 eggs
½ cup applesauce
2 tsp. grated lemon zest
2 tsp. dried lavender
Glaze
1/3 cup lemon juice
1/3 cup sugar (or sugar substitute)
2 tsp. dried buds
Method
Preheat oven to 350F degrees.  Prepare a small loaf pan (5 ½" by 9″) or mini loaf pan if you have one.
Mix flour, baking powder, and salt into one bowl.  In another bowl, mix the yogurt, sugar, eggs, lemon zest, lavender, oil or applesauce.
Mix the dry ingredients into the wet.
Pour the batter into the prepared pan(s).  Bake for 50 minutes if you are using a loaf pan, 15 minutes for mini loaves.  A cake tester should come out clean.  Let cool in the pan for 10 minutes.
While the cake is baking prepare the glaze.  Heat the lemon juice, sugar and lavender until the sugar melts.  Let sit for twenty minutes and then strain the lavender.   Pour the glaze over the warm cake and allow it to soak in.
Enjoy plain, sliced or toasted with your favorite preserves.
Tools you Can Use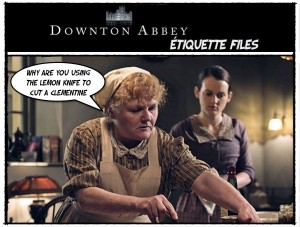 Cooks, like other professionals, have their tools and as Mrs. Patmore says "it is a poor workman who blames his tools".  You can  make do with the basics, but as you gain confidence and love for cooking, you should start to recognize items to help you cook.  Mrs. Patmore didn't have electronic gadgets to cook with so be assured you can make do without the expensive gizmos.  This section helps you identify some equipment that I use.  If you wish you can order directly from Cooking.com or Amazon.com, both reputable stores I have used in the past.
Mini Loaf Pans