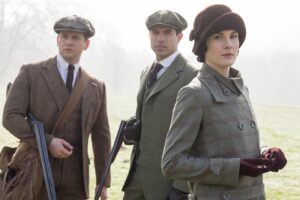 We are deep into November. For most Americans, it means that plans for Thanksgiving are well under way.  And while many are strapping on their aprons to get a head start, others don camouflage gear to hunt turkey for the table.  It is hunting season after all.  Duck Dynasty may come to mind when you think about hunting, but Downton Abbey reminds us that British aristocracy took great pride in "sport".  Jessica Fellowes goes into some detail in her new book  A Year in the Life of Downton Abbey: Seasonal Celebrations, Traditions, and Recipes. And yes, women like Lady Mary, also loved to hunt.
 A Year in the Life is sprinkled with delightful recipes and today we try her Eve's Pudding, an apple cobbler to warm up with after a cold day outside.  It is an easy dessert to make to add to your Thanksgiving weekend menu.
Stir-Up Sunday
Christmas is not far off, so time to get your holiday baking under way.  Your fruitcake and Christmas pudding benefit from aging. Stir-up Sunday is a traditional day for families to take a turn at making a wish while stirring the Christmas Pudding.
Stir-up Sunday Traditions 
A Christmas pudding is traditionally made with 13 ingredients to represent Christ and His Disciples.
A proper Christmas pudding is always stirred from East to West in honour of the three Wise Men who visited the baby Jesus.
Every member of the family must give the pudding a stir and make a secret wish.
A coin was traditionally added to the ingredients and cooked in the pudding. It was supposedly to bring wealth to whoever found it on their plate on Christmas Day. The traditional coin was an old silver sixpence or threepenny bit.
Other traditional additions to the pudding included a ring, to foretell a marriage, and a thimble for a lucky life.
Recipes for a Very Downton Christmas
New Book:  A Year in the Life of Downton Abbey
I have always enjoyed Jessica Fellowes take on presenting Downton in new ways.  She is particularly fortunate to have a back stage access since her uncle Julian Fellowes writes the show.
She organized her research for this book in a very clever way.  She follows the Crawley family as they travel through each month of a typical year. Our history lesson is tied to the time of year, and we are treated a spotlight on particular aspect of production.  Filled with beautiful pictures it provides glimpses into new characters in Season 5, but she keeps her promise to keep it spoiler free.
Of course, my favorite part of the book is recipes that she shares.  If you are looking for a cookbook, you will be much happier with my tome of 220 recipes, but there are some interesting recipes in this book to reflect seasonal dishes.
November, as I mentioned earlier, is the Sporting Season.  Here is a brief excerpt, shared on the Downton Tumbler site.  Her recipe for this month was for game birds, but I thought it might be easier to share her Eve's Pudding recipe.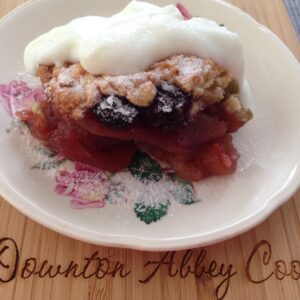 Traditional Eve's Pudding
Eve's Pudding, also known as "Mother Eve's pudding" is a tradition British pudding. Named after the biblical Eve it uses apples, the forbidden fruit, as the base.  The first known recipe is from 1824.
Ingredients
1 1/2

pounds

cooking apples

1

cup

blackberries

(optional)

1/3

cup

turbinado sugar

(or brown sugar)

1

pinch

nutmeg

freshly grated

1

large

lemon

zested

5

Tbsp.

butter

plus extra for greasing

1/3

cup

superfine sugar

plus extra for sprinkling

1

large

egg

beaten

1

cup

unbleached white flour

2

tsp

baking powder

2-3

tbsp.

milk
Instructions
Preheat the oven to 350 degrees. Grease a one quart ovenproof dish with butter.

Peel and core the apples and slice thinly. Place in the prepared dish and sprinkle the turbinado sugar, nutmeg, and lemon zest over them. Add 1 tbsp. of water.

In a separate bowl, cream the butter and superfine sugar until light and fluffy. Add the egg gradually, beating well. Sift the flour into the bowl and fold in the mixture. Add a splash of milk – enough to give a dropping consistency. Spread this mixture over the apples. (Don't worry if you aren't able

Bake in the oven for 40-50 minutes, until the sponge mixture is golden and firm to the touch in the centre. Spring with superfine sugar and serve with custard or cream. (I prefer non fat plain yoghurt to keep the fat count down.)
Notes
*you can make superfine sugar by giving table sugar a quick pulse or two in your food processor, and then measure for the recipe.