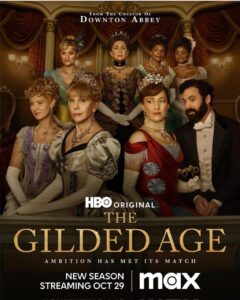 As the lavish HBO period drama The Gilded Age returns for season 2 on October 29th,  viewers can once again immerse themselves in all the wealth, scandal and delicious dining of 1880s New York high society.
Food is integral in transporting us back to this era of excess and etiquette. The glamorous costumes and mansions may catch the eye, but the elaborate multi-course meals truly bring the experience to life. From formal dinners to garden lunches, the food is just as much a star of the show as the characters.
The Gilded Age's impressive spread of dishes provides a glimpse into the fine dining of the 19th-century elite. Meals consisted of various lavish courses, usually starting with oysters or hors d'oeuvres, followed by multiple meat dishes like filet of beef or roasted game birds. Seafood such as lobster and bountiful side dishes like potatoes, greens and rice were highlighted. Dessert was not to be overlooked, with cakes, tarts and mousses rounding out the meal.
Of course, the wealthy aimed to impress guests through delectable fare and proper etiquette. Meals involved following strict rules about place settings, cutlery, and conversation topics. Proper table manners were paramount when dining in high society. The characters navigating these rigid expectations provide plenty of drama and scandal.
Behind the scenes, the culinary team brings the dishes to life with painstaking historical research and attention to detail. They reference antique cookbooks and essays about Gilded Age entertainment to ensure accuracy. Produce is grown on-site at the filming location using heirloom seeds when possible. Many dishes are cooked in a cast iron oven specially built to mimic 19th-century kitchens.
Food presentation is as important as taste, with lavish platters and tablescapes modelled after the era. Ingredients like truffles and caviar, which were extremely rare then, make frequent appearances to highlight luxury. The overall effect is a dining experience that transports us back to the Gilded Age.
As the characters' stories unfold during candlelit dinners and garden luncheons, we get to sit back and savour all the drama along with the food. The cuisines and customs of high society provide a fascinating glimpse into both the inequities and innovations of the period. We look forward to seeing what scandals and dishes Season 2 has in store.
Gilded Age Viewing Party?
The joy of HBO is you can stream anytime.  Why not gather your closed friends for a viewing party?
Here are some of my favorite Gilded Age Dishes
Alternatively, you can order the new Gilded Age Cookbook on Amazon.