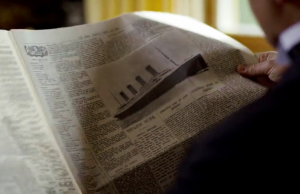 The 110th anniversary of the sinking of the Titanic will be celebrated on April 14, 2022. Food lovers have been hosting dinners for decades, and in more recent years Downton Abbey fans have jumped on board. The show opens with news of the sinking of the ship which directly affects the Crawley family.
In this post, we cover the ambitious 10-course first-class menu. The tradition of these meals is to pay homage to the passengers and crew who were aboard the Titanic.  If you sadly miss the big day, don't despair, you can take comfort in some fabulous Edwardian dishes which you can fit into any dinner party, even a Downton Abbey viewing party.
If the 1st menu is too ambitious, consider the 2nd Class Menu or pay tribute to those in steerage with the 3rd Class Menu.
The 10 Course First-Class Menu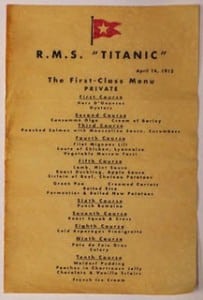 Consider you are at sea on the frigid Atlantic ocean for days (the Titanic struck an iceberg on the evening of its fourth day) which will definitely keep you inside, day and night.  I think a marathon 10-course dinner, plus fruits and cheeses would be just the ticket to keep you occupied for hours.
Game Plan
The items in red below are links to recipes scattered throughout this site.  If you are attempting this dinner, you should have a game plan, so click here for some ideas on your approach.
Suggestions for a Shorter menu
Unless you are part of a historical/foodie group the full menu can be quite ambitious to attempt.  Dana McCauley in Last Dinner on the Titanic, has great a suggestion for reducing the number of courses and still enjoying the food fashion of the era.
First Course – Soup
Second Course – Fish
Third Course – Entrées
Fourth Course – Punch
Fifth Course – Roast
Sixth Course – Salad
Seventh Course – Sweets