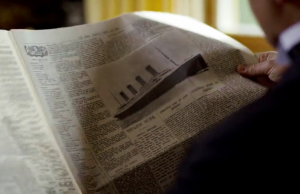 The 100th anniversary of the sinking of the Titantic is approaching on April 14, 2012.   As a professional marketer who loves a great promotion, I will bet that this year will see a flurry of fabulous events hosted in cities around the world.  As a foodie I see it as another way to gather and entertain friends.  Food lovers have been hosting dinners for years, but if you want to host a party of our own, this would be the year to do it because of the anniversary.  Ironically, Titanic is on the minds of many with the photos and videos circulating about the January 13th grounding of the "unsinkable" Costa Concordia.  Downton Abbey fans may also feel a new connection to Titanic for a couple of other reasons.  The show opens with news of the sinking of the ship which directly affects the Crawley family.  Fans of Julian Fellowes will be hungrily anticipating the release of the new itv series Titanic 2012, which will start airing in this Spring in the UK.  It is fortunate that menus survived the disaster, and I hope my blog will help you in your preparations.  Come to this page to keep track of the First Class Menu.  I also have the separate menus for 2nd class and third class or "steerage".   I attended a steerage party years ago and it was a blast.  If you see red text, that means I have linked to other posts with my favorite traditional recipes.  I hope you can handle some of the items such as celery and boiled rice and potatoes on your own.
The tradition of these meals is to pay homage to the passengers and crew who were aboard Titanic.  If you sadly miss the big day, don't despair, you can take comfort in some fabulous Edwardian dishes which you can fit into any dinner party, even a Downton Abbey viewing party.
The 10 Course First-Class Menu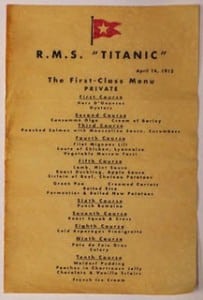 Consider you are at sea on the frigid Atlantic ocean for days (the Titanic struck an iceberg on the evening of its fourth day) which will definitely keep you inside, day and night.  I think a marathon 10 course dinner, plus fruits and cheeses would be just the ticket to keep you occupied for hours.
The items in red below are links to recipes scattered throughout this site.  If you are attempting this dinner, you should have a game plan, so click here for some ideas on your approach.
Suggestions for a shorter menu
Unless you are part of a historical/foodie group the full menu can be quite ambitious to attempt.  Dana McCauley in Last Dinner on the Titanic, has great a suggestion for reducing the number of courses and still enjoy the food fashion of the era.
First Course – Soup
Second Course – Fish

Poached Salmon with Mousseline Sauce (recipe below)

Third Course – Entrées
Fourth Course – Punch
Fifth Course – Roast
Sixth Course – Salad
Seventh Course – Sweets