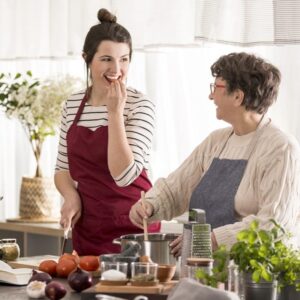 Our mothers and grandmothers knew a thing or two about saving money regarding food preparation. They had to be creative with their cooking and do with what they had. With the rising cost of food today, it's time to take a page out of our grandmother's book and learn some budget-saving tips for food preparation.
Sadly, we don't live on large country estates like Downton Abbey, where you grew large kitchen gardens, raised livestock, and had game on your land to hunt as food sources.  But many methods have been passed down through generations which are still in practice today.
If you want to trim some money off your food budget, here are some tips on preparing food.
1. Use Every Part
Use every part of the vegetable or animal, not just the parts typically used today. For example,  use chicken bones to make soup broth or vegetable scraps to make stock. By using more of what you buy you can reduce the waste you produce and save money on buying pre-packaged foods.
2. Cook from Scratch
Avoid buying prepared meals.  Cooking from scratch means you can control the ingredients that go into your meals. You can also save money by buying ingredients in bulk and making your sauces, dressings, and baked goods. It also allows you to make larger portions, which can be frozen and used later.
3. Use Cheaper Cuts of Meat
Learn how to make delicious meals using cheaper cuts of meat. Braise tougher cuts of meat to make them tender or use ground meat in casseroles and meatloaf. Cheaper cuts of meat are often more flavorful and can be cooked for longer periods, making them perfect for stews, soups, and slow-cooker meals.
4. Use Seasonal Produce
Buy fruits and vegetables when they are in season and freeze or can them for later use. By using seasonal produce, you can save money on buying out-of-season fruits and vegetables that are often more expensive. You can also support local farmers and reduce your carbon footprint by buying locally-grown produce.
5. Plan Your Meals
Plan your meals for the week, and buy the ingredients accordingly. You can avoid impulsive purchases and reduce food waste by planning your meals. You can also plan your meals around what is on sale at the grocery store or what you already have in your pantry.
6. Make Over Your Leftovers
Leftovers generally get a bad rap but can be reimagined into something just as great.  By using leftovers, you can reduce the food waste you produce and save money on buying new ingredients.
7. Preserve Excess Food
Preserve bounty crops to preserve them for later.  When in season can fruits and vegetables, pickle vegetables, or make jams and jellies. Preserving food not only allows you to extend the life of the food, but it can also be a fun hobby that can save you money in the long run.
8. Use Herbs and Spices
Don't be afraid to experiment with herbs and spices to add flavour to your meals. You can grow your own herbs or buy them in bulk and use them in your cooking. By using herbs and spices, you can add flavour to your meals without having to buy pre-made seasonings that can be expensive.
9. Make your own Pantry Items
You can save money by making pantry items you normally pick up without thinking in the grocery store.  You would be amazed at how much you can save going DIY. Make your own brown sugar, greek yogurt, baking spray, mixed spice,  and bread crumbs.
10. Substitute What you Don't Have
Don't panic if you discover that you don't have a particular ingredient.  We now have Google to come to the rescue.  Simply query substitute for the missing ingredient and the type of dish (in baking, cooking, etc.)
Budget Saving  Vision Board