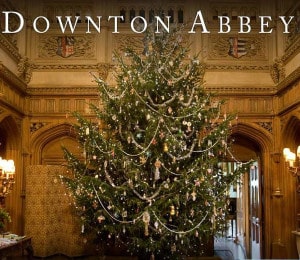 December means Christmas in the UK, and in many other countries around the world. Many of the traditions we enjoy were today were introduced by Victorians.
Jessica Fellowes goes into some detail in her book A Year in the Life of Downton Abbey: Seasonal Celebrations, Traditions: "It's Christmas at Downton Abbey: the mistletoe hangs quietly, hoping to witness a kiss beneath in white berries, pine and holly are laid on every surface, a yule log crackles in the fireplace and stockings are hung on the mantlepiece."
Abbey Cooks Entertain: 2nd Edition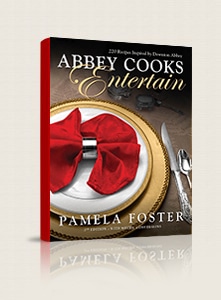 Another great gift for Downton fans who cheer Mrs. Patmore and Daisy.  Time to start planning your Downton Viewing and holiday parties.  With 220 traditional Downton era recipes with a modern twist, this is a great book to create some simple or complex dishes for your Mary or Anna.
Book sales help offset my costs in food, equipment and time to keep bringing you new dishes each week.
UK Fans will be happy to note that the 2nd Edition will list both imperial and metric conversions.
While the book is available on Amazon, you can only get a signed copy here on my site.
If you don't have an eReader I would suggest the PDF version which allows you to print recipes as you go, if you wish. Buy one for yourself, gift it to another.  All you have to do is email the download link to your loved ones.
Christmas Traditions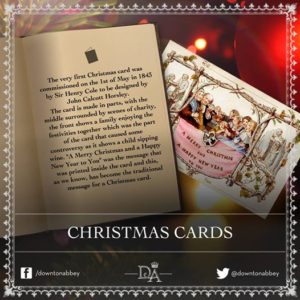 Christmas in the Edwardian era when we first catch up with the characters of Downton Abbey was becoming a commercial celebration, even though its roots date back to feudal society.
The Victorians started the trend: Charles Dickens helped popularize Christmas, and Prince Albert was a big fan of the holiday.
By 1910 Father Christmas was universally recognized in Europe and exchanging
Christmas cards were a well-established custom.
While the aristocracy lived in London during The Season when parliament was
in session, everyone retreated to their country estates for the holiday. Christmas was an elaborate affair with many courses.
If you are planning a traditional Christmas dinner, you would not go wrong selecting any of the dishes in the "Dining with the Crawleys" section of the Recipe Index. The star of the show however is the roast which should be either goose or turkey. And for dessert, the traditional plum pudding.
Recipes for a Very Downton Christmas
Desserts