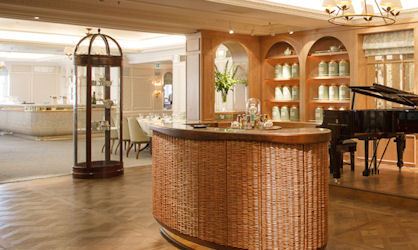 Welcome to my virtual tea party. The weather is always a safe topic to discuss when having tea, and this week we are experiencing the unsettled weather of Spring, shifting from cool to warm and then back to cool again, sometimes all within the same day.  Dressing in layers for another few weeks is likely a smart choice for those of us living in northern climes.  We are generally thankful that we have not been directly impacted by the severe weather conditions in other parts of Canada and the US.
Today's treat is shortbread.  Traditionally enjoyed during the Christmas season, it is a perfect addition to any tea tray all year long.  If you don't have your own family recipe, try this one, inspired by Fortum & Mason.
What to Serve at Tea
Titanic Party Award Winner 1:  Susan Edwards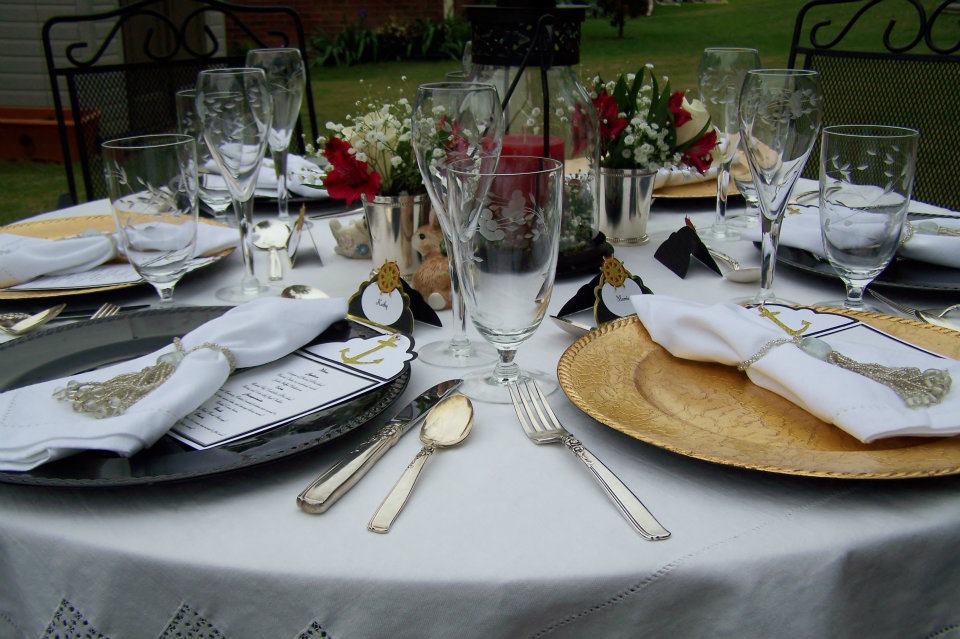 I mentioned last week I had two book prizes to give to the best Titanic hosted parties.  The winners would receive a copy of the new book Wentworth Hall which I recently reviewed.   This book is being graciously given away courtesy of publisher Simon & Schuster.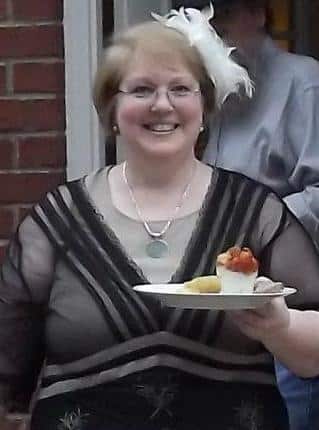 Our first winner is Susan Edwards from Aiken, South Carolina.  She was quite fortunate to have much warmer weather than what was experienced on Titanic and held her dinner outside party.  A whiz with a Cricut machine, most of her decorations were hand made.
It would appear from her pictures that everyone got into the spirit of the event, some in period costume, others brought their own life jackets.  Susan is also a blogger and provided a write up about the event.
Congratulations, Susan on a job well done.  Stay tuned for our the announcement of our second winner later this week.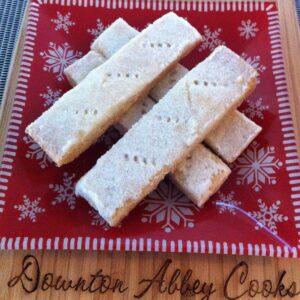 Fortnum & Mason's Never Fail Shortbread
Shortbread is an easy holiday table treat. If you don't have your own family recipe to fall back on, here is a great one inspired by Tea at Fortnum & Mason. Rice flour is the secret ingredient that gives the shortbread a nice crisp texture.  Take care not to overwork the dough because the butter will become greasy and will give an oily finish to the biscuit.  Otherwise, this is a never-fail recipe.
Ingredients
3/4

cup

unsalted butter

1/2

cup

caster sugar*

plus extra to sprinkle

1 1/2

cups

unbleached white flour

3/4

cup

rice flour
Instructions
Preheat the oven to 300 F.

Lightly butter a 8″ square pan.

Cream the butter and sugar together in a large bowl. Add the flour and rice flour and use a wooden spoon to work all the ingredients together to make a paste. Knead lightly.
Make Fingers
Press the mixture into the tin, using the back of a spoon to smooth down the surface. Use a table knife to draw a line down the middle vertically, then mark six lines across horizontally to make 14 fingers. Prick each one with a fork.

Bake for about 30 minutes, then remove from the oven and mark again. Return to the oven and continue to bake for 30 minutes until the mixture is set.

Mark into the 14 fingers again then sprinkle with a light dusting of sugar. Cool in the tin for about 30 minutes, the fingers should snap right off without cutting again. Carefully remove them from the pan.
Cut into Rounds
Alternatively you can roll out the dough and cut rounds and place them on a cookie sheet. Bake for 60 minutes.

Finish cooling the shortbread on a wire rack then store in an airtight container for up to three days.
Notes
*caster sugar is a super fine sugar.  If you don't have any, you can make your own by putting sugar in a blender or food processor.
Nutrition
Serving:
10
g
Calories:
119
kcal
Carbohydrates:
7
g
Protein:
1
g
Fat:
10
g
Saturated Fat:
6
g
Polyunsaturated Fat:
1
g
Monounsaturated Fat:
3
g
Trans Fat:
1
g
Cholesterol:
26
mg
Sodium:
1
mg
Potassium:
9
mg
Fiber:
1
g
Sugar:
1
g
Vitamin A:
304
IU
Calcium:
4
mg
Iron:
1
mg